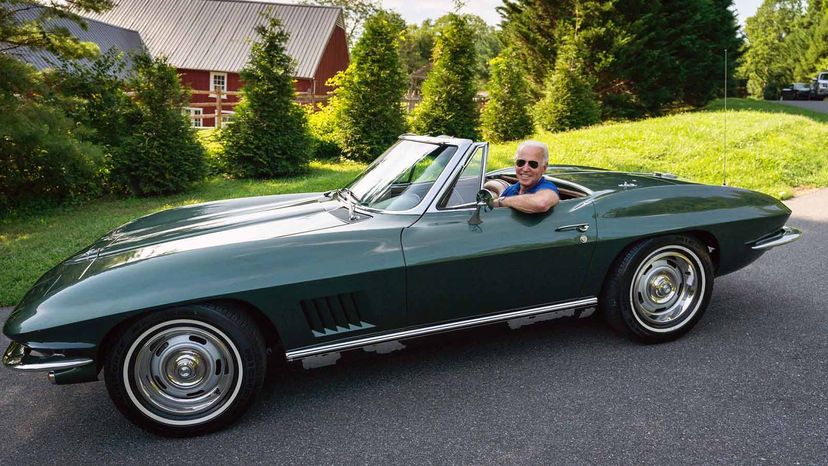 President Joe Biden has an affinity for Corvettes, especially his 1967 Corvette Stingray.
Joe Biden Campaign
Riding around in a heavily armored limousine is one of the perks of being president of the United States. Though it's fair to speculate that some American presidents, including President Joe Biden, probably have some regrets about handing over their keys and precious time behind the wheel.
That's because presidents and vice presidents, as well as other high-profile officials, aren't allowed to drive — except under very special circumstances — even after their terms end. According to CNBC, relinquishing the right to drive isn't actually a law, it's for security and is enforced by the Secret Service. Those who drive these officials are highly trained in defensive maneuvers, and well, sitting in the backseat is just one of the trade-offs of becoming a leader of the free world.
So what does that mean if a president happens to love driving? Cars can be divisive, but they can also bring us together. Interested in a nonpartisan look at some of the car guys who have occupied the White House? We'll kick off with President Joe Biden and go backward in time from there.
1. Joe Biden's Corvette
Joe Biden, as you may already know, is a Corvette guy. As former vice president, Biden was already familiar with the rule against driving his own car, but on rare occasions he got clearance to drive his beloved 1967 Chevrolet Corvette Stingray convertible, and he made the most of it.
For example, in October 2016, he filmed an appearance with comedian and fellow car enthusiast Jay Leno for Leno's show "Jay Leno's Garage." The filming took place on secure property in Washington, D.C., and according to Biden, was the third time he'd driven the Corvette since 2009. Biden's father owned a Chevrolet dealership, and the 'Vette has a ton of sentimental value to the whole family.
In August 2021, Biden got to drive an electric Jeep Wrangler around the South Lawn of the White House after a speech on clean cars and trucks.
2. George W. Bush's Ford F-150
George W. Bush, the 43rd president of the United States, has also appeared on "Jay Leno's Garage." Bush has owned several Ford F-150 pickup trucks, including a 2009 King Ranch SuperCrew 4x4 that was auctioned at Barrett-Jackson in 2017. The auction raised $300,000 and Bush donated the proceeds to charity.
Bush's Leno segment was filmed at the Bush family ranch in Crawford, Texas, in 2017, where W. gave Leno a ride in a 2013 F-150 King Ranch edition truck, which bore plenty of scuffs and scratches from being well used around the ranch. A lot of pickup trucks are underutilized, but not this one. Since Bush hasn't driven on public roads since 1993, any truck he owns is certainly put to work on the family's extensive Texas property.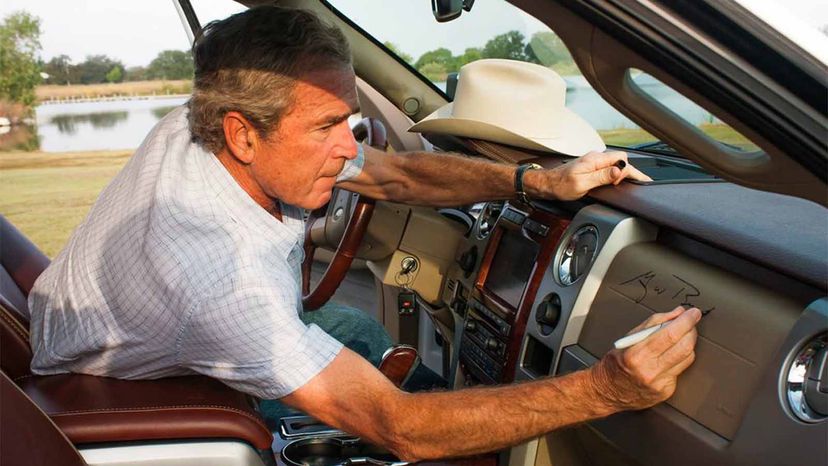 President George W. Bush auctioned off one of his Ford F-150s in 2017, raising $300,000 for charity.
Wikimedia/(CC BY-SA 4.0)
3. Ronald Reagan's Subaru Brat
Ronald Reagan, the 40th president of the United States, was a well-known Jeep enthusiast, and bounced around his California ranch in a 1962 Jeep CJ-6 and a 1983 CJ-8 Scrambler. That experience made Reagan well-suited to become a secret test driver for Subaru back in 1980, long before it was tolerated for American politicians to be seen in Japanese cars and before the Japanese automaker won over Americans with its practical, family-friendly station wagons and adventurous sports cars.
As reported by Jalopnik, at the time, Subaru was testing the Brat pickup truck similar to the one shown here, and through a friend of a friend, a Brat landed on Reagan's ranch. He could romp on it around the ranch all he wanted, as long as he gave Subaru regular progress reports. Yet another cool gig on the actor/politician's resume.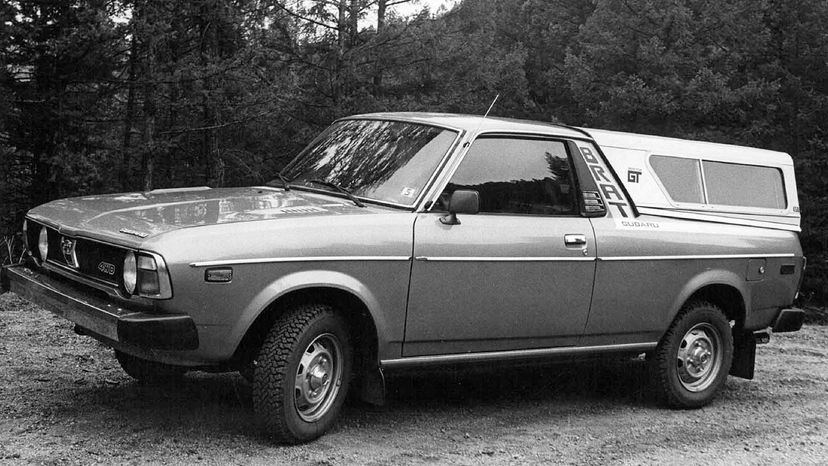 President Ronald Reagan was "gifted" a Subaru Brat similar to this one by the Japanese carmaker in exchange for his regular progress reports while he test drove it around his California ranch.
Bud Wells/Denver Post via Getty Images
4. Richard Nixon's Oldsmobile 98
Richard Nixon, the 37th president, was known for a couple of things: His claim that he wasn't a crook, and his 1950 Oldsmobile 98. He talked about the Oldsmobile because he thought owning one made him more likable and more empathetic to working-class Americans. Of course, the fact that his Olds was powered by a 5.0-liter V8 engine negated that claim just a bit. Nixon went down in infamy, resigning after being impeached because of that pesky Watergate thing. His car was cool, but it definitely didn't make him any more popular.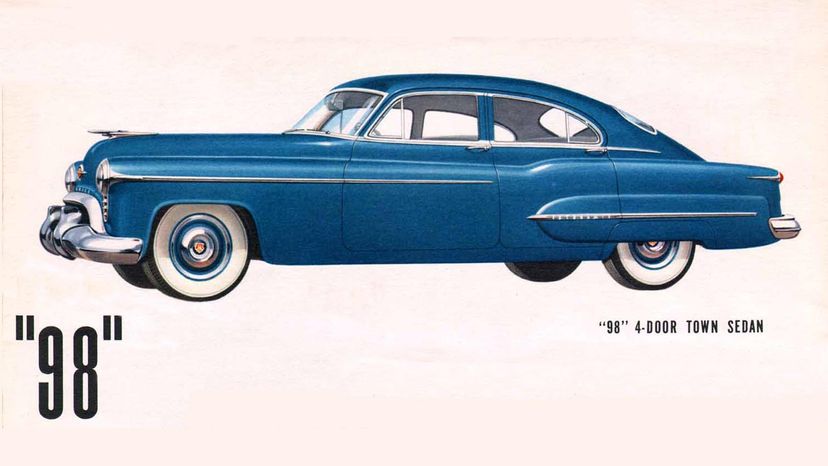 President Richard Nixon owned a souped-up 1950 Oldsmobile 98 in hopes he would appeal to the common working man. It didn't quite work.
Wikimedia/(CC BY-SA 4.0)
5. Lyndon Johnson's Amphicar
Lyndon B. Johnson, the 36th president, was the last president allowed to drive on public roads. Johnson was vice president to President John F. Kennedy until Kennedy was assassinated in 1963. Kennedy's death was the impetus for the rule that now has all presidents hand over their keys for life.
However, Johnson was known for a car that wasn't confined to the road. His 1961 Amphicar, reportedly one of about 4,000 built, could cruise off solid earth and right into water. According to political car lore, Johnson enjoyed pretending the car's brakes had failed as the car headed toward a lake on his Texas ranch, just to give his passengers a scare before he eased it safely onto the water's surface. Of all the presidential ranch escapades mentioned so far, this might be the most hilarious.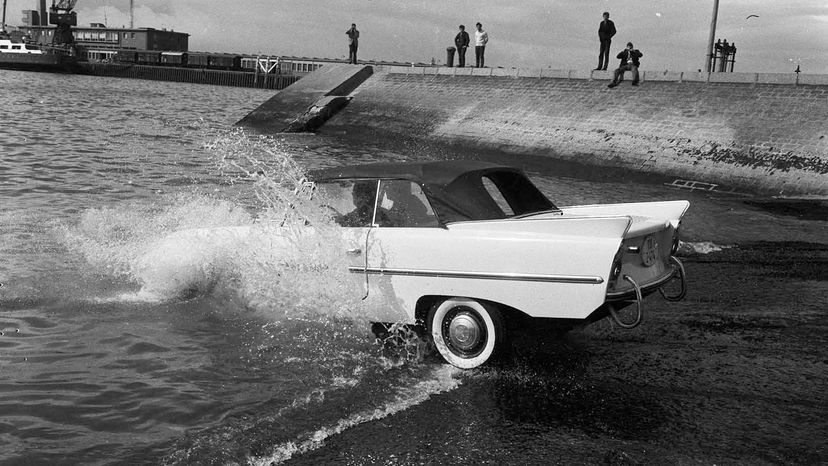 President Lyndon Johnson was known to trick passengers of his Amphicar by pretending the brakes were failing while he drove it into the lake on his ranch.
GAROFALO Jack/Paris Match via Getty Images
Originally Published: Dec 31, 2020