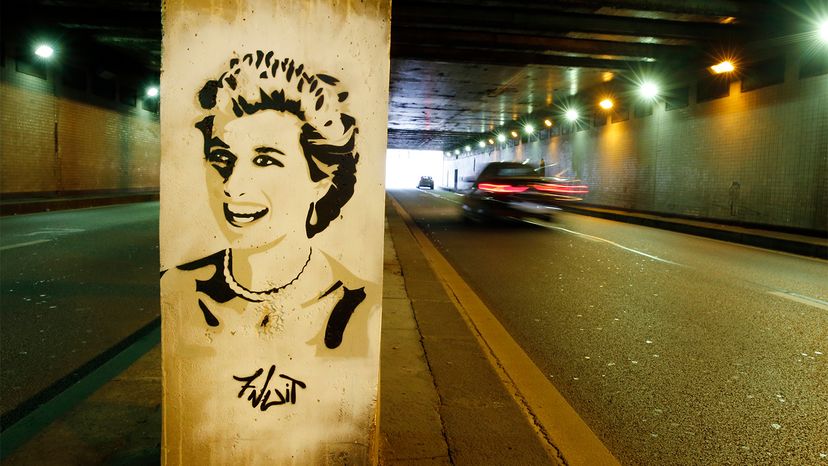 Every day, approximately 3,300 people across the planet die in vehicle crashes, and the World Health Organization projects that by 2030, road traffic injuries will become the fifth most common cause of death [source: ASIRT]. But we're more likely to notice when one of those people happens to be a head of state, a rock musician, a movie star or some other celebrity.
People all over the world were shocked and saddened, for example when Princess Diana died from injuries when the car in which was riding with her then-companion, Dodi Fayed, crashed into a concrete pillar in a Paris underpass on Aug. 31, 1997 [source: CNN, Bailey].
But Diana's death made her just one of numerous celebrities who've died while on the road. Scores have been killed in crashes, ranging from painter Jackson Pollock, Pulitzer Prize-winning journalist and author David Halberstam, to New York Yankees manager Billy Martin and actresses Grace Kelly and Jayne Mansfield [source: Bailey]. Others, such as Archduke Ferdinand of the Austro-Hungarian Empire and U.S. President John F. Kennedy, have been murdered by gunmen while they rode as passengers. And a few, such as country music legend Hank Williams, have expired from other causes while they happened to be in vehicles.
But even as we ponder the deaths of famous people who've died in cars, there's another question to consider. What happened to the cars in which these famous people died?
In some cases, the fates of those fatal vehicles isn't clear. The Mercedes in which Princess Diana died, for example, was scrutinized by the U.K.'s Metropolitan Police in 2005, as part of a re-investigation of the accident [source: Met Police]. The Sun, a British newspaper, reported that the car had been returned to France and was sitting in a shipping container in an impound yard outside of Paris [source: Wilkins and Sloan]. A second newspaper, the Mirror, also reported that it was in France but that its precise whereabouts were unknown [source: Myers and Bishop]. Authorities in France didn't respond to email inquiries, and the Royal family's press office declined comment [source: KP Press Office]. And the wrecked sports car in which actor James Dean was killed in 1955 reportedly disappeared while being transported from Miami to Los Angeles in 1960, and hasn't been seen publicly since [source: Phelan].
Here are five death cars whose locations are known, and the stories behind them.