Gentlemen, start your engines! For millions of race fans, those four words evoke emotions and bring families together more than 36
times each year. The sound of 43 stock car engines can be intoxicating. Whether it's the colorful race cars or the more colorful driver personalities, in the United States, The National Association
for Stock Car Auto Racing, better known as NASCAR, is the second-most-watched sporting event behind the National Football League.
NASCAR has three major divisions; the Craftsman Truck Series, Nationwide Series and Sprint Cup Series. While none of the vehicles in the three different divisions look the same, nor do they perform equally, all three groups share one thing in common -- each NASCAR vehicle must use Goodyear Racing Eagle tires.
Since 1997, Goodyear Tire & Rubber Company has been the sole tire provider for all three of NASCAR's top divisions. Goodyear Racing Eagles adorn every Sprint Cup Series car, Nationwide Series car and Craftsman Truck Series truck at every race. Goodyear's exclusive deal runs through 2012 and NASCAR has expressed no desire to allow more than one tire manufacturer into their realm. Formula 1 currently allows for two tire manufacturers to compete for teams, but NASCAR officials fear adding a second tire manufacturer would lead to a tire war. One worst-case scenario of a tire war, and a situation that NASCAR definitely wants to avoid, is one where tire manufacturers build unsafe tires as a result of pushing the limits of tire technology.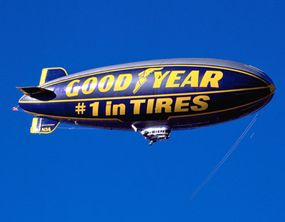 As part of their deal, Goodyear works closely with NASCAR research and development officials as well as the individual teams. In fact, during a typical race weekend at a Sprint Cup Series event, NASCAR teams will use more than 2,000 tires. Throughout this article, we'll explain the technology that goes into those tires -- one of the many components that allow NASCAR cars to go so fast and to hold so tight to the track surface. Let's start off by introducing you to the Goodyear Racing Eagle on the next page.