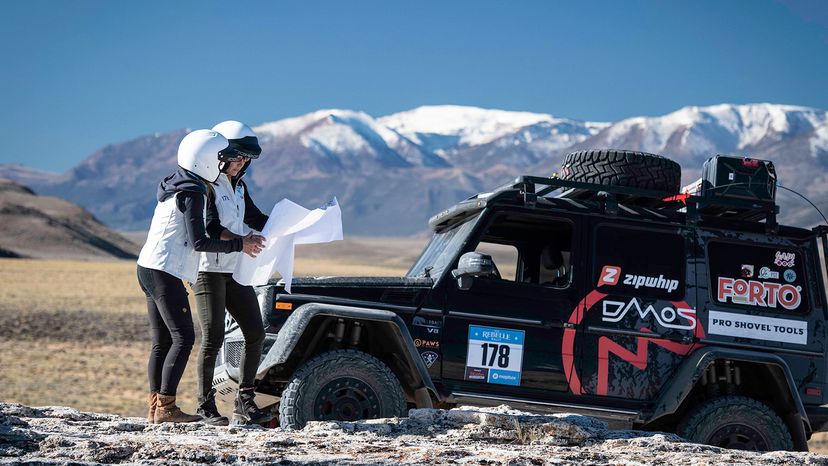 Heather Berman and Susan Pieper make up The Fast and The Luxurious, Team No. 178. They drove a 2017 Mercedes G550 4×4 Squared.
Nicole Dreon/Rebelle Rally
Emily Miller, an accomplished international rally racer and founder of the three-year-old Rebelle Rally, believes navigation — without GPS — is an extremely valuable skill. (I, on the other hand, am happy to keep using my iPhone.) But after trekking for days through the desert as a Rebelle Rally media guest with the women of the race, my eyes are definitely more open.
First, more on The Rebelle Rally: It's an all-female off-road navigation competition that winds through some of the weirdest parts of Nevada and California (including Area 51!). Miller started Rebelle Rally after her experience with another all-women off-road rally, the Rallye Aïcha des Gazelles, or the Gazelle Rally, in Morocco. She wanted to re-create something similar in the United States.
In its third year, the Rebelle is now the longest competitive off-road rally in the lower 48 states and the first women's off-road navigational rally raid in the country. It takes the race coordinators a year to get the necessary permits between five Bureau of Land Management (BLM) field offices, two BLM state offices, two National Parks and the U.S. Forest Service.
Here are some quick facts:
It covers 1,600 miles (2,500 kilometers), 12 counties and two states

84 female competitors participated in 2018

25 rookie teams joined in 2018

Teams hailed from five countries: U.S., France, Canada, Japan and Kenya

800 maps were printed

There were 180 checkpoints from day 0 to day 7

A total of 1,347 points were possible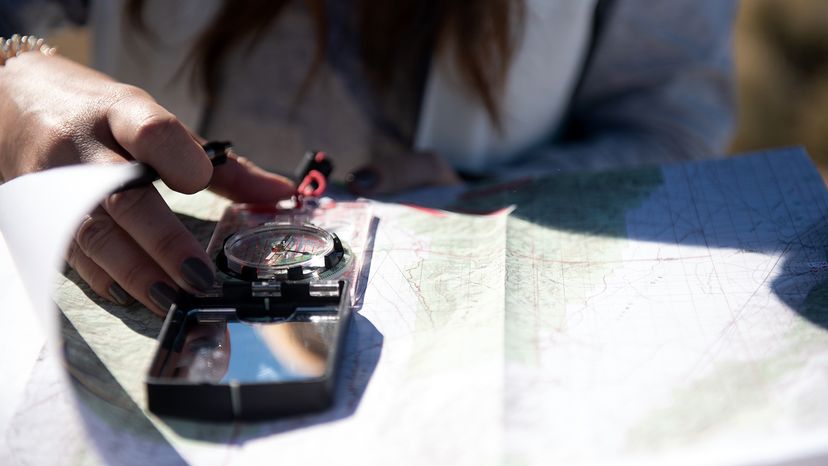 Navigating via compass and maps only isn't as easy as you'd think.
Rebelle Rally
The Race
The 2018 race began Oct. 12, 2018, at Squaw Valley Resort outside of Lake Tahoe, with rally school, where the rules are laid out and vehicles are inspected. Day 0, as they call it, is really for drivers to acclimate to navigating with only maps and compasses as they wind their way south to the first base camp in Kingston, Nevada. It's here that the drivers have to turn in any GPS-enabled devices for the real competition to begin.
Unlike the Gazelle Rally, which encourages competitors to get from checkpoint to checkpoint as quickly as possible, the Rebelle Rally is more about strategy than speed. That's by design, says Miller, who has fine-tuned the scoring process so it's not necessarily the fastest team that wins. "We had to come up with a way to separate the scores," Miller explains as I rode along with her during one of the race days. "And not just separate the scores, but separate the scores by skill."
The result means drivers are required to clear all green checkpoints daily, though blue and black checkpoints are optional. Green (and most blue checkpoints) are marked by flags on the course, while black checkpoints are hidden and unmarked. The more blue and black checkpoints competitors cross, the higher their scores will be. Some race days also include Rebelle Enduro Challenges, in which teams earn points for precision driving over timed courses.
It's not until the rally actually starts and I ride along with a Rebelle crew member, professional driver Matthew Johnson, that it dawns on me how strict the rules are: No GPS; no cell service; no stopping for gas at unapproved checkpoints. Rally crew are forbidden from helping teams in any way.
During the race, the teams traverse the course from those green, blue and black checkpoints, ending each day at base camps — conditions turn out to be anywhere from glamping (dinner prepared by Michelin-starred chef Drew Deckman; drinks at a saloon in a ghost town) to really, really roughing it (think intermittent water access and a coyote as a "neighbor"). But base camps are also where drivers check out their vehicles, though teams do have to turn in their keys within an hour of arriving every night.
Winning teams are "efficient, they don't waste time, they use just the right amount of time to get done what they need to get done," Miller says. "They work together well as a team. They will have the presence to foresee and prevent problems, not just solve them."
The All-female Teams
And speaking of those teams, who exactly are these women choosing to navigate the U.S. deserts via compass? Well they're not all experts. "Women don't need to be professional drivers or navigators to compete," Kirsten Tiegen, the rally's media coordinator, says, "and unmodified, mostly-stock vehicles are used, making the competition accessible to a wide variety of competitors across the globe."
In fact, Jeep is the most represented auto manufacturer in the 2018 race with teams from the United States, Canada and France driving Wranglers. A handful of hardy little Subarus competed in the crossover class, which gets a modified route to accommodate these vehicles' all-wheel-drive systems and lower ground clearance. Honda sponsored a couple of teams of corporate employees who drove a new Pilot SUV and Ridgeline truck. There was even a Mercedes G-Wagen, but not just any G-Wagen. This was a 4x4(2) model that sells for approximately $250,000. The oldest vehicle on the course was Team 149's 1969 Jeep Wagoneer, which driver Courtney Latter purchased and built specifically for the 2017 Rebelle Rally.
"I wanted to make the Jeep a lot more reliable than a '60s Jeep would be, so the motor is actually out of a 2010 Suburban," Latter says. "We wanted it to look old from the outside, but everything else is new, for the most part."
The women are responsible for their own spare parts, and even a small mishap can throw a team out of contention. Latter says she kept her spare parts simple: no drivetrain parts, just things like U-joints, belts, electrical supplies, zip ties, duct tape and fuses. "Everything has gone great," Latter says. "We can't stop smiling."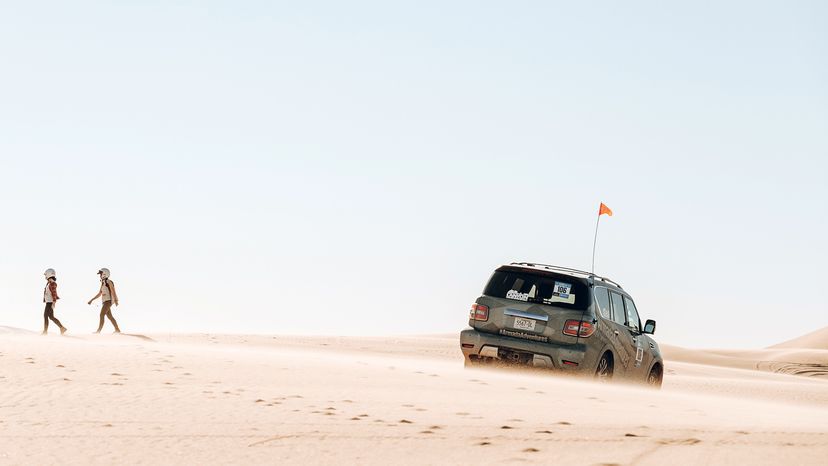 Sedona Blinson and Leah Heffelfinger of Team Wild Grace, No. 106 check out some of the desert terrain during the Rebelle Rally 2018.
Rebelle Rally
Major Logistics
The logistics of setting up an eight-day rally that spans two states and takes part largely off paved roads is no easy feat. For example, the entire rally required close collaboration with the Bureau of Land Management for California and Nevada, which has an extensive permitting process. "It's not easy. It's also not impossible. Just a lot of sleepless nights," Miller says, of the permitting process.
My biggest question, though, is how Miller even plotted the course, and strung together the 180 checkpoints. "There are some places that I know and love, that are really important to me and that I think women should go to, period," Miller explains. But she's the first to admit she didn't do it alone. She worked with well-known motorcycle racer Jimmy Lewis, who she described as a "legend" and "trail savant."
"He knows every single trail out there. He totally got it," Miller says.
The Future of Rebelle
The 2018 Rebelle Rally had another first — there was a tie for first place in the overall standings between Michelle Laframboise and Elise Racette of Team Clearwater Design and Emme Hall and Rebecca Donaghe of Team 140. This was the third year competing for Hall and Donaghe, who narrowly missed the trophy for the first two years of the rally.
If all goes according to plan, there will be more Rebelle Rallies in coming years, as Miller hopes to grow the event and make it more accessible to more women, acknowledging the price of entry is a significant roadblock for many (it's about $12,000 per team). The bigger problem though, she says, is that women don't have confidence to try new things. "Women want to be experts before they even try something," she says. "The lack of confidence is you telling yourself you can't do it."
To that end, Miller plans to expand Rebelle U, a series of one-day workshops and competitions where women can learn about navigation and rally skills from experts like herself.
So what did I learn during my days with Miller and her team? Mostly, navigating without GPS is definitely hard, but not impossible, and even though some might argue it's not important anymore, Miller's reverence for the skill is inspiring. "For people who aren't seasoned competitors, it's about them learning and growing," she says. "I think it really helps lift women up and validate [them], by making it tough."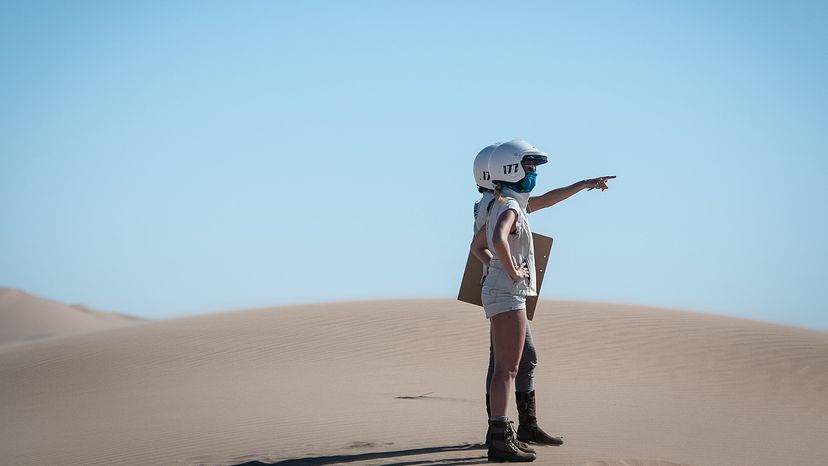 I think we go this way. Or was it that way?
Rebelle Rally