­The Arnolt-Bristol was an interesting amalgam of contemporary Bristol chassis engineering and Bertone styling and body construction. The 96-inch-wheelbase chassis was basically the 404 platform, a sturdy box-section affair with transverse front leaf spring and a carefully located live rear axle.
However, the Arnolt-Bristol packed more power than the 404, carrying a tuned version of Bristol's Type BS1 sports-racing engine, a six-cylinder unit that harked back to the prewar BMW 328. Output was 130 horsepower (Bristol touring-car engines were usually rated at 105 bhp in this period). Gearbox and brakes came from Bristol's earlier 403 coupe-sedan. To use the modern vernacular, the Arnolt-Bristol was a real "parts bin" job.
Bristol sent rolling chassis to Bertone, which topped Arnolt-Bristols with either open two-seater or closely related fastback coupe bodies. Completed cars were then shipped to Chicago. The fastback would prove very rare (it is thought that only two were built). The open version was offered in two forms.
The stark $3994 Bolide, with cut-down windshield and no soft top, was essentially a ready-made "club racer." An extra $750 bought a Deluxe model with more complete trim. The Arnolt-Bristol coupe, though still small inside, noisy, and somewhat uncomfortable to drive, had full weather protection and wind-down windows. The styling, all swooping curves with a rather pinched nose and mouth, was typical of Bertone in the Fifties.
Because Arnolt-Bristols were built mostly by hand in limited quantities (only 142 over seven years), specifications varied. Early examples had conventional steel disc wheels, but later cars were supplied with center-lock discs, presumably for faster changes at pit stops.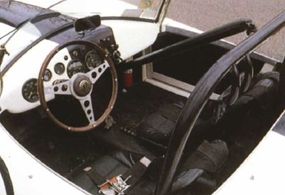 Though demand was never high, the Arnolt-Bristol was a remarkably long-lived specialty sports car. Light weight and ample power gave it good acceleration, and this coupled with excellent balance and fine manners made it a racing natural. Its first competition win came in the 2.0-liter class at the 1955 Sebring 12 Hours (repeated the following year), and Arnolt-Bristols were still winning races -- or at least their class -- well into the 1960s.
By that time, though, routine chassis supplies had ceased (Bristol was about to stop building its distinctive BMW-based six anyway) and even Wacky was gone (he died in 1960). With little impetus to develop a successor model, the marque disappeared, but not before a final Arnolt-Bristol was built from leftover parts and delivered in 1964.
Though 12 cars were lost to a warehouse fire, a high proportion of the remaining 130 Arnolt-Bristols survive today. Among them are two interesting "few-of-a-kind" variations: an aluminum-bodied semi-racer, of which five were originally built, and another four roadsters equipped with 283-cubic-inch Corvette V-8s.
Elusive, expensive, and immensely desirable, the Arnolt-Bristol remains a footnote in the pages of automotive history, but a memorable one. Like Chicago, it had a lot of class that was rarely appreciated.