Then Cadillac designer Larry Erickson dreamed up the Aluma Coupe hot rod on a flight back to Detroit from Southern California in 1991. Erickson sketched a car conceived as a modern midengine combination of the Pierson Brothers' '34 Ford coupe and Art Chrisman's radically chopped '30 Ford Model A coupe. The car that resulted not only pushed the envelope of hot rod design, but also changed the way the automakers thought about hot rods.
Erickson had worked with Boyd Coddington on CadZZilla™ in the late 1980s, and this car was the duo's next project. It was originally intended to be a roadster with an American V-8, but plans soon changed. Mitsubishi had been thinking of developing a show car based on its 3000 GT sports car, and when Mitsubishi chief product planner Ron Kusumi met Coddington, he found the man who could build a car to showcase his company's parts.
Erickson built a scale model to flesh out and tweak the concept and Coddington's crew set to work. Dave Willey fabricated the tube chassis, which would later be powder coated in gray, as would the suspension parts. The unique front suspension was built as an independent cantilever unit with inboard coil-over shocks, and the rear received an ­independent setup as well.
Marcel DeLay fashioned the body, which changed from a roadster to a coupe along the way due to concerns about structural strength. The car received its name, the Aluma Coupe, in part because the body panels were fabricated entirely from ­aluminum.
Mitsubishi parts shaped much of the rest of the car. Russ Collins of Torrance, California's R.C. Engineering tuned the engine -- a turbocharged 1991 Mitsubishi Eclipse 2.0-liter four-cylinder -- to roughly 320 horsepower. Coddington's crew mounted the engine transversely behind the seats, mating it to a '90 Galant transaxle with billet driveshafts and hub ­carriers.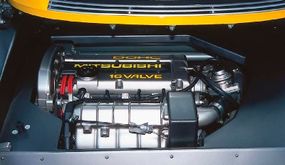 Erickson also designed the interior, utilizing Mitsubishi Eclipse instruments, custom-made Connolly leather seats, and a Boyd steering wheel. A glass-smooth yellow-pearl paint job and Coddington's Tri-Fan wheels completed the 11-month project.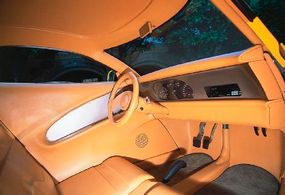 The Aluma Coupe debuted at the 1992 New York Auto Show to extensive press cover­age. The car further established Coddington as the premier rod builder of his time, and set the stage for further auto company involvement in hot rods.
Ferrari ­collector David Sydorick bought the Aluma Coupe in 1993. He has since displayed the car at the Petersen Auto­motive Museum in L.A., as well as at other venues. Sydorick drives the car on occasion, shows it at South­ern California events, and keeps it at his Beverly Hills home.