Replacing Your Alternator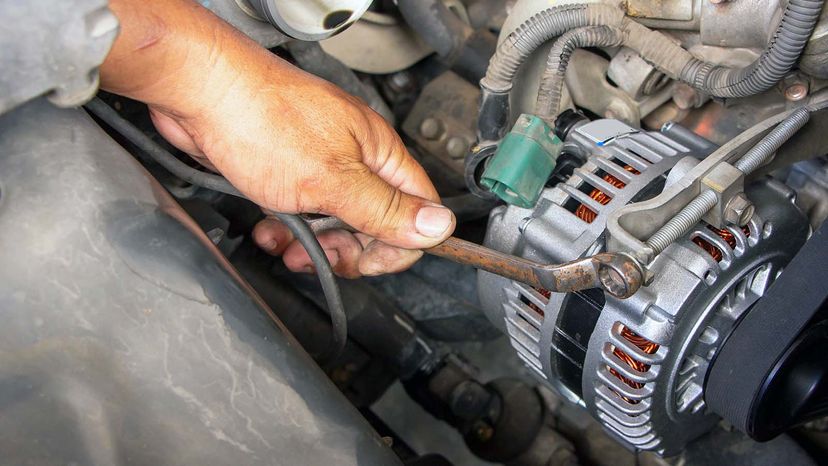 Typically alternators are less expensive than, say, a power steering pump or air conditioner compressor. Nevertheless, you don't always have to fork out a lot of cash for a replacement. Many automotive stores sell remanufactured or rebuilt alternators at a discount. A rebuilt alternator will usually cost between $100 and $200, depending on how much power your car requires.
While alternators are relatively inexpensive in comparison to some of the other components on your car's engine, some can be expensive depending on the car make. But they often run between $250 and $350.
Sometimes alternators are easily accessible and simple to replace for the at-home mechanic. With a modest amount of automotive experience and the proper tools, you can change an alternator in your garage. But more and more cars don't have much space under the hood, and the alternators can be difficult to reach without first removing several other components. In this case, it's best to take your car to an experienced technician who can do the job quickly.
If you happen to own an alternator that has a repair kit available for sale, you can really save some money. Alternator repair kits are usually less than $30, depending on which components you need to fix. Again, you need the proper tools and a little know-how, but if you're able to find the right kit and know what you're doing, you can rebuild an alternator for a fraction of the cost of even a remanufactured unit.
One thing is certain: A bad alternator will ruin a good battery if you don't address it quickly. Batteries can only be recharged so many times before they'll lose their ability to hold a charge. If the battery isn't relatively old, it should survive. But an older battery that is constantly drained and charged will have a shorter life span.
Vehicle Alternator FAQ
What does an alternator do for a car?
The alternator works with the battery to generate power for the electrical components of a vehicle, like the interior and exterior lights, and the instrument panel.
Does an alternator need power to work?
An alternator actually generates power for your vehicle. Alternators produce AC power through electromagnetism formed through the stator and rotor. The electricity is channeled into the battery, providing voltage to run the various electrical systems.
How many amps should a car alternator put out?
It depends on the amp rating of your car's specific alternator. You can check your owner's manual to learn the maximum amps your alternator should put out.
Do alternators produce AC or DC?
Alternators create AC power.
How much does it cost to replace an alternator?
A new alternator can cost anywhere from $500 to $1,000.
Related Articles
Sources
AAA. "How Long Do Car Batteries Last." (July 27, 2022) https://www.aaa.com/autorepair/articles/how-long-do-car-batteries-last

AutoPartsWarehouse (July 27, 2022) http://www.autopartswarehouse.com/search/?Ntt=Porsche+Alternator&Ntk=Main&Ntx=mode+matchallpartial&N=4294967021

BatteryStuff.com. "Battery Basics: A Layman's Guide to Batteries." (July 27, 2022) http://www.batterystuff.com/tutorial_battery.html

Engineers Edge. "AC Alternators About." (July 27, 2022) http://www.engineersedge.com/motors/alternator_types.htm

Evans, Joe. "Why Wye Connection? Why Delta Connection?" Pumps and Systems, May 21, 2013. (July 27, 2022) https://www.pumpsandsystems.com/why-wye-connection-why-delta-connection

Kennedy, Peter. "A Key to Identifying Your Alternator Terminals," Dec. 13, 2018. (July 27, 2022) https://shop.pkys.com/Alternator-Terminals-explained.html

Mortenson, Ted. "How Does an Alternator Work?" Realpars.com. Nov. 15, 2021. (July 27, 2022) https://realpars.com/alternator/

Nationwide. "What Is an Alternator and How Does It Work?" July 23, 2020. (July 27, 2022) https://blog.nationwide.com/what-is-an-alternator/

O'Reilly Auto Parts. "Alternators and Starters." (July 27, 2022) https://www.oreillyauto.com/shop/b/alternators---starters/58e8697eda89

PBS Online. "Tesla-Master of Lighting: War of the Currents." (July 27, 2022) http://www.pbs.org/tesla/ll/ll_warcur.html

Rivergate Muffler and Auto Repair. "What Do Alternators Do and Why Do They Fail?" May 31, 2019. (July 27, 2022) https://rivergatemuffler.com/2019/05/what-do-alternators-do-and-why-do-they-fail/

Slemon. Gordon R. "Electric Generator." Encyclopedia Britannica. (July 27, 2022) https://www.britannica.com/technology/electric-generator

Sullivan, Kevin. "Alternator Fundamentals." Auto Shop 101. (May 27, 2008) http://www.autoshop101.com/trainmodules/alternator/alt101.html

Technician Academy. "How an Alternator Works," April 20, 2017. (July 27, 2022) https://technician.academy/how-an-alternator-works/

Tesla Memorial Society of New York. "Tesla AC Electricity." (July 27, 2022) http://www.teslasociety.com/ac.htm