With a car that apparently hit a bull's-eye right from the start, it might have seemed difficult to broaden the C5's appeal. But Chevy did just that by introducing an all-new convertible version for the 1998 Corvette.
The 1998 Corvette convertible sported the first external trunk lid
on an open-air Corvette in 36 years.
Chevrolet had planned to build a convertible companion to the coupe literally from day one of the C5 project. In fact, the vehicle was engineered to accommodate a ragtop without adding the heavy structural reinforcements most open cars require. As a result, the convertible weighed just one pound more than the coupe and was only slightly less rigid. What's more, it weighed 114 pounds less and was four times more torsionally sound than its C4 equivalent. It also came with a traditional trunk, the first one to be included on a convertible Corvette since 1962. And this was no mere cubbyhole, either -- at 13.9 cubic feet, its cargo area was larger than that of any other contemporary convertible.
The design team also revived the convertible's "waterfall," a body panel that continued down from the tonneau, flowing between the seats as it did on 1953 to '62 versions. A glass rear window with electric defroster was standard, but the top still had to be raised or lowered manually. (A power top would have reduced trunk space and added almost 15 pounds to the package.)
Still, the double-lined folding top was lighter and easier to operate than the C4's; it could be raised or lowered in about 20 seconds, though the system's weight and release points precluded that this be accomplished from outside the car. The new design eliminated the unsightly tonneau anchor holes and roof locator pins of previous Corvettes. The ragtop now used the tension of its raised framework to hold the bottom in place.
The 1998 convertible's price was set at $44,425, compared to $37,495 for the coupe -- approximately the same price spread as the C4 models (though it was still a far cry from the Sixties and early Seventies, when ragtop Corvettes actually cost less than base coupes).
A new 1998 Corvette convertible was the 11th Chevrolet and
the fourth Corvette to pace the Indianapolis 500.
A 1998 C5 convertible was chosen to be the fourth Corvette to pace the Indianapolis 500. Modifications from stock were few: The pace car's LS1 engine got a freer-flowing intake manifold and exhaust system that boosted horsepower by 25, to 370; its ride height was lowered slightly; a roll bar was mounted behind each seat; and rear-facing strobe lights were integrated in the tonneau's fairings.
To mark the occasion, Chevy built 1,158 pace-car replica convertibles for public sale at an option-package price of $5,039 ($5,804 for cars with the manual transmission). While the replicas included none of the actual pace car's mechanical tweaks or safety equipment, they did carry its exclusive radar blue paint, decals, two-tone upholstery, and yellow wheels. They also came with a full ensemble of otherwise-optional features, including a new Corvette performance option introduced at midyear: an antiskid system.
The new Active Handling System (RPO JL4), available for $500, was designed to sense an impending skid during a turn and guide the car back on line by selectively applying individual brakes and activating the standard traction-control system; throttle control remained unaffected. Unlike other such antiskid systems, and keeping in character with the vehicle's sporting nature, this one added a "Competition mode."
Activated by a console button, it deactivated the traction-control portion of the system for extreme cornering situations in which some rear-wheel spin was desirable.
Optional magnesium wheels were also introduced for 1998, but the $3,000 rims proved unexpectedly popular and had to be discontinued when supplies ran out.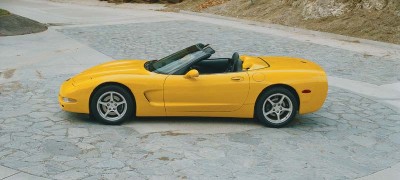 The 1998 Corvette was named the 1998 North American Car of the Year because
of its power, structural strength, livability, and workmanship.
Incremental improvements across the board for 1998 included a number of noise-reduction efforts; these included a modified accessory drive tensioner, the removal of an alternator brace that was found to produce a high-rev "whine," improved window seals, and, later in the production run, a quieter electric fuel pump.
In addition, the power-steering system's caster angle was increased for better tracking, and the optional Real-Time Damping suspension now afforded better wheel control. A second-gear start mode was added to the standard four-speed automatic transmission to help limit wheel spin from a standing start on slick roads. Finally, the transmission cooler was now made of stainless steel instead of a copper-nickel alloy.
Sales for the C5's first full model year roared to 31,084 units -- the Corvette's highest production total in 12 years -- with the new convertible accounting for about 38 percent of the volume.
Learn about other Corvettes in this generation:

Looking for more information on Corvettes and other cars? See:
Muscle Cars: Get information on more than 100 tough-guy rides.