The 2002 Harley-Davidson FXSTB Night Train does not look much different than when the model was introduced in 1999. The original Night Train was a study in basic black. And though it has undergone some subtle changes in the intervening years, the look remains true to its sinister origins.
The first Night Trains were powered by an 80-cubic-inch Evolution V-twin, which gave way to the new Twin Cam 88B for 2000. The following year, Jade Sunglo Pearl was added as a color choice.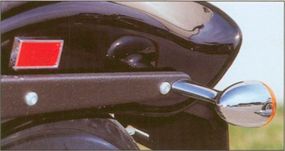 But all Night Trains share the crinkle-black trim that sets this model apart: The engine and transmission are both cloaked in black, as are traditionally chromed items such as the oil tank, air-filter cover, rear-fender braces, and tank-mounted instrument panel. Yet a few trim pieces remain bright-just enough to be able to spot a Night Train in the dark.