The 2003 Ford Mustang Mach 1 and 2004 Mustang
Mustang models were finally back on track after the 2001 performance debacle. Powerful pony cars and street-legals racers were bringing in rave reivews.
The 2003 Ford Mustang Mach 1 was a follow-up to the boomermobile 2001 Mustang Bullitt. Reviving the Mach 1 name after 25 years, this new variation on the GT coupe carried a naturally aspirated twincam Cobra V-8 tuned for 300 horsepower and topped by a functional "shaker" hood scoop straight from the Sixties.
Base price was $28,370, a stout $3715 above the GT Premium coupe, but that also included a slightly lowered suspension, primo Brembo brakes, a black hood stripe and other unique cosmetics, and "comfort-weave styled" leather upholstery.
Car and Driver pitted the reborn Mach 1 against three new high-tech foreigners for a December 2002 test and ranked it second behind Nissan's formidable, newly reborn Z-car.
"The Mach 1 earns its silver medal because it is brute fun," the editors said. "Drop the hammer, and with no especially refined technique, 60 mph is yours in a scalding 5.2 seconds…the fastest time in this test by a full half-second."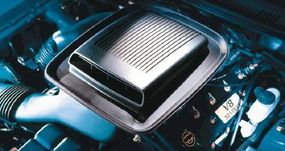 The 2003 Mach 1's "shaker" hood scoop fed air to a 300-horseversion of the 4.6 twincam V-8 from earlier SVT Cobras.
As ever, there were gripes about solid-axle handling and dated ergonomics. But C/D admitted the Mach 1 "generates more grins than grimaces…. [It] is an ode to the past. Perhaps Henry Ford was wrong: History isn't bunk, it's a hoot."
All by themselves, the Mach 1 and the sizzling supercharged 2003 Ford Mustang SVT Cobra made 2003 a vintage Mustang year. The only other change of note was a $595 Pony appearance package for V-6 models. Sales improved fractionally, adding a bit over 2000 units for the calendar year.
The 2004 Mustang
The trusty old steed was clearly marking time. As everyone knew, a frisky new filly was on the way for 2005, previewed with a pair of concepts at the January 2003 Los Angeles and Detroit Auto Shows.
That implied few changes for '04, Mustang's 40th anniversary year. Sure enough, there was little news that season: an extra 10 horses for Mach 1, three more for V-6 models. But of course, Ford did deliver the obligatory birthday package, this time an $895 kit for Premium V-6 and GT coupes and convertibles. This bundled an Interior Upgrade Package (normally a $295 stand-alone item) with unique wheels, special badging and trim, and fold-in mirrors; curiously, it deleted the stock rear spoiler.
It wasn't much of a present for such a milestone birthday, but it didn't have to be. The real celebration was yet to come.
Want to find out even more about the Mustang legacy? Follow these links to learn all about the original pony car:
Saddle up for the complete story of America's best-loved sporty car. How the Ford Mustang Works chronicles the legend from its inception in the early 1960s to today's all-new Mustang.

It's hard to imagine Ford actually considered putting the Mustang out to pasture instead of producing a 1994 model. Learn how Mustang came back from the brink in 1994-1998 Ford Mustang.

The 2005 Mustang's shape was ordained by a superstar stylist with a European pedigree. Learn how the original pony car was reborn in 2005 Ford Mustang.

For a full report on the 2007 Ford Mustang, check out Consumer Guide New Car Reviews. Here you'll find road test results, photos, specifications, and prices for hundreds of cars, trucks, minivans, and SUVs.