Despite the relative lack of success of the Mustang SVO models of the mid-1980s, Ford execs were generally pleased with the work of their Special Vehicle Operations unit, the in-house performance arm that had created that car and a slew of winning race cars.
By the early 1990s, however, SVO had become a victim of its own success, with too much work to do and too few people to do it. Accordingly, Ford reorganized and refocused its performance and competition activities.
SVO would continue running corporate racing programs and developing over-the-counter speed parts, but the task of coming up with hot limited-edition street cars passed to the newly created Special Vehicle Team (SVT) headed by John Plant. At about the same time, a Special Vehicle Engineering staff (SVE) was formed to support both SVT and SVO.
As one press release stated it, SVT's mission was "to use the best-available resources from both inside and outside Ford [Motor Company] to explore new ways of creating and marketing high-performance vehicles. The cross-functional team is charged with delivering limited-edition, high-performance derivative cars and trucks designed to delight serious drivers.... SVT's refined, understated 'form follows function' philosophy reflects our passion for multi-dimensional performance."
Sales and service would be handled "through a select network of specially trained and certified Ford dealers who are prepared to satisfy discriminating driving enthusiasts before, during and after the sale."
SVT unveiled its first two progeny at the 1992 Chicago Auto Show. Both were early 1993 models: the SVT Mustang Cobra and a hot-rod full-size pickup, the SVT F-150 Lightning. Respective model-year production was 4993 and 5276.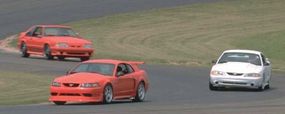 Within a year, SVT had added a racing-only Mustang Cobra R, which saw but 107 copies. While the 240-horsepower 5.8-liter V-8 Lightning continued through 1995 and another 6287 units, SVT tuned up its engine to 300 horsepower for a new SN95-based Cobra R, of which just 250 were built for '95.
Then, for the next two years, nothing. Several factors were at work. First, Plant retired in March 1995, and though his successor, Tim Boyd, made no big changes to planned projects, the team apparently ran into engineering delays on its next Lightning, a supercharged stormer based on the redesigned '94 F-Series.
SVT was also busy with its first sports sedan, a tuned version of the Euro-style Ford Contour, for which top brass had high sales hopes. SVT might have been created to "polish the Ford oval," but it was also expected to make money, or at least break even.

But the main problem was some evident grumbling in the dealer ranks. As Car and Driver reported in August 1995, each Ford store paid a $4000 annual fee to be an SVT agent, not to mention investment in special equipment and training. Yet some dealers had bailed, in part because SVT Mustangs couldn't compete on muscle with top-power, regular-production General Motors rivals.
"If these dealers lose interest, Ford loses interest," C/D intoned, "and that could mean all the SVT employees and engineers go back to designing cupholders for the Crown Victoria."
The good news was that the SVT Contour was a sales success, along with other models from the SVT team. Keep reading to learn how SVT boosted sales (and managed to justified its own existence).
Want to find out even more about the Mustang legacy? Follow these links to learn all about the original pony car:
Saddle up for the complete story of America's best-loved sporty car. How the Ford Mustang Works chronicles the legend from its inception in the early 1960s to today's all-new Mustang.

Ford's ageless pony car was rejuvenated one more time for 1999 with "New Edge" styling, more power, and many key refinements. Read 1999-2004 Ford Mustang to learn about the fastest, most roadable Mustangs yet.
The 1968 Shelby Cobra GT 500-KR was no mere Mustang. Check out this muscle car profile, which includes photos and specifications.