The 2003 Ford Mustang SVT Cobra
Ford Mustang sales for 2002 were down a troublesome 18.2 percent. Ford needed to pull out the big guns to bring back buyers.
The Mustang SVT Cobra was MIA for '02, but only until spring, when the 2003 versions made an early debut packing a huge new wallop: 390 horsepower and 390 pound-feet of torque.
Taking a page from the hot-rodder's handbook, SVT bolted an Eaton M112 Roots-type centrifugal supercharger to the Cobra's twincam V-8 and made numerous changes to accommodate it. These included using an iron block for durability under pressure, plus a water-to-air intercooler, new cylinder heads, and revised pistons with suitably lower 8.5:1 compression.
The only transmission was the Tremec six-speed familiar from the 2000 Cobra R. Suspension was naturally recalibrated, with individual damping rates for the coupe and convertible. Rolling stock comprised inch-wider five-spoke cast-alloy rims wearing 275/40ZR Goodyear Eagle F1 tires. SVT also added a vented hood (necessary with the added engine-bay heat from the blower), revised front fascia and rocker-panel skirts, a rear air diffuser, and a new low-profile decklid spoiler.
With all this, SVT's latest Mustang delivered near 2000 Cobra R thrust at a much friendlier starting price of $33,460. The stats told the tale: 0-60 mph in 4.5-4.9 seconds, quarter-mile ETs around 13 seconds, 0.90g skidpad grip. All this in a car you could drive to work day in and day out.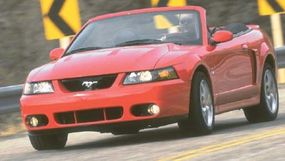 The 2003 SVT Cobra, shown here in convertible form,sported a bulging twin-scoop hood. Larger brakes androlling stock helped control its formidable thrust.
You might not call it refined, as Road & Track's Doug Kott observed, "Yet it's refined enough for those who elevate performance and affordability…above ultimate sophistication.... [T]he SVT crew should be applauded for… breathing new life into Ford's workhorse."
Ford revived the Mach 1 name after 25 years for the 2003 Mustang Mach 1, a variation on the GT coupe. Keep reading to learn all about the 2003 Mach 1, along with the 2004 Mustang lineup.
Want to find out even more about the Mustang legacy? Follow these links to learn all about the original pony car:
Saddle up for the complete story of America's best-loved sporty car. How the Ford Mustang Works chronicles the legend from its inception in the early 1960s to today's all-new Mustang.

It's hard to imagine Ford actually considered putting the Mustang out to pasture instead of producing a 1994 model. Learn how Mustang came back from the brink in 1994-1998 Ford Mustang.

The 2005 Mustang's shape was ordained by a superstar stylist with a European pedigree. Learn how the original pony car was reborn in 2005 Ford Mustang.

For a full report on the 2007 Ford Mustang, check out Consumer Guide New Car Reviews. Here you'll find road test results, photos, specifications, and prices for hundreds of cars, trucks, minivans, and SUVs.