1999 Mustang Cobra Horsepower Snafu
The 1999 Ford Mustang SVT Cobra came with impressive innovations to please Mustang fans and car experts alike. However, all was not right with the Cobra.
Motor Trend noted that despite smaller tires and a solid axle, the GT's slalom and skidpad numbers were surprisingly close "at 66.8 mph and 0.86g, respectively [vs.] 67.8 mph and 0.88g. Viewed in this way, the SVT super pony seems hardly worth the extra $7000" -- a starting tab of $27,470 for the coupe, $31,470 for the ragtop.
Car and Driver praised the IRS for erasing 125 pounds of unsprung weight, even though it was 80 pounds heavier than the solid-axle assembly. On the other hand, curb weight was down by a worthwhile 110 pounds, and it was split more evenly front to rear. With that, C/D's Barry Winfield judged the '99 Cobra "more supple and thus more readable in corners. The rear end is less susceptible to bump-steer…off-center steering response is better, and [the] handling is more neutral at the limit."
But straightline performance was a puzzle. "We expected to hit 60 mph in about five seconds flat," Winfield said, "but 5.5 was the best we could do -- 0.1-second slower than the previous model. Top speed was also down, from 153 to 149 mph...all of which confirms that our low-mileage prototype test car wasn't making a full head of steam."
Sure enough, a manufacturing glitch had left Cobra intake runners and some exhaust components with internal aluminum residue or "flash" that upset air flow and kept more than 30 horses from showing up.
After fielding a few dozen owner complaints, mostly from drag racers, Ford recalled all 1999 SVT Cobras on the ground to replace the manifold or ream out the existing one. Ford also charged nothing to replace mufflers (found to be too restrictive), recalibrate the engine computer, and substitute a more durable accessory-belt tensioner. A decal was affixed in the engine bay to certify the work once it was done.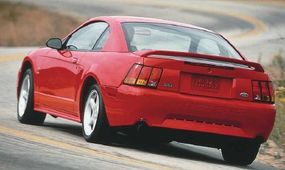 The manufacturing glitches that forced Ford to recall '99 Cobras was a majorsetback for the Special Vehicle Team, which would wait until 2001 to releaseanother SVT Cobra model.
Though Cobra owners didn't seem to mind the recall or its inconvenience, the episode was a black eye for Ford and SVT, enough that they decided not to do a 2000 Cobra. As the SVT website advised at the time, fixing the '99s had top priority.
"Rather than rushing to produce a limited number of 2000 models -- and risking production/manufacturing issues by hurrying -- we're choosing to focus our efforts on the timely production of the ['01 versions]."
Cobra sales were also down but not mortally wounded by the AWOL-horsepower flap, and Cobra convertibles outsold coupes for the first time (4055 vs. 4040 units).
While the SVT was on hold for 2000, the 2000 Mustang Cobra R was unveiled as a racing-oriented speed machine. Go to the next page to learn about this street-legal racer's dream.
Want to find out even more about the Mustang legacy? Follow these links to learn all about the original pony car:
Saddle up for the complete story of America's best-loved sporty car. How the Ford Mustang Works chronicles the legend from its inception in the early 1960s to today's all-new Mustang.

It's hard to imagine Ford actually considered putting the Mustang out to pasture instead of producing a 1994 model. Learn how Mustang came back from the brink in 1994-1998 Ford Mustang.

The 2005 Mustang's shape was ordained by a superstar stylist with a European pedigree. Learn how the original pony car was reborn in 2005 Ford Mustang.

For a full report on the 2007 Ford Mustang, check out Consumer Guide New Car Reviews. Here you'll find road test results, photos, specifications, and prices for hundreds of cars, trucks, minivans, and SUVs.