So close in looks were the 1978 Ford Pinto models to the previous year's cars that sales literature actually recycled a number of '77 photos. About the only cosmetic news was the shuffling of a few exterior colors and changes to a couple of the appearance packages.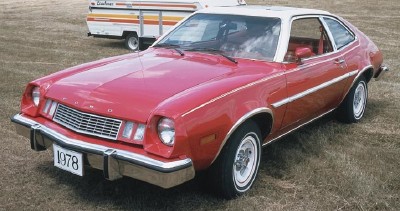 The 1978 Ford Pinto was virtually the same
as the 1977 model.
Most notable was a new Rallye edition available for sedans and Runabouts. It featured black window trim, gold tapestriping, a front spoiler, sports mirrors, and four-spoke styled-steel wheels with trim rings. Also, a sedan delivery version of the Pinto wagon was added during the year. Between the body's metal side panels sat a full-length flat cargo floor. Available options included a rear-window security screen.
Except for some slight revision of horsepower ratings, the 1978 Pinto was unchanged from 1977. The four now made 88
horsepower
(a loss of one), while the V-6 generated 90 horsepower (a decline of three).
Probably the most dramatic change for this season was in pricing. While the starting price of an entry-level Pony sedan was just $40 higher than the year before, other models were boosted by about $400 or more.
Continuing bad press and the growing influence of import competitors continued to erode the Pinto's customer base. Production slumped below 190,000. While demand for sedans actually rose a bit, wagon orders declined by 34 percent. As a result, the Runabout was the most-popular Pinto for the first time since 1972.
For more picture-packed articles about great cars, see:
Consumer Guide Automotive
Consumer Guide Used Car Search