The 1971-1980 Ford Pinto was another of Ford's "pony" cars. Dozens of accounts have been written to commemorate Lee Iacocca's foresight in pushing for production of the Mustang, the sporty compact that started the ponycar craze in the mid Sixties. However, there was another "pony" car during his tenure at Ford, and Iacocca is less freely associated with the birth of the Ford Pinto. Perhaps he would prefer it that way.
Like the Mustang, this car was a marketing success in a new field. But along the way, it had to weather some distinctly bad publicity that the Mustang did not. This other "pony" -- Ford's fourth product line to follow the equine theme -- was the subcompact Pinto.

There was nothing really fancy about the Pinto. Its main goals were to provide reasonable comfort and adequate performance for modern freeways while being economical to buy and maintain. By all accounts, Iacocca watched over the birth of this car closer than he had with the Mustang, and was determined that it would not cost a penny more than $2,000, nor weigh an ounce more than 2,000 pounds.

Ford started toying with the idea of a domestically produced smaller compact in the mid Sixties. As early as 1967, there had been some consideration of an 85-inch-wheelbase car powered by something with less than six cylinders. Iacocca, then executive vice president in charge of Ford's North American Vehicle Operations, argued that between the Volkswagen from Germany and the rising tide of Japanese compacts, these imports would soon capture the entire subcompact market in the United States, and Ford should produce a car to meet these foreign challengers head-on.

After the successful launch of the Mustang and an up­swing in sales, many felt Iacocca was next in line for the presidency at Ford. However, when Arjay Miller left the post in late 1967 to become Vice Chairman of the Board of Directors, Henry Ford II surprised nearly everyone in the industry when he went outside the company to General Motors and brought over Semon "Bunkie" Knudsen. This created tension between the Iacocca camp and those who got into Knudsen's corner. Cold shoulders were commonplace on the upper floors of the big "glass house" in Dearborn.

Adding to the ill feelings was the fact that Knudsen was completely out of sync with Iacocca's plans for a small domestically built car. According to the new president, Ford would get by just fine by concentrating on the current full-size, mid-size, and compact offerings. In Knudsen's view, Ford was already ahead of the game with the 1970 Maverick, due out in early '69 as a replacement for the aging Falcon.

However, Iacocca argued that confronting the imports directly was the best course. His little "G-car" might have been a little too small, but something smaller than Maverick was going to be necessary. That need only intensified after reports came in that the other U.S. automakers were planning to field smaller-than-compact cars.

Iacocca's persistence paid off and in January 1969, Henry Ford II gave his approval for Ford's first domestic sub-compact. This defeat, plus continuing pressures from other areas of the company, led to Knudsen getting the word from HFII that his efforts as president were "just not working." In due time, the presidency was Iacocca's.

(By some accounts, Knudsen did have a substantial role in the Pinto project. In an interview published in the April 1994 issue of Collectible Automobile®, former Ford stylist Bob Thomas recalled the process this way: "My design turned out to be the exterior for the Pinto. I was amazed at the package for the Pinto ... After they showed this model, Bunkie picked it -- and that was it. Of course, Knudsen didn't get any credit for the Pinto because shortly afterwards he left, not by his own choice.")
For more picture-packed articles about great cars, see:

Consumer Guide Automotive
Consumer Guide Used Car Search
Bringing the Ford Pinto to Life
With the OK given in 1969 to move ahead on bringing the Ford Pinto to life, a release date in less than 20 months, September 1970, was set. Heading up the program, code-named "Phoenix" -- ironic, as it would turn out -- was Frank G. Olsen, an experienced engineer who had worked on several other projects, including the Mustang and the upscale Ford Fairlane and Torino.
In an article published by the Society of Automotive Engineers, Olsen laid out the published objectives from the "Phoenix Green-Book" that set up the schedule and developmental steps for the project. Among the goals was that the car would present superior appearance, passenger comfort, amenities, ride, handling, and performance.

In February 1969, a 32-man group, including the chief engineers from all areas of Ford's manufacturing division, went on a three-day shakedown cruise of cars already in the market that the new little Ford would be broaching. These included two Fiats, the 850 and 124; the Volks­wagen Beetle; Opel Kadett; Toyota Cor­olla; and, from England, a Vauxhall Viva and a member of the company's extended family, a Ford Escort. Their goal, according to Harold Freers, Ford's chief engineer, was to come up with an "Americanized compact."

Each test car was rated in a number of areas to determine where the focal points of Ford's entry should be. It was generally agreed that Volkswagen would be the overall main target. In terms of quietness, Toyota was considered tops, while the Fiat 850 was deemed most comfortable. The team also agreed that for ride and handling, the Opel couldn't be beat.

Using unitized construction, an area where Ford had plenty of experience, new ways were sought to make the package as light as possible, yet still retain rigidity. Starting with a stamped under-body platform, the structural members and outer sheetmetal were uniformly welded together.
According to Ford, this would improve hood, decklid, and door fit, thus reducing rattles, squeaks, and leaks from wind, rain, or dust. A "halo" ring held the bodysides in place, cutting down on weight, while providing additional rollover protection.

This development didn't happen overnight. Almost from the moment that Pintos started to hit the test track, major flaws began to appear. "Hardly a week went by when we didn't need the body engineers. We went through a number of redesigns to make it pass," Freers told Motor Trend.

Most of the structural-integrity problems centered on making the body solid and stiff, while using as little material as possible. Some of these problems were solved with new ways of using the front cross members, the rear end, and even the dashboard as a unifying source.

A major hurdle to overcome was containing passenger-compartment noise. At the time, high-dollar Lincoln sedans carried a total of 140 pounds of sound-absorption material. Mavericks had just 28 pounds of the stuff, and with a target weight of a quarter-ton less for the upcoming subcompact, only 12 pounds were available.
A new process of heat-curing vinyl sealing material was one of the innovations used with the Pinto. This custom-formed plastic bond was applied to the full length of the outer panel seams and joints to help cut noise. Plastic was used extensively in the Pinto to cut down on both weight and cost, such as a number of interior components as well as the front grille.

Engineers tending to passenger comfort managed to stretch the cabin to its absolute maximum, allowing for six-and-a-half-footers to easily enter and exit. All dashboard controls, the gearshift lever, pedals, and gauges were laid out for easy control and monitoring. Servicing was also a priority, as the main cluster housing the speedometer plus fuel, oil, and electrical monitors could be removed in just a few minutes with the use of a simple screwdriver.

Probably the most important ingredient for the Pinto recipe would be the drivetrain. Looking to existing products from Ford's European operations, two likely candidates were found that would fill the bill.

There was a little inline overhead-cam four-cylinder known as the Kent engine. Introduced in 1959, it had already proven its durability in a number of British models, starting with the Anglia. Its basic design had started at just under one liter for use in Anglias, but had grown rapidly for use in Consuls and Zephyrs, eventually hitting 1.3 liters for use in the Cortina by 1962. A couple of years later, displacement had grown to 1.5 liters, and there was still room to go.
As the horsepower race of the Sixties continued in England, though at a much slower pace than in America, the Kent engine received another boost in displacement, to 1.6 liters in 1967, and was aimed primarily for the Cortina GT models. So durable was the little Kent that its basic design served as the basis for engines used in Colin Chapman's Lotus road and race cars.

The engine's proven qualities made it a natural for Ford's new American-built subcompact car. As used in the Pinto, it was rated at 75 horsepower at 5,000 rpm, with torque measured at 96 pound-feet at 3,000 revs. Induction came through a single-throat carburetor with an automatic choke for simplified operation. Cross-flow cylinder heads improved power by virtually eliminating the combustion chambers. Dubbed the Pinto 1600 (for its displacement in cubic centimeters), this would be the base power­plant.

Knowing that Americans love power under the hood, engineers went shopping for a slightly larger engine that could be offered as an option. This time it was Ford of Germany that supplied the goods, another overhead-cammer with a proven racing heritage in Europe, the 2.0-liter "Cologne Four." It made 100 horses at 5,600 rpm, and was considerably stronger than the base engine, generating 120 pound-feet of torque at 3,600 rpm. It, too, had a cross-flow cylinder head with larger valves and ported manifolds.

Power was conducted through another proprietary component, a smart little four-speed gearbox based on a similar unit that had been successfully used by Ford of Britain for many years. Both engines would be equipped with the stickshift as standard equipment, but a Cruise-O-Matic three-speed automatic was available to those who opted for the 2.0-liter engine.
For more picture-packed articles about great cars, see:

Consumer Guide Automotive
Consumer Guide Used Car Search
Expectations for the Pinto
One of the most important demands for the Ford Pinto was that it provide superior handling, and here again Ford engineers worked miracles to meet the expectations for the Pinto.
Steering was by rack and pinion. While this was still a relatively new feature for most U.S. drivers, it had become the standard of production overseas. Using a ratio of 22:1, a compact steering wheel of just 15 inches in diameter provided a sports-car feel. Com­bined with the light weight of the car, there would be no need for power assist.

To smooth out the ride, a combination of short and long A-arms were employed in an independent suspension that was effectively a downsized replica of those used in other domestic Ford products. Coil springs were mounted between the lower A-arm and spring-pocket projections in the upper cross member. Double-acting shock absorbers were mounted inside the coil springs and were easily accessible for replacement, which met another design goal.
The rear axle and suspension were very contemporary, starting with the use of 46.5-inch-long multileaf semielliptical springs mounted to rubber-insulated anchors that helped reduce vibration and road noise. Stag­gered shock absorbers were used to counteract wheel hop, plus assist with acceleration and braking. Braking was accomplished via a quartet of nine-inch drums equipped with self-adjusters. Optionally available were front disc brakes, a requirement when the larger engine was ordered.

Initial plans called for the Pinto to be issued in three distinctive body styles: a two-door sedan, a "three-door" hatchback, and a two-door station wagon. However, as production neared, and continuing problems with body rigidity plagued the design and engineering teams, it was decided that all efforts to correct the problems for launch would be concentrated on the base sedan.

Sitting on a 94.2-inch wheelbase, overall length was just 163 inches. The car's basic design featured a proportionately longer hood with a fastback rear design featuring a short decklid that started at the base of the rear window. Pinto came standard with 6.00X13 black-sidewall bias-ply tires, though optional selections included whitewalls and radials. Extra-cost flipper-type rear-quarter windows provided better ventilation, and comfort, for rear-seat passengers.

The front-end design featured a simple chrome-plated plastic grille filled with vertical slats. At the far ends were combination park and turn-signal lights. Keeping costs at a minimum, only two headlights were used, mounted on the leading edge of the front fenders. A simple chrome-plated blade bumper capped off Pinto's face. Rear-end styling was simple, too: a flat panel with taillight assemblies straight out of the 1970 Maverick catalog.

Many within Ford, including Henry Ford II, made references to the Pinto being the rebirth of the car that had really made a name for the company. It was for that reason that "Model T Black" was selected as the name for one of the Pinto's available colors.
However, if basic black was not to your liking, there were 14 other colors, including some rather wild selections. Vivid "Grabber" colors were borrowed from the Maverick and Mustang lines. They underwent a name change for the subcompact, though; for example, Grabber Blue became Pinto Blue.

Pintos were painted in a six-step process that began by dipping entire bodies in a primer solution. An electrostatic charge allowed application of paint with better adhesion, finish, and durability. Color-keyed all-vinyl seat trim covered the two front bucket seats and the rear bench seat.

In autumn 1970, Pinto was one of several new subcompacts on the market in the U.S. AMC released the Gremlin a few months earlier as a 1970 model. Chevrolet unveiled its new Vega just a day before the Pinto made its debut. Chrysler, meanwhile, was relying on so-called captive imports, the Mitsubishi-built Dodge Colt and Hillman-derived Ply­mouth Cricket.
Still, the Pinto appeared to be right on the mark, making creative force Lee Iacocca a proud father. Shortly after the Pinto's stellar release, Henry Ford II made this papa of horsepower and sales the company president.

On September 11, 1970, one week before the rest of the '71 Fords were released, the public got its first look at Dearborn's little foal. Showrooms weren't exactly mobbed by crowds just to see the new Pinto, but sales did take off at a brisk pace, considering just one model was available. By the end of 1970, a total of 86,680 Pintos had already rolled off the assembly lines. By comparison, only 24,295 Vegas made it off the line by December 31.
However, in all fairness, one has to remember that there was a 67-day strike that crippled all General Motors plants starting on September 15, just before the new models went on sale.

For more picture-packed articles about great cars, see:

Consumer Guide Automotive
Consumer Guide Used Car Search
1971 Ford Pinto
Sales of the 1971 Ford Pinto kept piling up in the car's early days. On January 18, 1971, less than five months after its introduction, the 100,000th Pinto was delivered to one Marco Ojeda at S and C Motors in San Francisco, California.
Performance was better than buyers expected
when the Ford Pinto hit the market as a 1971 model.
What made this news so special was that California was one of the hottest markets for imports, yet Pinto was winning customers there at an unprecedented rate. By January 1971, California dealers were reporting sales of Ford's new subcompact equal to 17.8 percent of all import sales.
Helping to make the Pinto a success was that it hit its price target. In base form, the first sedans were listed at $1,919, undercutting both Lee Iacocca's desired price ceiling by $81 and Chevy's Vega by $171.
Gasoline
was still very cheap and plentiful in 1971, and no one was required to post official fuel-mileage figures. However, Ford literature touted engineering tests of the base 1,600-cubic-centimeter engine and standard
transmission
that averaged 25 mpg in "simulated" city and suburban driving.
Initial customer reviews praised the car's operating economy, ease of entry and exit for passengers, and cargo-area access. Performance got better-than-expected marks, considering that many customers were coming to Pinto having previously experienced only V-8 or six-cylinder
engines
. After all, this was the first domestically produced Ford passenger car with a four-cylinder engine since 1934.
There were a few complaints, such as the plastic grille breaking when the hood was slammed, or one of the most serious problems: the inside door handles breaking off in a passenger's hand. Dealers soon learned to keep plenty of these parts on the shelves, and fleet owners of Pintos often ordered cases of door handles just to keep the cars on the road.
Ford encouraged salesmen to point out benefits of the Pinto compared with the Vega, Volkswagen, Toyota Corona, and Datsun 1600 sedan. Areas in which they claimed superiority were maneuverability, stability, and serviceability. For instance, a special publication to dealers pointed out that VW recommended that its owners change oil and lube the car every 3,000 miles, while Pinto owners could easily go twice that distance.
Ford even marketed a pair of tool kits for the Pinto, a beginner's set for $28.75, or the "master's" kit at $44.95. The latter included everything from wrenches, to ratchets, to gauges, and even a torque wrench. In theory, you never had to bring the Pinto back to the dealership for servicing. One of the most popular promotional items Ford used was a little service key that not only acted as a screwdriver, but provided measurements for proper gapping of spark plugs and points.

While the Pinto was an economical starter car, it did offer a wealth of accessories. Deluxe interior-decor packages, full wheel covers, exterior dress-up kits, (which could include a vinyl roof), and a variety of radios could be found on the order form. The 2.0-liter engine added $50 to the total. With this larger engine, it was possible to add air conditioning and, for $175, Cruise-O-Matic.
Even a Rallye appearance group was marketed, featuring most of the decor-package items plus blacked-out hood, taillamp bezels, and grille; Boss Mustang-style fender stripes; Rallye badges; front disc brakes; and A78X13 black sidewall tires.

On February 20, 1971, the much-anticipated Pinto Runabout made its public debut at the Chicago Auto Show. Five days later, it went on sale, and, like the sedan, it was met with strong customer demand. Priced at $2,062, it was distinguished from the sedan by exposed chrome hinges for the liftgate and five decorative chrome strips on the back "door."

All other profiles and dimensions were nearly identical to the sedan. Pneumatic rams assisted in raising the hatch, and there was plenty of room when the back seat was folded down. This feature was also optionally available on the sedan, and provided up to 38.1 cubic feet of storage space.

Assembly of the Pinto was conducted at the San Jose, California, and Metuchen, New Jersey, plants, plus Ford of Canada's new St. Thomas, Ontario, facility. Production schedules were tight, and two shifts worked through most of the model year to keep up with the orders that were pouring in.
In its first year, 288,606 sedans and 63,796 Run­abouts were produced, making for one of the best first-year launches ever, bested only by the Mustang in 1965 and the Falcon for 1960. What was even more surprising to Ford's marketing group was that the vast majority of buyers opted for the more-expensive 2.0-liter engine, and were also going for the automatic transmission on those cars by a better than 2-to-1 ratio.

Even Henry Ford II appeared to like the car. He was reportedly often seen tooling around the Detroit and Grosse Pointe areas in his specially painted Candy Apple Red Runabout fitted with custom wire wheels and a black leather interior.

Of course, not everything at Ford, nor with the industry as a whole, was rosy. More and more, the federal government was getting involved in what was built into America's cars, based on two keywords: safety and emissions.
In a 1971 special report to Ford dealers and salesmen, a personal message from Henry Ford II addressed 10 points of commitment the company was making toward the environment. It also pointed out all of the safety innovations Ford had pioneered, from its first safety packages in 1956 to the Tot-Guard child-restraint system first offered in 1967. It talked about protecting passengers with safety-designed instrument and dash panels, plus the use of low-profile impact-absorbing vinyl coat hooks.
How­ever, this same publication discounted many of the claims made about what additional steps the car company could take regarding safety, and contended that vehicles were a relatively small contributor to air pollution. (An early driver-side airbag system was tested on the Pinto, but ultimately kept from production.)

In describing the Pinto to dealers and the press, the chairman stated that they shouldn't look too closely for annual changes as this would be a car like the Model T: It would remain basically the same throughout its run, only featuring improvements, and not altering its looks each year. Given the success of the 1971 Pinto, it is no surprise that the '72s were virtually identical.

A few minor details were revised, such as relocation of the seatback release from the hard-to-reach center to the outer edge. About the only noticeable exterior change -- save for a couple of color changes, the availability of a sunroof for the sedan and Runabout, and decor-package decal options -- was an enlarged backlight for the Runabout's hatch.

For more picture-packed articles about great cars, see:

Consumer Guide Automotive
Consumer Guide Used Car Search
1972 Ford Pinto
On February 24, 1972, the third member of the 1972 Ford Pinto family was unveiled with the addition of the station wagon. The basic body platform was shared with the existing sedan and Runabout, but the rear-quarter panels stretched this car to 172.7 inches, or nearly 10 inches longer than the other Pintos.
The 1972 Ford Pinto ascended into the Sprint family
that also included Mustang and Maverick.
Ford claimed a total of 60.5 cubic feet of storage space accessible through a one-piece liftgate similar in engineering to the Runabout's rear hatch. An extra-cost item for Pinto wagons were the flip-open rear-seat windows, the only source of fresh air for those stuck in the back. Underhood, the 2.0-liter engine was standard, backed up with the four-speed manual transmission. Also standard on all Pinto wagons were front disc brakes.

While it was an attractive little two-door wagon in its base form, dress-up packages were available, including a decor group similar to those offered for sedans and Runabouts. Though not considered a separate model, the Squire version was very popular with the wagon set.
Borrowing a name that had been part of the Ford family for more than 20 years, the option applied a woodlike finish accomplished through the use of fiberglass framing around a rich, dark walnut appliqué, giving the compact wagon an air of snobbery. Interior fittings included plush padded bucket seats; embossed door panels; woodgrain appliqués on the dash, shifter console, and steering-wheel center; and more.

One major change to hit the industry this year was in the method used to measure horsepower. Using a net figure based on engine power received at the rear wheels rather than the gross number generated untethered on a test stand, the 75-bhp rating of Pinto's 1.6-liter engine dropped to 54 for 1972, while the bigger 2.0-liter four went from 100 horsepower in 1971 to 86 in '72.

Ever since the Thirties, Ford had sought to invigorate slow springtime showroom traffic by offering something special for the season. For 1972, Pinto was bestowed the honor of being a member of a trio of Ford Sprint vehicles along with the Mustang and Maverick.
Pinto Sprint sedans and Runabouts were finished in white with blue hoods and lower body panels, wheels came with hubcaps and bright trim rings, and red pinstripe accents ran the length of the car. Stars-and-stripes shields were applied to the front fenders, giving these cars a very patriotic appeal. Interiors were done in white vinyl accented with blue and red.

Pinto prices saw moderate increases in 1972. Base sedans now started at $1960, while the Runabout was nudged up to $2,078. The first Pinto station wagons hit showrooms with a base price of $2,265 -- $20 less than the tab for the Chevrolet Vega Kammback wagon.

Production continued to climb. With a full model year at its disposal, the Runabout became the sales leader among Pinto buyers. A total of 197,920 hatchbacks were assembled, followed closely by 181,002 sedans. Being introduced late in the model year didn't stop the wagon from a good showing, with 101,483 examples produced.
After just two model years, almost 833,000 Pintos were on the road. American carmakers' entry into the subcompact field was starting to have an effect on the Japanese imports, as their market share dropped from a high of 15.2 percent in 1971 to 14.8 percent in 1972. This would prove to be just a temporary ebb in the tide, though.

For Pinto's upcoming third season, there would be some notable changes, mostly reflecting new safety mandates and the changing tastes of customers. The most obvious updates were energy-absorbing aluminum front bumpers to bring the Pinto up to a five-mph damage-resistance standard required by new federal laws. The new bumpers stretched lengths to 164.1 inches for sedans and 173.9 for wagons.

Pinto's exterior-color palette included five new colors. Forged alloy wheels and a handling package were options-list additions.

Prices continued to creep upward; the starting price for a two-door sedan finally inched past $2,000. Now it was the wagon's turn to take advantage of a full production year. Though it was the priciest member of the Pinto family, the wagon would prove to be the most-popular body style, establishing a pecking order that would last for several years in which demand for the wagon would be followed by the Runabout and then the sedan.

Across the nation, Ford dealers were having a field day selling the little Pinto. Several special and regional editions were created by local agencies, but probably none were as potent or as expensive as the Pangra, produced by Huntington Ford in Arcadia, California. It provided plenty of muscle for the subcompact set, and might be considered the grandfather of today's sport-compact "tuner" cars.

With a full head of steam, Pinto went into the 1974 model year sitting on top of the world. Before long, though, the market was in turmoil.

For more picture-packed articles about great cars, see:

Consumer Guide Automotive
Consumer Guide Used Car Search
1973 and 1974 Ford Pinto
The 1973 and 1974 Ford Pinto were on the market at a turbulent time. In October 1973, war flared once again in the Middle East. Key Arab oil-producing states, angered by Western support for Israel, raised prices and eventually orchestrated an embargo by the Organization of Petroleum Export­ing Countries.
In the U.S., gas prices leapt from around 30 cents a gallon to well more than half a dollar. Shortages at fuel pumps led to lines of up to a mile long as motorists began to panic, afraid of going to sleep with the fuel gauge in the old buggy below the three-quarters-full mark.

With an energy crisis gripping the U.S., the
economy-minded Pinto sold in huge numbers in 1974.
Overnight, the sale of big gas-guzzling V-8s came to a screeching halt, while more and more new-car shoppers started to look for something economical to drive. A saving grace for Ford dealers was the Pinto. With its advertised 20-25 mpg, this was far ahead of the big Galaxies and LTDs that were lucky to see 12 miles from the same amount of fuel.
Sales of full-sized Fords dropped like a rock in 1974, from more than 854,000 the previous model year, to about only 461,000. In early 1974, President Richard Nixon signed into law a new national speed limit of 55 mph in an effort to conserve fuel. For Pinto owners, this, too, was a relief, for while the little subcompact could go faster, it did quite well at the lowered highway speeds.

Ironically, just when the gas crunch started to hit, Pinto's biggest news for 1974 was the addition of a new, larger-displacement optional engine. Unlike the previous Pinto powerplants, this new engine was designed and produced in America, at Ford's Lima, Ohio, engine facility.
An all-new design, this 2.3-liter overhead-cam four-cylinder was rated at 85 horsepower. With its introduction, the slow-selling 1.6-liter four was discontinued, putting the 2.0-liter engine in as the standard powerplant.
Surprisingly, the new engine was rated at one horsepower less than the base engine, but was said to produce more torque and deliver better gas mileage. By the end of the year, most Pintos would carry the 2.3, which added $52 to the base price.

Exterior design saw only minor changes, apart from hefty new bumpers that coincided with the arrival of federal five-mph impact standards for rear bumpers. The addition of the new bumper system, base-engine upgrade, and added sound insulation throughout the car had boosted the weight of a Pinto sedan from 1,949 pounds in 1971 to 2,372 pounds in '74 -- more than 21 percent. Prices continued to go up, too.

While the sale of the high-profit big Fords took a nosedive for 1974, Pinto seemed to reign supreme. Overall, 544,209 of them came off the line, another new high-water mark that brought total Pinto production to within a stone's throw of 2 million cars.

But not everything in the Pinto's world was rosy. Reports started to surface in both company memos and the press about a serious problem with rear-end collisions that resulted in fiery explosions and deaths. Talk of lawsuits began to fly, and some serious secret research was launched to find out what corporate liabilities might exist.

For more picture-packed articles about great cars, see:

Consumer Guide Automotive
Consumer Guide Used Car Search
1975 Ford Pinto
When the 1975 Ford Pinto went on sale on September 27, 1974, there was a lot more emphasis on the plucky little subcompact. Externally, they were almost duplicates from the previous season, despite fractional gains in wheelbase to 94.7 inches for the wagon and 94.4 inches for the others. Intern­ally, it was a different story as the little car became even more "all-American."
Gone from the lineup was the 2.0-liter engine, replaced by the 83-horsepower 2.3-liter four. Pinto further upped the power ante with a new V-6 engine. Patterned after a similar engine produced in Italy by Lan­cia, Ford's version displaced 2.8 liters. Officially rated at 97 net horsepower, it used an 8.0:1 compression ratio, with a two-barrel Holley carburetor on top.
With 60-degree banking, uniform alternate firing, and high-center mounting of the camshaft that contributed to the light weight of the valvetrain, its smoothness of operation was surprising. The engine's basic design would be used in a number of Ford products for more than 25 years. The V-6 was available only in the Runabout and wagon, and required the newly redesigned Select­Shift Cruise-O-Matic transmission. For the first time, Pinto buyers could opt for power steering and brakes when the V-6 engine was ordered.

By summer 1974, the national fuel emergency had come to an end. Oil was being transported to the United States at full volume, and gas prices came back down a few pennies, so Americans once again felt they were getting a bargain. Still, fuel mileage remained very important to a large number of drivers. To entice them, Ford cooked up MPG versions of the Pinto and Mustang II.
Equipped with the four-cylinder engine, manual transmission, the new catalytic converter emissions device (which allowed engines to be retuned for better efficiency), and a 3.18:1 axle ratio in place of the 3.40 gears standard in other Pintos, the MPG had a government rating of 34 mpg on the highway, 23 mpg in the city. (Swapping the four-speed stick for an automatic earned a 30/21 highway/city rating.)
Advertising for the late-arriving MPG models used huge print to tout their highway-mileage and base-price figures, both of which compared favorably -- of course -- with a list of foreign and domestic rivals. All three Pinto body styles were offered with MPG equipment.

Prices also reflected the improved models, taking the cost of Pinto up closer to, and in some cases, higher than the slightly larger Maverick. The sedan started at $2,769; the Runabout sold for $2,984 in base form; and the wagon tab began at $3,094. Those ordering the new V-6 were asked to pony up another $253 for it; the automatic transmission cost $202.

Not all of Pinto's higher prices were for former extras now becoming standard, or to cover the costs of mandated emissions and safety items. Contributing to the manufacturer's costs were the skyrocketing prices of raw materials. One Ford official told a group of writers in early 1975 that the price of steel had risen 35 percent in less than a year, rubber products were up 43 percent, aluminum by 61 percent, and plastics an average of 21 percent.

Rising prices and an economy reeling from the ripple effect of the 1973-74 fuel crisis hit the domestic automakers hard. Even the Pinto was a victim: Just 223,763 of the '75s came off the assembly lines, a whopping 59 percent drop from the previous model year! Ford built more 1974 Pinto wagons than it did all 1975 Pintos.

As a side note, 1975 saw the release in the United States of the Bobcat, Mer­cury's upscale version of the Pinto. Using the same basic designs as the Pinto Runabout and wagon, and originally created to fill a marketing gap for Canadian dealers, Bobcat sales were limited, but they were welcomed by Lincoln-Mercury dealers otherwise saddled with slow-selling, gas-guzzling luxury liners.

For more picture-packed articles about great cars, see:

Consumer Guide Automotive
Consumer Guide Used Car Search
1976 Ford Pinto
The 1976 Ford Pinto had the first major changes to the car's physical appearance and its marketing strategy. For the first time since its debut, there was a really noticeable change to the front-end appearance. A new grille featured a fine grid in place of the previous vertical slats. Rectangular parking/turn-signal lights floated near the outer edges of the grille.
The 1976 Ford Pinto was the first to break
from the look established in 1971.
There was more bright trim, too. The headlight bezels were newly chrome plated, and a strip of polished aluminum ran between them at the forward edge of the hood. Block letters on the hood identified the Pinto as a Ford.
From the marketing standpoint, there were a few more alternatives for buyers of Ford's subcompact. Dealers started to promote the Pinto as an "import fighter."
For those looking to really drive on the cheap, there was a new Pony MPG sedan. By shaving $130 off the standard four-cylinder sedan's $3,025 base price, the Pony buyer received about as bare-bones of a car as the government would allow to be sold. Inexpensive cloth seats, black rubber floor mats, and a more economical 3.00:1 axle came standard. (The 3.18 axle was now standard on all other four-cylinder Pintos, all of which were known as MPGs).

Going in the other direction, a special Stallion edition of the Pinto also appeared this year. As with the 1972 Sprint, this rather attractive package resembled similarly trimmed Mustangs and Mavericks. Features included silver paint with blacked-out grille, window frames, and headlight surrounds. A matte-black finish was also applied to the hood and cowl.
The Stallion was topped off with a pair of black sport mirrors; special logo decals on the fenders; forged aluminum wheels shod with A73313 raised-white-letter, wide-oval tires; plus a special handling suspension. This package added $283 to the base hatchback's $3,200 base price.

There were a couple of other minor variations that were new for the year. The V-6 was now available in the two-door sedan, and a Squire version of the Runabout was added. It included a wide band of imitation-wood trim on the bodysides, plus bright side-window and drip-rail trim.

Pinto sported some very interesting color combinations, especially in its interiors, with a Ford-exclusive vinyl-weave fabric available in one of four colors, or several choices of a nylon-based plaid pattern. An interesting innovation was the use of a vinyl half top that covered only the area ahead of the rear roof pillar.

No major mechanical innovations were announced for '76, except that the base four was boosted to 92 horsepower at 5,000 rpm and the optional V-6 to 103 horsepower at 4,400 revolutions.

Within a generally improved automobile market in 1976, Pinto production perked up. A total of 290,132 -- an increase of nearly 30 percent -- were run off for the model year.

For more picture-packed articles about great cars, see:

Consumer Guide Automotive
Consumer Guide Used Car Search
1977 Ford Pinto
Even though Henry Ford II had promised no annual changes just for the sake of change, the 1977 Ford Pinto did receive an attractive facelift. Up front, a narrower chrome-plated plastic grille composed of six rows of rectangles sat between vertically bisected parking and turn-signal lamps. The grille ensemble was canted back toward the top between similarly angled body-color headlight buckets that looked almost like the "frenched" lights on customized cars of the Fifties.
Sedan and Runabout taillights were redone for the first time, enlarged with a sectioned red plastic lens, plus a white inset lens for the back-up lights.

The 1977 Ford Pinto may have looked better
after a facelift, but it also cost more.
An improved electronic ignition system called DuraSpark now brought Pinto engines to life. Power, however, was down slightly in both; the four now made 89
horsepower
at 4,800 rpm, and the six generated 93 horsepower at 4,200 rpm.
Horsepower may have been going up and down from year to year, but one thing was rising steadily: prices. The car that Ford exec Lee Iacocca had initially wanted to sell for no more than $2,000 now cost at least $3,000, even for a stripped-down Pony sedan ($3,099). At the high end, a four-cylinder station wagon now started at $3,548, and Squire equipment added $343 to the bill.
Another option open to wagon buyers was the Cruising Wagon, a $416 package that attempted to turn the Pinto hauler into a miniature version of the custom vans that had become quite the rage in the Seventies. The package started with a filler panel for all rear-side windows. A portholelike "bubble" window was added toward the rear on each side.

Remaining exterior touches included a choice of several colorful bodyside tape­stripe selections, color-keyed dual racing mirrors, front spoiler, and polished aluminum wheels. Inside, a carpeted cargo area extended to the sidewalls in the rear compartment.

Even with escalating prices, Pinto buyers were still in the market for a few extras for their motoring pleasure. In addition to several sound systems including AM/FM with eight-track players and air conditioning, Ford offered a whole treasure trove of accessories.
New this year for the sedan and Runabout was a pop-up glass sunroof that could be removed altogether. Runabouts could be given an even airier look via a solid-glass rear hatch that cost just $13. (One extra that failed to come back to the Runabout this year was the Squire trim option.)

Interiors were rather snazzy with plaid cloth and striking color combinations in vinyl, featuring plush Ruffino leather-like graining, or special stitching patterns. Available on both the sedan and Runabout were bold accent-stripe decor groups, one of which even resembled the look of the red and white Ford Torino seen weekly on the Starsky and Hutch television series.

Television also played an important role in promoting the Pinto, not only through commercials, but by appearing in a number of series. Few regular viewers of the original Charlie's Angels can forget Kate Jackson's orange and white Runabout.

Despite the improved looks and celebrity rub-off, Pinto sales were starting to fall victim to the growing reports of explosive rear-end collisions. Ford touted improved cushioning of all fuel tanks and the massive recall efforts it was launching, but this failed to build consumer confidence.
Resale value of used Pintos was affected as well, falling far below the established curve for other cars in its class. Just 202,549 of the Ford subcompacts rolled off the assembly line this year, the fewest yet for any season.

For more picture-packed articles about great cars, see:

Consumer Guide Automotive
Consumer Guide Used Car Search
1978 Ford Pinto
So close in looks were the 1978 Ford Pinto models to the previous year's cars that sales literature actually recycled a number of '77 photos. About the only cosmetic news was the shuffling of a few exterior colors and changes to a couple of the appearance packages.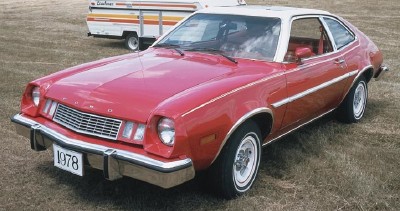 The 1978 Ford Pinto was virtually the same
as the 1977 model.
Most notable was a new Rallye edition available for sedans and Runabouts. It featured black window trim, gold tapestriping, a front spoiler, sports mirrors, and four-spoke styled-steel wheels with trim rings. Also, a sedan delivery version of the Pinto wagon was added during the year. Between the body's metal side panels sat a full-length flat cargo floor. Available options included a rear-window security screen.
Except for some slight revision of horsepower ratings, the 1978 Pinto was unchanged from 1977. The four now made 88
horsepower
(a loss of one), while the V-6 generated 90 horsepower (a decline of three).
Probably the most dramatic change for this season was in pricing. While the starting price of an entry-level Pony sedan was just $40 higher than the year before, other models were boosted by about $400 or more.
Continuing bad press and the growing influence of import competitors continued to erode the Pinto's customer base. Production slumped below 190,000. While demand for sedans actually rose a bit, wagon orders declined by 34 percent. As a result, the Runabout was the most-popular Pinto for the first time since 1972.
For more picture-packed articles about great cars, see:
Consumer Guide Automotive
Consumer Guide Used Car Search
1979 Ford Pinto
When the 1979 Ford Pinto opened its model year, it was apparent that the car was in its waning days. In an attempt to give the now eight-year-old design a little more market appeal, a front-end redo was mandated.
A front-end makeover for 1979 wouldn't be enough
to save the Ford Pinto.
Rectangular headlights, the use of which had been growing on American cars since the mid Seventies, finally found their way onto the Pinto. A wide grille of chrome-plated plastic with four rows of fine squares filled the center of the car, while a new bumper adorned with black-plastic rub strips and cushioning vinyl guards at the ends was employed. The hood and front fenders were reshaped, too. At the rear of sedan and Runabout models, large, unframed, red plastic taillight lenses graced the back panel.
On the inside, there was a redesigned instrument cluster. In place of the two round pods that had formerly housed all necessary gauges since '71, the new dash featured square gauges:
speedometer
on the right, fuel gauge and engine-monitoring warning lights to the left.
Entry-level Pinto buyers now had an expanded choice of models when a Pony edition of the station wagon was added to the lineup. Those who had a little extra cash to lavish on their Pinto had other options.
A new "European-inspired" ESS package for the sedan and Runabout came with silver paint and black accents around the window trim, dual racing mirrors, back panel, and bodyside moldings. The grille and headlamp buckets were charcoal colored. Styled steel wheels and a front stabilizer bar completed the external portion of the package (though Runabouts were also equip­ped with the all-glass hatch).

Inter­ior appointments kept the performance theme alive with a leather-wrapped steering wheel and shift knob, plus an instrument cluster with a tachometer, ammeter, and coolant-temperature gauge.

The Cruising Wagon continued with several different stripe kits available. To capitalize on the eye appeal of this package, a similar getup was newly offered for the Runabout. Like the Cruising Wagon, the $330 hatchback package included blackout trim in all the usual places, multicolor bodyside stripes, white-painted styled-steel wheels, a sport steering wheel, and the gauge package.
It's not surprising that most print advertising for the Pinto featured models well under the age of 30. Even the Squire, a family vehicle, showed young couples with toddlers beside the car.

However, as much as marketing tried to shore up the product, outside factors were taking their tolls. Hefty awards from civil juries and word of memos from inside the company that appeared to put financial decisions ahead of human life were damning. Then, too, prices continued to rise.

Still, there was a slight increase in 1979 Pinto production, topping at 199,018 cars. For the first time since 1971, when it had a production head start on the Runabout, the basic two-door sedan was Pinto's popularity leader.

As the Seventies came to a close, America was a nation in turmoil. Infla­tion was running rampant, accelerated during the latter half of 1979 by another fuel crisis that sent the price of gasoline to more than a dollar a gallon in most places. Doomsday investors ran the price of gold to $800 an ounce as militants in Iran's Islamic revolution stormed the U.S. embassy in Tehran and took Americans hostage for well more than a year.
There were still Cold War tensions, too. President Jimmy Carter announced a U.S. boycott of the 1980 Summer Olym­pics in Moscow to protest the USSR's invasion of Afghanistan.

There was little joy in Detroit amid all these events. It seems that Henry Ford II summed up the American auto industry's feelings when he said, "The U.S. industry is facing an economic Pearl Harbor."

Behind his comment was the fact that due to what many felt were too-liberal trade agreements, a growing share of the auto market was being gobbled up by Japanese manufacturers. Their cars had come to the fore among the imports during the Seventies, growing to 26.7 percent of the total market, and had contributed to a $40 billion combined loss from American carmakers.

In late 1978, Lee Iacocca was sent packing from Ford Motor Company for what many feel were the disastrous memos about the Pinto gas-tank debacle that led to his desk. Not only was Henry Ford II unhappy with the huge amounts paid in fines and punitive damages, but he realized how this negative news could affect all aspects of the family business. It was no secret that Henry and Lee didn't see eye to eye anymore, and, in the end, the man whose last name was on the building won out.

For more picture-packed articles about great cars, see:

Consumer Guide Automotive
Consumer Guide Used Car Search
1980 Ford Pinto
The 1980 Ford Pinto was still in the mix when Ford unveiled that year's model lineup in fall 1979. With the front-wheel-drive Escort waiting in the wings, the Pinto was on its last go-round, so virtually no money had been allocated for updates. In fact, the biggest technical news of the year might have been the deletion of the V-6 from the options list; the 2.3 four would go it alone for '80.

Even in the Pinto's death throes, marketing was able to spruce up the little car with several appearance packages. Runabouts could be decked out with the striped and bespoilered Rallye Pack, the Cruising package, and the ESS option group. The Cruising Wagon returned, too, this time with a Rallye variant. To the end, the price-conscious could still get Pony versions of the sedan and station wagon.

The inflationary spiral of the national economy was clearly reflected in Pinto window stickers. Base prices had more than doubled in the car's 10 years on the market. Even a Pony sedan now started out at $4,117. The Squire station wagon was tagged at $5,320 before extras -- and there were almost always some of those added to the price.
Perhaps that explains why the the sedan again won the greatest share of Pinto orders, and why the wagon saw the lowest production count in its history with just 39,159 made. With the final 185,054 units produced for the 1980 model year, more than 3.1 million of the little ponies had come down the trail.

For more picture-packed articles about great cars, see:

Consumer Guide Automotive
Consumer Guide Used Car Search
The Pinto Fire Controversy
One of the biggest continuing automotive news stories in the latter part of the Seventies dealt with tales of exploding Ford Pintos and the considerable awards civil-court juries were presenting to victims of accidents involving the cars. Was the Pinto fire controversy a lot of hype, or had Ford truly discounted human lives in order to save a few dollars?

As early as 1972, reports of explosions in low-speed collisions involving Pintos struck from the rear started to come in to the National Highway Safety and Trans­portation Admin­istration. Accident investigations in many of the cases revealed that victims had few, if any, trauma injuries as a result of the impacts, but had burned to death when the cars exploded into flames. Some had been trapped inside the cars due to the body buckling and doors becoming jammed shut.

By the 1973 model year, Ford may have already
known the Pinto was a fire hazard.
Fire safety had been a major concern at Ford since the mid Sixties. Arjay Miller, then company president, had been involved in a fiery crash while driving his new 1965 Lincoln Continental. When traffic slowed unexpectedly, he was rear-ended by another car. The fuel tank started to leak and a spark sent the rear of the luxury car up in flames.
Fortunately, the driver's door wasn't damaged and Miller was able to get out relatively unscathed. He went on a crusade for safer fuel tanks, and worked with several suppliers for systems that would contain highly flammable gasoline and give motorists a wider margin of safety. He even testified before Congress about the importance Ford Motor Company placed on the matter. What went wrong with the Pinto, then?

Records indicated that Ford had first conducted rear-end collision tests on the Pinto in December 1970, months after it was already in production. Initially, 11 carefully coordinated crashes were conducted, and in all but three of them, gas tanks ruptured and often burst into flames. In the three tests that didn't result in fires, the cars had prototype safety devices that engineers had developed while working with suppliers.

Most effective was the use of a rubber bladder/liner produced by the Goodyear Tire and Rubber Company. Despite rupturing the exterior of the tank, no fuel was spilled, and no fire resulted. It was estimated that the unit cost of bladders would have amounted to $5.08 per car.

The second method that had been employed was an extra steel plate attached to the rear of the car just behind the bumper, isolating the tank from direct contact during impact. It successfully warded off a blow at 30 mph, helping to keep the tank intact. No company cost analysis was done at the time, but experts felt that this part could have cost up to $11 per car to install.
Engineers found that the majority of the ruptures were caused by two factors: 1) the filler neck breaking off and allowing fuel to pour out, where it could be exposed to an ignition source; and 2) the tank being penetrated by contact with the differential mounting bolts and right shock absorber.

This is where a third successful fix had been devised -- a rather simple plastic insulator fitted on the differential that would keep the bolts from ever making contact with the fuel tank. Cost of this item was less than $1.

Several company memos presented as evidence during the civil trials revealed that these remedies were discussed, with the conclusion that to shut down production and retool would be too expensive. Most damaging to Ford were memos found and published by author/researcher Mark Dowie in the muckraking magazine Mother Jones that detailed a cost analysis of corporate liability in the event of having to compensate crash victims.
Experts calculated the value of a human life at around $200,000, while a serious burn injury was worth about $67,000. Using an estimate of 180 deaths and 180 serious burns, someone put on paper that the cost to redesign and rework the Pinto's gas tank would cost close to $137 million, while possible liability costs worked out to around $49 million.

Comparisons were drawn up between the Pinto and the imported Capri that was being sold by Lincoln-Mercury dealers. Both cars were of similar size and construction, but everyone agreed that the Capri's fuel tank was in a much safer location: up and away from the rear bumper, and less vulnerable in a rear-end collision.

Ford engineers argued that to place the tank any higher up in the Pinto would rob the trunk of already meager storage space, and that even a set of golf clubs would have a hard time being squeezed into the leftover space.

Ultimately, 27 people were determined to have been killed in rear-end-crash explosions involving Pintos. In one of the few cases brought to trial, a California jury awarded a boy who had been severely burned and disfigured a total of $126 million. The driver of the car had died from her injuries a few days after the accident.
When the memos regarding the liability assessments were entered into evidence, the case was as good as over. Even after a judge reduced the amount to $3.5 million on appeal, this was far more than the company had ever counted on paying. It was a real wake-up call for Ford, whose legal teams went to work to try and settle as many of the pending cases as possible out of court.

Matters were to get even more serious for the company. In 1978, Elkhart County, Indiana, Prosecutor Michael Cosen­tino called for a grand jury hearing in the case of three girls who had died in a Pinto collision fire. As a result of the grand jury findings, he filed criminal charges of negligent homicide against officials of the Ford Motor Company.
Once again, Ford's corporate legal machine went to work. It was found that the accident had occurred on a stretch of road that was notorious for being dangerous. Then, too, the driver of the speeding van that rear-ended the Pinto was in possession of alcohol and drugs, which were deemed to have contributed more to the accident than anything else.

Ultimately, the trial judge had to dismiss the criminal charges. However, this was another stern warning not only to Ford, but to all of American industry regarding its responsibility for product safety.

Finally, in September 1978, Ford issued a recall for 1.5 million 1971-76 Pinto sedans and Runabouts, plus all similar 1975-76 Mercury Bobcats, for a safety repair. Each car received a new fuel-tank filler neck that extended deeper into the tank and was more resistant to breaking off in a rear-end collision. A plastic shield was installed between the differential and the tank, as well as another to deflect contact with the right-rear shock absorber.

(While not totally immune from the hazards of rear-end collisions, station wagons -- with their 10 extra inches of rear-end sheetmetal and different configuration for the fuel filler -- were deemed far safer, and were not a part of the recall notice.)

Reflecting on the Pinto incident and Ford's attempts to control the damage at the risk of its public image, former Ford exec Lee Iacocca made this summation in his book Talking Straight: "Clamming up is what we did at Ford in the late '70s when we were bombarded with suits over the Pinto, which was involved in a lot of gas tank fires. The suits might have bankrupted the company, so we kept our mouths shut for fear of saying anything that just one jury might have construed as an admission of guilt. Winning in court was our top priority; nothing else mattered. And of course, our silence added to all the suspicions people had about us and the car."

For more picture-packed articles about great cars, see:

Consumer Guide Automotive
Consumer Guide Used Car Search
The Ultimate Ford Pinto
It just seems like some people can't leave well enough alone, especially with Ford products. Look at what Carroll Shelby did with the Mustang, or how Bill Stroppe juiced the Bronco. Then along came a tame little subcompact, and some people even tried to build the ultimate Ford Pinto.
At first, it only had a simple four-cylinder engine that was economical and easy to maintain. Who could put any real zip in this little pony? It would take another legend from the world of Ford motorsports to come up with that answer.

One of the most-successful dealerships in marketing the Pinto was Huntington Ford, in Arcadia, Califor­nia. Huntington sold more than 400 of the little compacts in its first year, and nearly another 550 in the car's second season.
In 1972, the dealership's sales manager, Jack Stratton, approached owner Clare Hoke with an idea to make the Southern California agency the world headquarters for Pinto performance. To accomplish this goal, the talents of well-known Ford performance master Ak Miller were called upon.

After a few months of secret design, testing, and development, Huntington Ford announced that a new super Pinto had been born and was ready to be marketed. Its name was Pangra.

Immediately recognizable from the outside, this new mini muscle car wore an aerodynamic front clip that extended its length by a full 10 inches. Huntington Ford offered the Pangra in four versions, and kit number 1 consisted solely of the fiberglass front end including the hood, fenders, cowl, and pop-up headlights.

Kit 2 included all of the appearance pieces plus Recaro high-back buckets seats, a package of Stewart-Warner gauges, plus visually appealing custom console and dash trim. Also supplied was a set of cast and machined "mag-shot" wheels riding on the top-line "fat" tires of the day, 175HR13s up front and 185HR13s to the rear.

The third package took all the aforementioned equipment and added to it a Spearco "Can-Am" kit that employed shortened coil springs up front, heavy-duty stabilizer bars at both ends, and a full set of Koni shock absorbers.

Then there was Kit 4: everything, plus a Spearco turbocharger fitted to the same 2.0-liter ohc four-cylinder engine that served hundreds of thousands of factory-stock Pintos in naturally aspirated form.

How did this horse of a different color measure up to the competition? At the time, Motor Trend had also commissioned its version of a "super" Pinto, plus it got its hands on a pair of Porsches -- a base 914, with a 1.7-liter flat four-cylinder; and a 914-S, with its larger 2.0-liter engine. In 0-to-60-mph runs, the Pangra averaged 7.5 seconds. The best any of the others could do was 10.5 seconds from the 914-S.
Of course, the Pangra did have a few advantages, such as an estimated 285 horsepower from an engine otherwise rated at about 86 horsepower in stock trim. From the factory, the Porsche 914-S delivered 91 gross SAE-rated horsepower. In handling, the Pangra's upgraded suspension and meaty rubber produced tremendous grip. MT writers said the car "clings like Saranwrap."

The test results weren't necessarily a function of the axiom that "you get what you pay for." The estimated cost of the Pangra, delivered in Arcadia, was $4,600, while even the basic Porsche 914 was listed at $5,300, and the S version required another $288.

By the end of 1974, with the introduction of stronger engines and further restrictions on altering factory emissions systems, the Pangra faded from view. Unfortunately, there are no accurate records of how many of them were produced.

For more picture-packed articles about great cars, see:

Consumer Guide Automotive
Consumer Guide Used Car Search
1971-1980 Ford Pinto Specifications
Despite safety concerns and pressure from foreign competition, the Ford Pinto held a special place in many drivers' hearts long after it was gone from the market. We give you the goods on this car for its entire lifespan with these charts showing the 1971-1980 Ford Pinto specifications.
1971 Ford Pinto

| | | | |
| --- | --- | --- | --- |
| Model | Weight (lbs.) | Price (new) | Number built |
| Sedan | 1,949 | $1,919 | 288,606 |
| Runabout | 1,933 | $2,062 | 63,796 |
| Total | | | 352,402 |
1972 Ford Pinto

| | | | |
| --- | --- | --- | --- |
| Model | Weight (lbs.) | Price (new) | Number built |
| Sedan | 2,061 | $1,960 | 181,002 |
| Runabout | 2,099 | $2,078 | 197,920 |
| Station wagon | 2,283 | 2,265 | 101,483 |
| Total | | | 480,405 |

1973 Ford Pinto
| | | | |
| --- | --- | --- | --- |
| Model | Weight (lbs.) | Price (new) | Number built |
| Sedan | 2,115 | $2,021 | 116,146 |
| Runabout | 2,145 | $2,144 | 150,603 |
| Station wagon | 2,386 | $2,343 | 217,763 |
| Total | | | 484,512 |
1974 Ford Pinto

| | | | |
| --- | --- | --- | --- |
| Model | Weight (lbs.) | Price (new) | Number built |
| Sedan | 2,372 | $2,527 | 132,061 |
| Runabout | 2,406 | $2,676 | 174,754 |
| Station wagon | 2,386 | $2,343 | 237,394 |
| Total | | | 544,209 |
1975 Ford Pinto
| | | | |
| --- | --- | --- | --- |
| Model | Weight (lbs.) | Price (new) | Number built |
| Sedan | 2,495 | $2,769 | 64,081 |
| Runabout | 2,528 | $2,984 | 68,919 |
| Station wagon | 2,692 | $3,153 | 90,763 |
| Total | | | 223,763 |
1976 Ford Pinto
| | | | |
| --- | --- | --- | --- |
| Model | Weight (lbs.) | Price (new) | Number built |
| Pony MPG sedan | 2,450 | $2,895 | |
| MPG sedan | 2,452 | $3,025 | |
| Sedan V-6 | 2,590 | $3,472 | 92,264 (all sedans) |
| Runabout MPG | 2,482 | $3,200 | |
| Runabout Squire MPG | 2,518 | $3,505 | |
| Runabout V-6 | 2,620 | $3,647 | |
| Runabout Squire V-6 | 2,656 | $3,952 | 68,919 (all Runabouts) |
| MPG Station wagon | 2,635 | $3,365 | |
| Squire MPG station wagon | 2,672 | $3,671 | |
| Station wagon V-6 | 2,773 | $3,865 | |
| Squire station wagon V-6 | 2,810 | $4,171 | 105,328 (all station wagons) |
| Total | | | 266,511 |
1977 Ford Pinto

| | | | |
| --- | --- | --- | --- |
| Model | Weight (lbs.) | Price (new) | Number built |
| Pony sedan | 2,313 | $3,099 | |
| Sedan | 2,376 | $3,237 | 48,863 (all sedans) |
| Runabout | 2,412 | $3,353 | 74,237 |
| Station wagon | 2,576 | $3,548 | |
| Squire station wagon | 2,614 | $3,891 | 79,449 (all station wagons) |
| Total | | | 202,549* |
1978 Ford Pinto
| | | | |
| --- | --- | --- | --- |
| Model | Weight (lbs.) | Price (new) | Number built |
| Pony sedan | 2,321 | $3,139 | |
| Sedan | 2,400 | $3,629 | 62,317 (all sedans) |
| Runabout | 2,444 | $3,744 | 74,313 |
| Station wagon | 2,579 | $4,028 | |
| Squire station wagon | 2,614 | $4,343 | 52,569 (all station wagons) |
| Total | | | 188,899 |
1979 Ford Pinto

| | | | |
| --- | --- | --- | --- |
| Model | Weight (lbs.) | Price (new) | Number built |
| Pony sedan | 2,329 | $3,434 | |
| Sedan | 2,396 | $3,939 | 75,789 (all sedans) |
| Runabout | 2,442 | $4,055 | 69,383 |
| Pony station wagon | not available | $3,899 | |
| Station wagon | 2,571 | $4,338 | |
| Squire station wagon | 2,607 | $4,654 | 53,846 (all station wagons) |
| Total | | | 199,018 |
1980 Ford Pinto

| | | | |
| --- | --- | --- | --- |
| Model | Weight (lbs.) | Price (new) | Number built |
| Pony sedan | 2,377 | $4,117 | |
| Sedan | 2,385 | $4,605 | 84,053 (all sedans) |
| Runabout | 2,426 | $4,717 | 61,842 |
| Pony station wagon | 2,545 | $4,627 | |
| Station wagon | 2,553 | $5,004 | |
| Squire station wagon | 2,590 | $5,320 | 39,159 (all station wagons) |
| Total | | | 185,054 |
*Includes 22,548 cars produced as 1978 models, but sold as 1977 models. (Source: Encyclopedia of American Cars, by the Auto Editors of Consumer Guide®.

For more picture-packed articles about great cars, see:

Consumer Guide Automotive
Consumer Guide Used Car Search