1967 Mercury Cyclone GT
Little more than cosmetic changes marked the 1967 Mercury Cyclone GT, which wore a single-section, horizontal-bar grille with center insignia. Taillights and rear-end decorations also enjoyed a freshening. Engine modifications dropped the 390-cid V-8 down to 320 horsepower. The regular 289-cid Cyclone V-8 remained at 200 bhp.
Lower-body rally striping again helped identify the Mercury Cyclone GT, as did its black-out grille. GT extras didn't change much, including a twin-scoop hood, bright engine components, Wide-Oval whitewalls, stiffened suspension, and power front-disc brakes.
By 1967, the Comet name was officially used only on basic 202 sedans. This was not a good year for Cyclone sales -- or for that matter, any Comet-derived models. GT production dropped sharply, down to only 3,797 in all and a mere 378 ragtops. Even fewer ordinary Cyclones left the plant.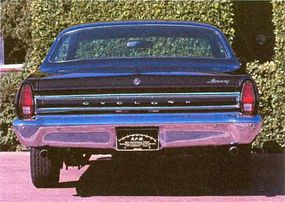 The 1967 Mercury Cyclone GT bore vertical taillights, which were previously horizontal.
©2007 Publications International, Ltd.
After a strong start, Mercury's performance mid-size seemed to be faltering, unable to catch hold like its Fairlane cousin. Service as Pace Car for the 1966 Indy 500 (with Benson Ford at the helm) and an award from Super Stock magazine as "performance car of the year" weren't helping at the showroom. Disappointed they had to be, but the folks at Mercury weren't ready to quit just yet, as the next generation of intermediates would demonstrate.
See detailed specifications for the 1966 and 1967 Mercury Cyclone GT on the next page.
For more information on cars, see:
Classic Cars

Consumer Guide New Car Search

Consumer Guide Used Car Search