The biggest automotive success of the 1960s was actually some 20 years in the making. Since World War II, Americans had shown growing enthusiasm for British and European sports cars with their rakish looks, handy size, tight handling, and intriguing "foreign" features like tachometer, floorshift, and individual "bucket" seats. Sports cars attracted few sales but tons of attention.
That's why Detroit paraded yearly fleets of sporty two-seat "dream cars" in the Fifties and offered sporty versions of some existing models. Struggling independent manufacturers Nash and Kaiser-Frazer actually built credible sports cars as "a difference to sell." But among the Big Three, only General Motors offered anything like a genuine sports car. Even then, the Chevrolet Corvette met a poor reception on its 1953 debut and was almost killed after two years for lack of sales.
Ford achieved far more success with the 1955-57 Thunderbird, a "personal" two-seat convertible with the V-8 power, boulevard ride, and convenience features Americans craved. But Ford Division chief Robert S. McNamara figured a four-seat model would sell even better. The replacement 1958 T-Bird proved him right. At the same time, however, Americans were fast turning from Detroit's gaudy, gas-guzzling giants to small European cars and thrifty new domestic compacts like the Studebaker Lark. The Big Three responded for 1960 with the compact Ford Falcon, Chevy Corvair, and Chrysler Valiant. Though the affordable, orthodox Falcon was soon way outselling its rivals, the unconventional Corvair scored a surprise hit in mid-1960 with the snazzy Monza coupe featuring vinyl bucket seats, floorshift, and snazzy trim. Ford fired back the next year with a similar Falcon Futura.It was in 1961 that an astute new Ford Division chief broached the idea of a more distinctive sporty Ford. A self-professed car-crazy and nobody's fool, Lee Iacocca had worked in the rental-car business as a high-schooler, attended Lehigh University, and earned a master's in mechanical engineering at Princeton on a scholarship. After joining the Ford sales force in Pennsylvania, he devised a novel and successful sales scheme that McNamara used nationwide. By age 35, Iacocca was a Ford vice-president. A year later, in 1960, he was promoted to head Ford Division.The new chief moved quickly to rejuvenate Ford's profitable but stodgy lineup. He rushed out the Futura, added more "Lively Ones" for mid-1962 and again for "1963 1/2," and put fastback rooflines on several models. He also launched an all-out racing program under the same "Total Performance" banner. By mid-decade, Ford was a consistent winner on racetracks and road courses the world over, which boosted sales and the division's bottom line.But Iacocca wanted something more, suspecting there was a market looking for a new kind of car. He took his hunch to a 1961 meeting of the Fairlane Group, an informal planning committee composed of top company execs and Ford advertising people.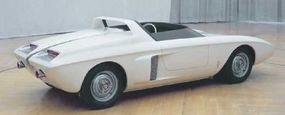 Iacocca pointed out that America's huge "baby boom" generation was coming of age, would have money to spend, and would probably go big for a smaller car with high style, a low price, sporty features, and enough space for two adults and two children. The committee agreed, and Iacocca tapped engineer and product-planning manager Donald N. Frey to head up a new project dubbed T-5. The Mustang was on its way.
For even more on the Ford Mustang of yesterday and today, check out the following articles:
Saddle up for the complete story of America's best-loved sporty car. How the Ford Mustang Works chronicles the legend from its inception in the early 1960s to today's all-new Mustang.

By 1967, the original ponycar was no longer the only one and had to fight for sales. 1967, 1968 Ford Mustang details the fresh "performance" look and go-power that made a million-seller even better.

For a full report on the 2007 Ford Mustang, check out Consumer Guide New Car Reviews. Here you'll find road test results, photos, specifications, and prices for hundreds of cars, trucks, minivans, and SUVs.