In 1961, Chevrolet had a big winner in its Corvair Monza, but nothing to compete with Ford's high-flying Falcon. The 1962 solution: the back-to-basics, low-cost Chevrolet Chevy II.
When the 1960 cars made their debut in the fall of 1959, media attention was focused on Detroit's answer to the imports: Chevrolet's radical, rear-engined Corvair; Ford's simple, sensible Falcon; and Chrysler's highly styled Valiant.
And when 1960 sales were counted -- 435,676 Falcons, 250,007 Corvairs, and 194,292 Valiants -- one thing was clear: Falcon was the car to beat, and Corvair was in trouble.
In its first year, Falcon not only outsold the seemingly unstoppable Rambler, but also surpassed combined sales of the two top imports, the Volkswagen Beetle and Renault Dauphine. Not too bad for a car Chevrolet had derisively termed a "cut-down big car."
While Corvair's intriguing, import-inspired design was widely celebrated in the press, including a Time magazine cover story and a Motor Trend "Car of the Year" award, the Falcon was pleasing car buyers with its greater interior comfort, bigger trunk, and better gas mileage.
The only thing that saved the Corvair in 1960 was the mid-year introduction of the sporty, bucket-seat Monza coupe, a car that appealed to a different sort of buyer altogether. By 1961, the hot-selling Monza was accounting for nearly half of Corvair volume. Chevrolet had stumbled on a new market segment, but a Falcon-sized hole in its product line still remained.
Luckily for Chevy, Corvair sales were "plus" business, so the division ended 1960 as the industry's top seller, after losing the honor to Ford in 1957 and 1959. The key to Chevy's success was the undiminished sales strength of the full-size Impala. The Falcon, on the other hand, was perhaps too successful, stealing sales from the higher-priced big Fords.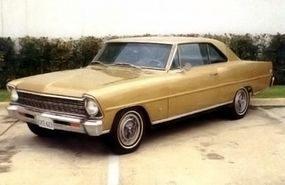 Ironically, even before the Monza boom began, Chevy had decided to bolster its 1961 lineup of Corvairs by adding station wagons, Greenbriar passenger vans, Corvan commercial vans, and Loadside and Rampside pickups. With space utilization compromised by the rear engine location, all were mistakes.
It thus soon became obvious that if Chevy was to catch the high-flying Falcon, which had added its own Econoline light-duty trucks, it wasn't going to be with the Corvair.
Thus, in December 1959 -- shortly after the Falcon entered the marketplace -- the decision was made to put a conventional front-engine compact in Chevrolet showrooms for the 1962 model year. "It was a real rush job," said Claire MacKichan, a Chevy designer at the time. "We wanted to retain some Chevrolet aspects in the design, but it had to conform to those [Falcon] sizes and dimensions. It was such a rush program we had to use the technical knowledge that was available then."
Learn more about what this "rush program" created on the next page.
For more information on cars, see:
Classic Cars

Consumer Guide New Car Search

Consumer Guide Used Car Search