The 1961-1964 Chevrolet Impala Super Sport introduced America to the concept of a sporty full-size car. Continue reading to learn more about this powerhouse.
Yearning for a certain automobile wasn't a new phenomenon among American teens when the Beach Boys released their hit single "409" in 1962. But focusing on a specific engine -- now that was something different. Few V-8s have been immortalized at all, much less recalled so fondly as the 409-cid motor that growled within big Chevrolets of the early 1960s.
Up to that time, the sporty full-size car was a virtual oxymoron: two concepts that just didn't work together. With its Super Sport edition of the restyled 1961 model, Chevrolet was out to change that perception.
Toning down the Impala/Bel Air/Biscayne trio had begun in 1960 by subduing their broad tailfins. This year's body finished the job. Three rooflines were created, led by a Sport Coupe with gently sloping front pillars and plenty of glass.
Though still on the gaudy side with its creased bodysides, tapered trim strip, jutting fender tops, and rear-deck sculpturing, the Impala's lines were undeniably cleaner -- ready to usher in a new era. One paragraph of the 1961 sales catalog summarized the Chevrolet Impala Super Sport as the "highly personalized version" of any Impala body style.
Priced as low as $53.80, the option package included special trim, simulated knock-off spinner wheel covers, power brakes and steering, heavy-duty springs/shocks, metallic brake linings, a 7,000-rpm tachometer alongside the steering column, and narrow-band 8.00 × 14 whitewalls. Inside was a front-passenger assist bar (as on Corvettes), but ordinary bench seats.
This initial Super Sport came with a choice of 348-cid engines (305, 340, or 350 bhp) and a four-speed manual gearbox; or the 305-bhp could get Powerglide. Farther down the Impala lineup, the top engine choice delivered only 280 bhp.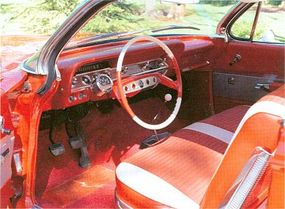 Target market: "customers who like sports car flair and go, teamed with big car elegance." That was just the start of what would become the "SS" phenomenon, for at the same time, Chevrolet was preparing a massive 409-cid engine. What better place to introduce it than beneath the hood of a Super Sport?
Go on to the next page to find out about the styling and mechanics of the 1961-1964 Chevrolet Impala Super Sport.
For more information on cars, see:
Classic Cars

Consumer Guide New Car Search

Consumer Guide Used Car Search