1955 Plymouth Belvedere
In 1955, suddenly Plymouth's frog became a handsome prince. Styled under Virgil Exner's direction by Maury Baldwin, the 1955 Plymouth Belvedere was the most exciting Plymouth ever: sleek, well proportioned, and appreciably quicker.
Wheelbase gained only an inch, thus matching Ford and Chevy, but overall height was 1.5 inches less and overall length 10.3 inches greater than the 1954. With fall-away front fenders, hooded headlamps, wrapped windshield, vastly expanded glass areas, shapely rear fenders, and colorful two-toning, it was a transformation as dramatic as this year's Chevy.
It was not as big a commercial success, though. Plymouth actually built fewer 1955s than 1954s, dropping from third to sixth in model year production behind Buick, Olds, and Pontiac. Yet that's misleading. Demand increased throughout the year, peaking with introduction of the 1956s, and the division set a calendar year production record of nearly 743,000 units, with Belvedere the most popular series.
Plymouth's first V-8 was the other big news for 1955. Called "Hy-Fire," it was a modern, oversquare overhead-valve design with efficient poly-spherical combustion chambers and aluminum pistons. It went into 61 percent of total production, though the figure would have undoubtedly been higher had it been more readily available.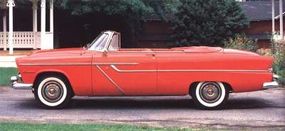 The line-leading Belvedere convertible camewith the base V-8 at $2,351.
Three versions were offered. The base 241-cubic-inch unit (bore and stroke: 3.44 × 3.25 inches) delivered 157 horsepower at 4,400 rpm. A bigger bore (3.56 inches) produced 260 cubic inches and 167 horsepower with two-barrel carb, or 177 horsepower with optional "PowerPak," four-barrel carb and dual exhausts. The old Power Flow flathead six returned with higher, 7.4:1 compression and 117 horsepower at 3,600 rpm.
Transmission choices comprised the usual three-speed column-shift manual, the same with optional overdrive, or the new Power-Flite automatic. The last, now controlled by a willowy wand protruding from the dash to the right of the steering wheel, was fitted to 46 percent of production. With all this, the 1955 Plymouth was aptly billed as "a great new car for the young at heart."
Handling, already one of Plymouth's better features, was further improved. The rear semi-elliptic leaf springs were widened to 2.5 inches, and front coil springs were newly wrapped around their shock absorbers. Motor Trend magazine rated Plymouth "the easiest car to drive in 1955." Air conditioning, power windows, and power front seat appeared on the options list, while suspended foot pedals and tubeless tires were standard.
A revised lineup featured a club coupe and four-door sedan in each series, Plaza business coupe and two- and four-door Suburban wagons, and Belvedere convertible, Sport Coupe hardtop, and four-door Suburban. Six or V-8 were available for all except the convertible, which had the base V-8 as standard.
After this redesign, few changes were made for 1956. Find out what distinguished the 1956 model on the next page.
For more information on cars, see:
Classic Cars

Consumer Guide New Car Search

Consumer Guide Used Car Search