Mack hoped that its compact 1937-1938 Mack Jr half-ton pickup would sell at the 1936 Mack Jr's pace, but that didn't happen, and Mack's foray into the small-size market ended with the 1938 model.
Classic Truck Image Gallery
Mack's heavy-duty trucks are synonymous with big-rig toughness. But only truck historians may realized the Allentown, Pennsylvania, company also once built a "personal Mack," the Mack Jr in a size that would fit most every garage. (The model name was never spelled out, or given a period.)
The Mack Jr came about in the mid 1930s. Hoping to improve sales during a lean period, Mack arranged with truck builder Reo to sell slightly disguised Reo light-duty trucks with Mack badging.
The Mack Jr debuted for 1936 in 1/2-ton to 3-ton ratings (gross vehicle weights of 4500 to 14,500 pounds). This was light compared to the "real" Macks, which started at 18,000 pounds.
Eight model choices ranged from pickup and panel truck to a school-bus chassis. The program worked: Mack registrations increased from 1,515 in 1935 to 4,226 in 1936, with the Jr accounting for 2,343.
Mack revised the 1937 Mack Jr, replacing the 4,500-pound 1M pickup with a 5,000-pound 2M; with a special axle, it could even take an extra 500 pounds of cargo. A new chassis, heavier axles, and more rigid frame marked the 1937 Mack Jr as a serious truck built to Mack standards.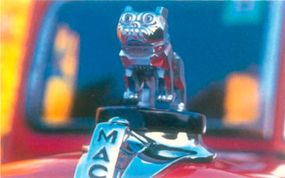 Eye appeal was enhanced with new wheels, a handsome new hood and grille, and fenders painted to match the body. All bodies were improved in appearance, cabs were fitted with lovely appointments, and the trucks could doubtless handle far more than their 1/2- or 3/4-ton ratings.
Prices for the 1937 Mack Jr ranged from $575 for the 1/2-ton pickup to $1,205. Ford's pickup, in comparison, cost only $470. Mack told its salesmen it didn't know "how to sell at a price" and urged they sell the vehicles on their merits.
Still, deliveries slipped to 2,226 for 1937, then plummeted in 1938 to only 405. Mack pulled the plug, able again to succeed handsomely with its large trucks.