The 1936 Duesenberg SSJ Speedster was a sight to behold and a car so special that only two were built.
Duesenberg advertised its Model J -- introduced on December 1,1928, -- as "The World's Finest Motor Car." And it probably was, given its majestic 142 1/2-inch wheelbase, mighty 265-bhp straight eight, and the finest custom coachwork money could buy.
In 1932, the supercharged SJ debuted. With 320 horses on tap, what could be more appealing than a short-wheelbase Speedster? Even actor Clark Gable couldn't resist its allure.
Only two 1936 Duesenberg SSJ Speedsters were built: one for Clark Gable, the other for Gary Cooper. Riding a 125-inch wheelbase, 17-1/2 inches shorter than a standard Duesie, the SSJ Speedsters sported a lightweight open-roadster body produced by Central Manufacturing Company, an Auburn subsidiary in Connersville, Indiana.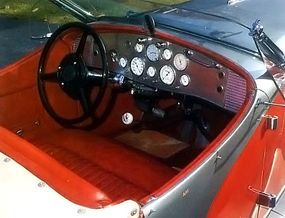 Features of these 1936 models included the older-style open fenders, 17-inch wheels, and Duesenberg's famed vertical-bar grille. The cockpit was cozy for two, but the dashboard carried comprehensive instrumentation, even a tachometer and an altimeter gauge. Note the five chrome strips on the rear fenders, a complement to the trim on the running boards.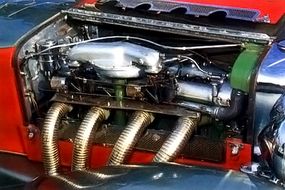 The heart of the SSJ Speedster was the 420-cubic-inch straight eight engine. It featured dual overhead cams and four valves per cylinder. With the centrifugal-type supercharger, 320 horsepower was on tap.
According to one ad, "This supercharged Duesenberg will throttle down to three miles per hour and will accelerate from a standing start to 100 miles per hour in twenty seconds." Top speed was a claimed 130 in high gear, 104 in second (in a phaeton with the top down).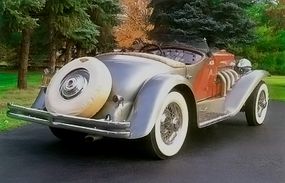 The blown Duesie was also "as quiet as the famous Model J, with the exception of a pleasant soft singing of the supercharger. . . ." At the rear, the 1936 Duesenberg SSJ Speedster sported an external spare tire and smaller "later-style" round taillights. The external exhaust pipes sprouting out of the hood shouted "supercharged," but were optional on J models as well.
An eagle nameplate announced the Duesenberg, known to many as "King of the Classics."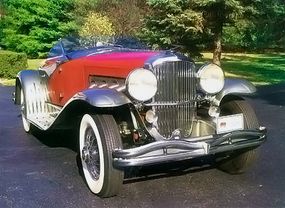 Although this SSJ passed through several hands from 1948 to 1953, Alfred Ferrara, of Gates Mills, Ohio, has owned it for more than 40 years. It's not the kind of car that's easy to part with.
For more information on cars, see:
Classic Cars

Consumer Guide New Car Search

Consumer Guide Used Car Search