It was advertised as "The World's Finest Motor Car." And indeed, the famed Duesenberg Model J, which would serve as the basis for this 1935 Duesenberg Speedster-Roadster, likely was exactly that.
Bowing in late 1928, it was backed by the rapidly ascending automotive empire of Errett Lobban Cord and designed by Fred and August Duesenberg.
Built on a cost-no-object basis, it started with an 8.5-inch-deep frame with quarter-inch thick rails. Into this foundation was dropped a 420-cubic-inch straight eight that boasted four valves per cylinder, twin overhead cams, and 265 horsepower -- a mind-boggling figure back then. Aluminum alloy was used extensively, holding the car's weight to around 5,200 pounds.
To the imposing chassis was added the finest custom coachwork money could buy -- and a Duesenberg cost plenty: $9,500 for the chassis alone in 1931, enough to buy 20 brand-new Model A Fords.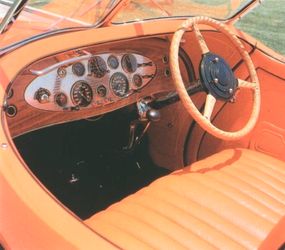 However, even the finest wasn't enough for the Maharajah Holkar of Indore, India, who purchased a "speedster-roadster" built on the model JN's 11-inch-longer 153.5-inch wheelbase. The ruler's car also got the model SJ's supercharged 320-horsepower eight; it did 104 mph in second and topped out at 140.
Most British Empire and "Colonial" Duesenberg sales were handled through English sales agents, this one being sold by R.S.M. Automobiles, Limited, of London. It then went to J. Gurney Nutting & Company for its special body.
The speedster sported a concealed top, built-in license plate holder, dual fuel tanks, and single-bar bumpers. More interesting was a rumble seat that was completely separate from the trunk; neat fold-down steps built into the sides of the body made access easier.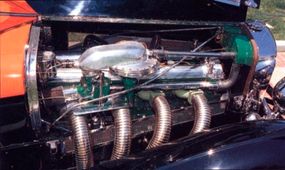 The unique coachwork was finished in black, with a special "Sun-Glow" orange sweeping boldly from the hood ornament, over the hood and the tops of the doors, onto the rear deck. Sun-Glow also graced the leather interior.
Befitting royalty, the right-hand-drive speedster was fitted with a pair of running lights atop each front fender. They informed the populace who was at the wheel: Maharajah (red) or Maharanee (blue).
The Maharajah's Duesy was the only one to receive J. Gurney Nutting coachwork. It was mounted on the final Duesenberg chassis, number 2,614 (it was not the last one to be bodied, however). The engine, J-585, was also apparently the fourth-to-the-last one built, and the last with a supercharger.
Although this speedster was thought to be lost, it resurfaced in 1959 and was brought to the U.S. It eventually ended up in the hands of General and Mrs. William Lyon of Trabucco Oaks, California, and now resides in the William Lyon Classic Automobile Collection (not open to the public).
The Autocar, a British motoring magazine, described this royal Duesenberg as "colossal" back in 1936. Even today, there's no reason to challenge that conclusion.