The 1920 Harley-Davidson 20-J sported the olive paint Harley switched to with its 1917 models. Styling changes were few during those years, the most notable occurring in 1920 when the headlight and horn switched places. V-twins still displaced the same 61 cubic inches (1,000-cc) as before, though a 74-cubic-inch (1,200-cc) model joined the line for 1921.
Introduced in 1919 was the Sport, a 35.6 cubic-inch twin with horizontally opposed "fore and aft" cylinders. It was intended to compete with Indian's highly successful V-twin Scout, but it failed to win over many customers and was dropped in 1923.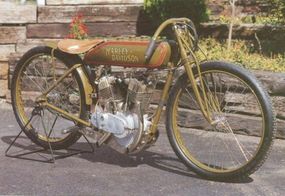 During this same period Harley-Davidson sponsored an extremely successful racing team, which become known as the "wrecking crew" for the way it demolished its opponents. Racing models were devoid of such luxuries as sprung seats and even brakes, and some boasted special overhead-valve engines with two or four valves per cylinder. The 1922 JD racer was fitted with a conventional F-head engine, and like most Harley competition bikes of the era, carried bolder tank lettering for promotional purposes.