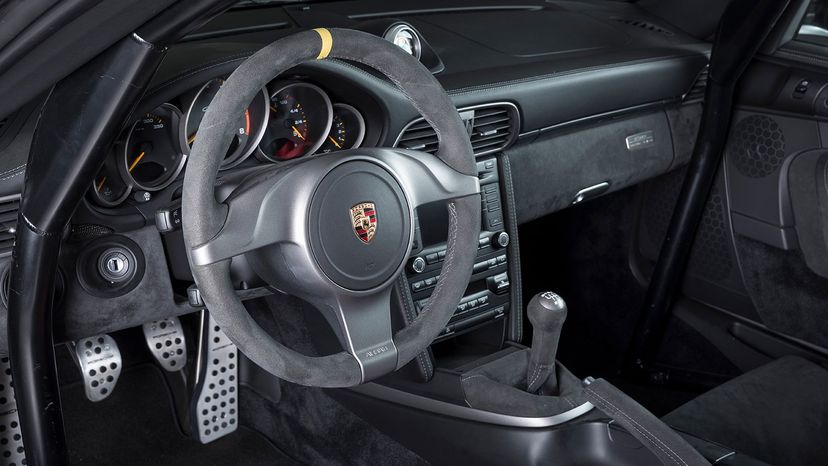 Interior detail of a Porsche 997 GT2 RS sports car (showing the manual gear shift) taken on March 11, 2019.
Daniel Pullen/Future Publishing via Getty Images
In 2021, only around 1 percent of new cars sold in the U.S. came with three pedals and a stick shift, reported The New York Times. Whole generations of American drivers have been able to get by without learning to drive stick at all. At the same time that sales of these manual transmissions were dwindling, the market became saturated with SUVs, crossovers and luxury pickup trucks. It all comes in stark contrast to the buying patterns in Europe and Asia, where small manual hatchbacks practically run the streets – some 80 percent of cars on the roads there are manual. But even on those continents, trends are changing.
So why is that? First, a look at the U.S. It seems like an inherently American trait to make everything as big and cushy as possible, including cars. When you look at prewar cars across the globe, the vast majority of them had manually operated gearboxes. Then, swinging into the '50s after World War II, automatic transmissions became a premium add-on for many American cars. Customers were liable to take that option because they didn't want to deal with shifting through their commute, and because they could easily cover the additional cost. By 1957, auto boxes had already taken over 80 percent of the U.S. market.
Around the same time, American cars ballooned to much greater sizes than their Euro and Japanese counterparts, a trend that wouldn't be interrupted until the oil crisis of the '70s. East of the Atlantic, they stuck with small manual cars because they were more fuel-efficient, and cheaper to produce. Inexpensive cars were a necessity in the continents that saw their lands and factories ravaged by the war. Meanwhile, the U.S. was oil-rich, and shielded from the economic fallout of the conflict, so frugality was of no concern. Americans, back then and today, take significantly longer commutes by car, while Europeans are more likely to take shorter road trips and rely more on public transit. It's another big reason that Americans so quickly latched onto the convenience of an automatic.
One segment where manual transmissions were able to maintain a foothold was the dedicated sports car market. Many of these cars from makers like Porsche, Ferrari and Datsun were foreign imports. They usually had no automatic option at all. If they did, it offered subpar performance and driving feel. Cars like these cemented in American minds the notion that shifting your own gears was a rite of passage for real car enthusiasts, even though every bored kid in the Eastern Hemisphere learned to do it for their license.
Why Sports Cars Gave Up Manual Transmissions
In the modern day, however, even sports cars are shedding their three-pedal options. Modern automated gearboxes, be they torque converter or dual-clutch, can now match or surpass the performance offered by old stick shifts. Worldwide, Ferrari has no manual transmissions, Lamborghini has no manuals, the Corvette just got rid of its manual option. A few years ago, Toyota came out with their much-anticipated sports car revival, the Supra, also, with no manual.
Ford, until recently, offered manual-only performance packages like the Focus RS, Fiesta ST and Mustang GT350. They've all been canceled in the last few years. Those cheap compacts across the globe are also seeing auto options because things like continuously variable transmissions (CVTs) and dual-clutches are now rivalling the efficiency offered by a stick shift.
"Our automatic transmissions – specifically our 8HP planetary and also our dual-clutch transmissions – have become so efficient and shift so quickly that they've replaced even our own manual transmissions and even in sports car applications. Performance-wise, automatic transmissions are superior to their manual counterparts now," explains Tony Sapienza, head of communications (North America) for global transmission supplier ZF. "While enthusiasts in the U.S. sometimes say they prefer the 'engagement' of manual transmissions, the sales we see suggest that this is a very small and shrinking group."
There are signs that even in Europe, automatic cars are taking over. For instance, Ford Motor Company reported that automatics accounted for just 10 percent of the cars it sold in Europe in 2017. In 2020, it was 31 percent. The company attributed growth to some of the new features like cruise control and parking assist that aren't compatible with manual transmissions. USA Today reported that in the U.K., automatic cars outsold manuals for the first time in 2020, citing stats from the Society of Motor Manufacturers and Traders. The technologies we mentioned earlier like dual-clutches and CVTs, which use computerized systems to shift the transmission into the right gear, have made automatics more economical to drive.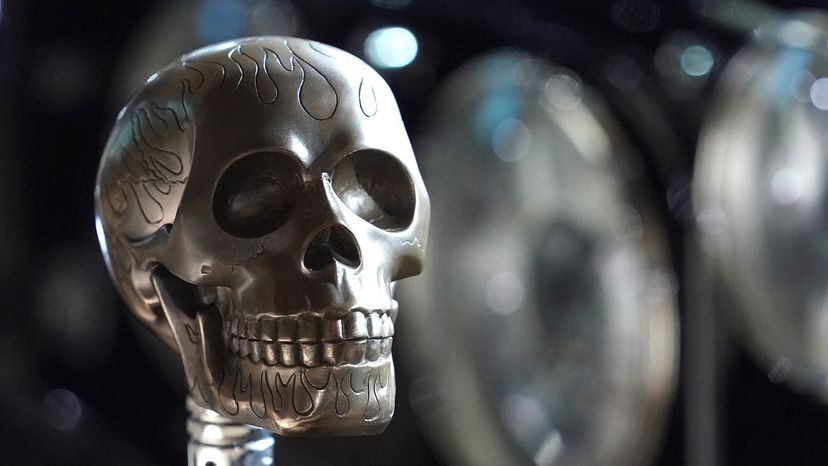 The skull shifter inside Metallica singer James Hetfield's 1937 Lincoln Zephyr "VooDoo Priest" is now on display at the Petersen Automotive Museum in Los Angeles, 2020.
Scott Varley/MediaNews Group/Torrance Daily Breeze via Getty Images
Where to Satisfy Your Manual Jonesing
A few automakers today still offer new manual cars, namely Porsche and Honda. "Fun to drive is a key attribute of all Honda models. For some drivers, having a manual transmission is critical. I'm happy to confirm that not only the most recently available Si and Type R versions have had a manual transmission, but we've also announced that the upcoming 2022 Civic Hatchback will have a manual transmission available," says Chris Naughton, Honda & Acura Public Relations (Eastern U.S.). He adds that he couldn't speak about the specs of any upcoming Type R, but all previous generations of that car have been stick shift-only.
Porsche also seems to be doing pretty well on the manual front. "When given the choice, more than 20 percent of our sports car buyers (718 and 911 models) in the U.S. opt for the manual transmission," says Frank Wiesmann, manager, product communications, Porsche Cars North America, Inc. "That being said, we have seen it go up to almost 70 percent on the previous generation 911 GT3 (2018/2019 model year) in the U.S., and it is currently around 50 percent on our 718 Cayman GT4/718 Spyder models. We plan to offer manual transmissions for our customers as long as regulations allow and we see demand for it."
As manual options decline, a subset of enthusiasts who go nuts for anything with an H-pattern, have caused secondhand manual prices to trend upward significantly. In the case of 2000-era Ferraris, their last manual cars can go for nearly double the sale price of a comparable car with an automated gearbox. Some custom shops have even taken to outfitting formerly auto-equipped cars with stick shifts in order to introduce new stock and cash in on the trend. Just as the supply of three-pedal cars is dwindling, the hype for them is through the roof, quickly turning them into a speculative asset of ballooning value.