For almost 30 years, Jerry Kugel provided the means for rodders to ride in comfort. Now, with hot rods like the Muroc Roadsters, he helps them ride in style.
Kugel started selling Jaguar independent rear suspension kits for hot rods in 1969 through his La Habra, California, company Kugel Komponents. He developed numerous other hot rod-speci­fic parts over the years, always testing them thoroughly on his own '32 Ford roadster first.
Kugel took the development process one step further in the early 1990s, when he began offering complete Deuce roadsters based on stretched-wheelbase Zipper fiberglass bodies.
Hot Rod Image Gallery
In 2001, Kugel upped the ante even further with his line of full-fendered and fenderless Muroc roadsters. From the outset, the plan was to build ten of each body style. As of early 2006, the fenderless cars were sold out and five of the full-fendered cars remained.
Muroc Roadster buyers get steel-bodied rollers with independent suspensions; the customer chooses his own engine, paint, and upholstery. The steel bodies aren't just stock reproductions. Kugel sought out noted hot rod illustrators Thom Taylor and Chip Foose to help design a stylized body, then commissioned Marcel DeLay at Marcel's Custom Metal in Corona, California, to fabricate the bodies.
Marcel and his sons, Luc and Marc, made a square steel-tubing buck for use as a template while bending the body panels, then put more than 500 hours of work into each body. All of the panels are steel, except the hoods, which are ­alumi­num. Dan Fink Metalworks stainless steel grille inserts complete the look.
Chip Foose also helped design the frames. Kugel Kompo­nents builds each 112-inch-wheelbase frame from a set of SAC Hot Rod Products rails. Kugel parts can be found throughout each car. Kugel independent front and rear suspensions provide a smooth ride, and the DuVall-style windshield frames were developed in-house.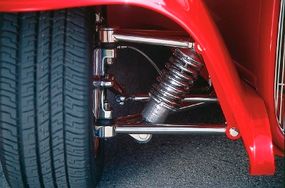 Kugel independent front and rear suspensionsprovide a smooth ride.
Publications International, Ltd.
All of this skilled hand fabrication doesn't come cheap. The highboys ran $75,000 each, and customers pay $110,000 for a full-fendered car.
The car featured here is the property of Nick Barron of Irwindale, California. Nick owns Hallett Boats, a high-performance boat manufacturer. Forty years building ultraluxury boats has helped him develop an eye for design. He also owns the full-fendered version.
Accordingly, Nick made every decision along the way to completing both cars, and enlisted the help of several people to realize his vision. His industry connections landed him a pair of Corvette 350-cid LS1 engines and 4L60E automatic transmissions.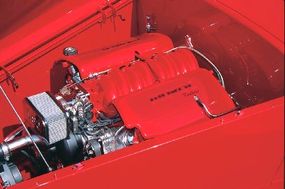 Muroc roadsters are equipped with Corvette 350-cidLS1 engines and 4L60E automatic transmissions.
Mike's Street Rods of Hesperia, California, completed the bodywork and applied the custom-mixed bright-red paint. Gabe's Custom Interiors of San Bernadino stitched the beige leather interiors. Boyd Coddington wheels were used on the fendered car, and a set of Budniks was chosen for the highboy.
Unique headlights were chosen from motorcycle-light manufacturer Joker Machine. Headwinds of Monrovia, California, provided the fendered car's lights.
After six months of hard and exacting work, both cars turned out to be jaw-droppingly beautiful. The full-fendered car has the hardware to prove it, too. It won the America's Most Beautiful Street Rod award at the Pleasanton, California, West Coast Nationals in August 2001.
To learn more about custom cars and hot rods, see: