Inspiration for the Chrysler Chronos came the way it might come to any car-loving dreamer. Flipping through pictures of old cars, Osamu Shikado's eyes fell upon a classic coupe. He was certain a modern interpretation of it would look great. The distinction here is that as a Chrysler Corporation designer, Shikado's dreams can and do become reality.
It was his update of the 1953 Chrysler/Ghia D'Elegance show car that became the company's bold 1998 flagship concept, the Chronos. The magnificent V-10-powered sedan echoes the one-off coupe's proportions, oval grille, cut-in headlamps, jutting front fenders, and cat-like rear haunches.­
"We've been looking for years at the possibility of finding the right product for a Chrysler flagship model," said John Herlitz, Chrysler's vice president of design. "The Chrysler 300 concept car, the Atlantic, Thunderbolt, and Phaeton all were testing design theses for the ultimate Chrysler icon. This time we may have struck all the right chords."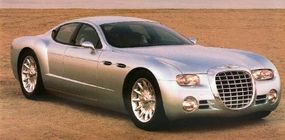 Chronos began in January 1997 the way many Chrysler Corporation concept cars begin nowadays: as a voluntary competition among designers. Shikado, whose regular duties involved production-car projects, consulted Chrysler's photo archives for ideas. He came across pictures of the graceful coupe built by Italy's Ghia coachworks under the direction of Chrysler's 1949-1961 design czar, Virgil Exner. Shikado said he was struck by D'Elegance's "sculpted form, its front end, especially around the headlight area, and the big chrome around the wheels."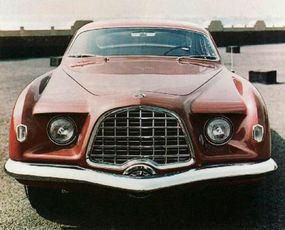 Shikado was wise to dig into Chrysler's past for the shape of its future, for he had little firsthand exposure to the subject. Born in Japan in 1955, he grew up longing to create low-volume exotics for an Italian carrozzeria. That dream languished while he designed mundane sedans at Toyota for 14 years. He quit in the early Nineties, chased job leads in Europe for six weeks while his wife and two children stayed in Japan, then remembered a teacher from a 1985 sabbatical at California's Art Center College of Design. The instructor had Chrysler connections and Shikado sent a resume and 10 sketches of his vision for future Chrysler vehicles. He was hired in 1994 by Neil Walling, Chrysler director of advanced design.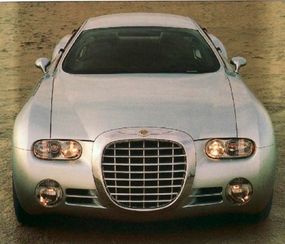 Shikado initially drew Chronos as a coupe modeled after Chrysler's stunning Bugatti-flavored 1995 Atlantic show car. Design studio chief Jack Grain suggested he try it as a sedan, and the result won the competition and was the centerpiece of Chrysler's 1998 auto show display. The car derives much of its impact from an impression of sheer size, though at 205.4 inches overall, it's only an inch longer than the D'Elegance -- and 3.7 inches shorter than the contemporary Chrysler Concorde. But its air of authority is undeniable, thanks to a low, sinister roofline and the daring 131-inch span between wheels, themselves an imposing 20-inches in diameter in front, 21 in back.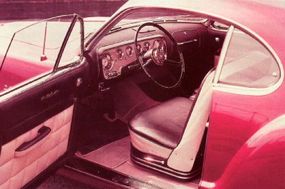 Rendered in hand-formed steel over a Concorde chassis modified to accept rear-wheel drive, the $2-million Chronos not only was a breathtaking static display, but a running car. Powering the 4,200-pound sedan was a smooth 350-horsepower, 6.0-liter overhead-cam V-10 spliced from two 4.7-liter Jeep Grand Cherokee V-8s. The all-independent suspension is derived from that of the Dodge Viper.
Swathed in hand-sewn leather and with hardwood panels, a center console cigar humidor, and evocative white-faced instrumentation, the elegant interior was not of Shikado's design. But the car's alloy wheels were, and they incorporate a Walling idea: Chrysler winged-emblem spinners rigged with rare-earth magnets so as not to rotate along with the wheels. It's a delightful touch.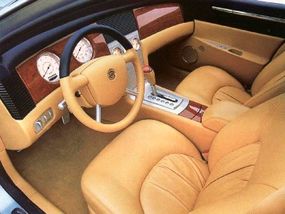 Shikado has never seen the real D'Elegance (it's on display at the Blackhawk Museum in Danville, California), nor is he among the handful of engineers and journalists who have driven the Chronos. The concept Chronos was never put into production, though Shikado allows that "I'd like to see it built, but I probably wouldn't be able to afford one."