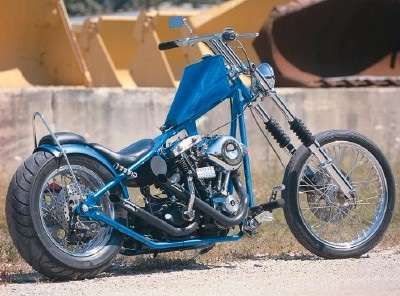 The Shovel is a custom Harley-Davidson motorcycle built by Dragon's. The next chopper has a S&S engine.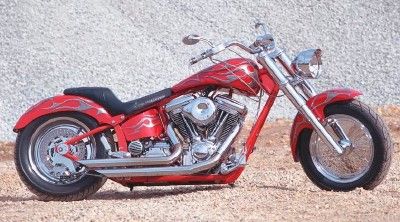 The Stump Puller is a custom motorcycle with a 96-cubic-inch S&S engine. DD Custom Cycle built the next chopper.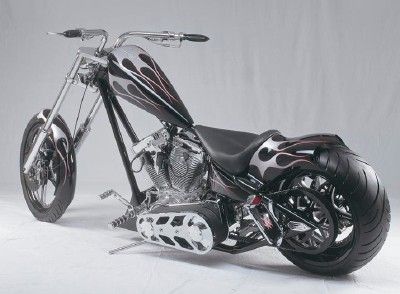 The Rigidity, built by DD Custom Cycle, has hand-formed components made from sheet steel. The next chopper shares the same name as a Scotch whisky.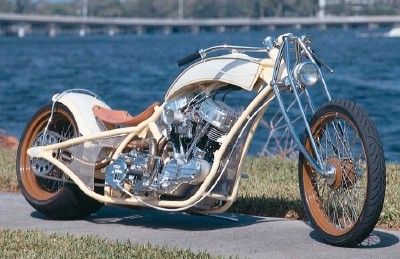 The Johnny Walker chopper features an imaginative and edgy design. The next bike has a rearview camera.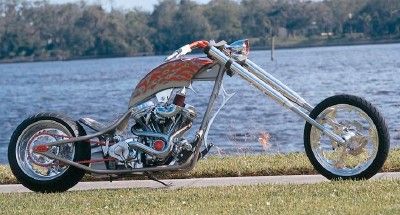 The Spoon is a true custom motorcycle with a Harley-Davidson engine and a rearview video camera. Take a look at a chopper with skulls on the brake disc next.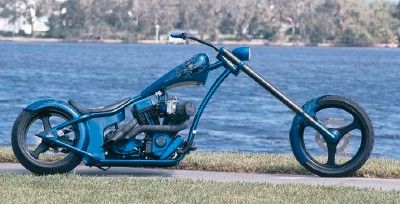 The Punisher chopper is the creation of The Wrench Custom Cycles. The next bike was customized six times.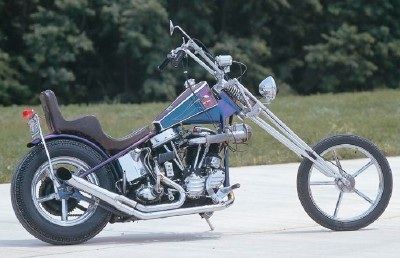 The FLH is a custom Harley-Davidson motorcycle customized six times by Jerry Morgan. Check out the Bad Moon chopper next.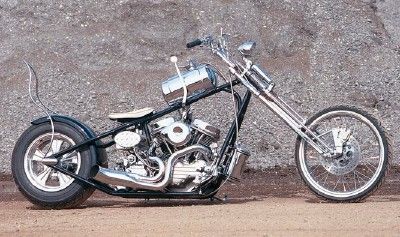 The Bad Moon chopper was custom built by Kenny Rollins around a hardtail chassis from Killer Choppers. Drago Slimonia built the next chopper.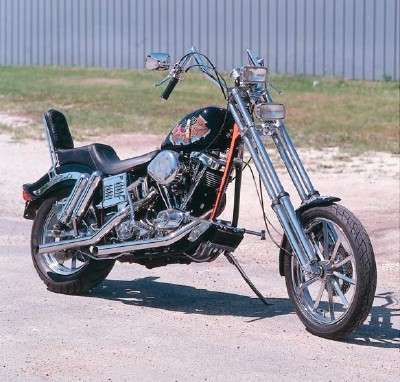 The Dual Glide is a Harley-Davidson-powered chopper built by Drago Slimonia and his H-D Garage. The next chopper goes below the belt.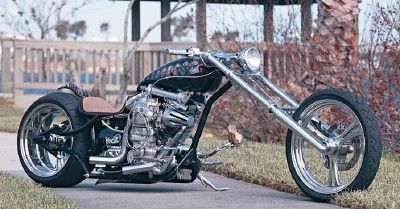 Low Blow is a chopper with edgy style and tons of power. Check out the Sportster next.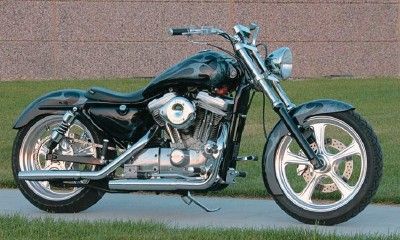 The Sportster is a custom motorcycle with a 5-speed transmission and a 74-cubic-inch Harley-Davidson engine. The next bike goes very well with the death penalty.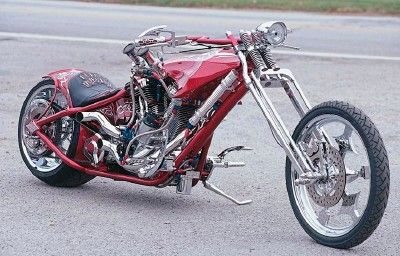 Lethal Injection is an award-winning chopper with a 107-cubic-inch V-twin engine. The next chopper is a trophy winner.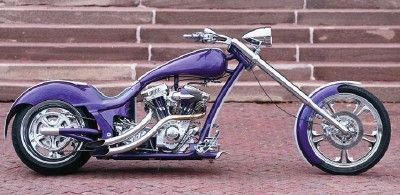 The Aggression custom motorcycle, built by Chip Miyler and Midwest Choppers, won a Best Radical Custom trophy. The next chopper was inspired by the Marvel comic superhero.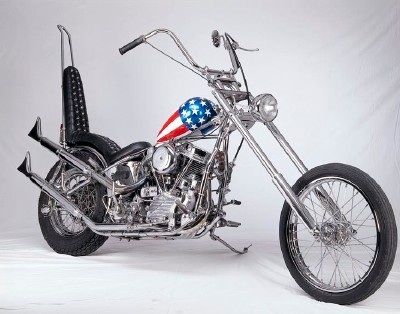 The Captain America chopper is one of the best-known motorcycles in the world. See a picture of the Fiend Chopper next.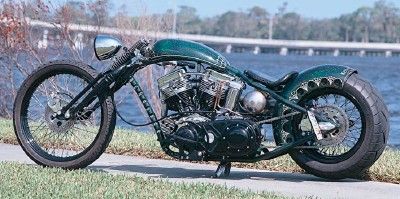 The Fiend Chopper is a custom chopper that uses a throwback Harley-Davidson-inspired V-twin engine. The next chopper is in no way soft.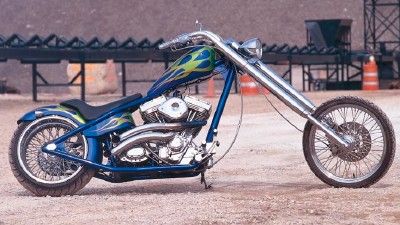 Hard Tail is an ideal custom chopper with inner workings as intricate as its paint job. The next chopper is taking it back to the old skool.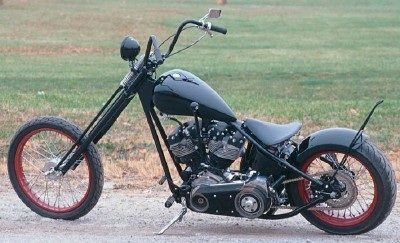 Old Skool is a custom motorcycle built by Scooter Shooterz. The next bike pays homage to the past.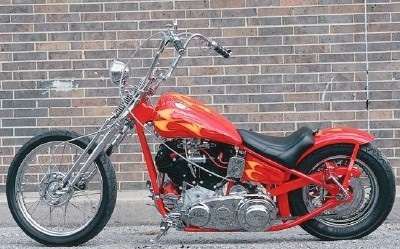 The EL chopper is a custom Harley-Davidson motorcycle built by Psycle Barn/Rodney Mann/Robert Berry. Is the next chopper homeless?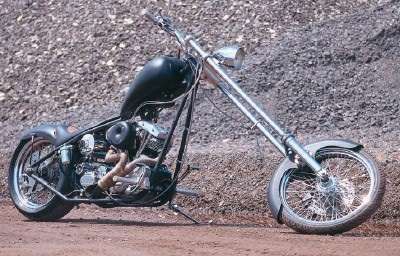 The Tramp is a custom motorcycle with a Daytec frame and unique engine. The next chopper was named after its owner.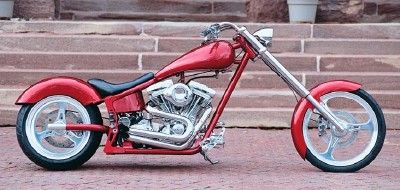 The custom chopper Tony is named for its owner, Tony Morrow, who gave Midwest Choppers free reign to design it.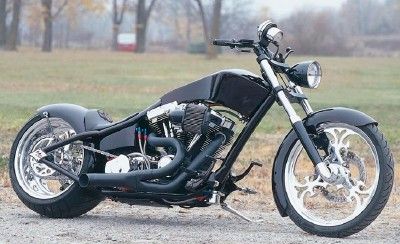 Assassin was built by Scooter Shooterz in Indiana. The chopper was fitted with a 124-cubic-inch S&S engine and a 6-speed transmission. And of course there's the classic fat 300-mm rear tire.
The Astrozombie started with an off-the-shelf frame, but it was tweaked a bit for this application. So were the Harley-Davidson Deuce forks. The power comes from a Harley Shovelhead engine enlarged to 93 cubic inches. The fender, fuel tank and side plates were all hand-formed.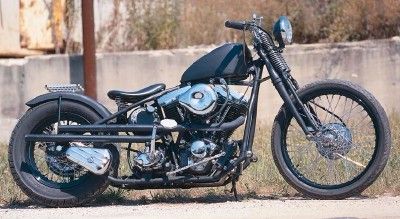 The flat black Dirty Love chopper is all about performance. Most of its components come from Harley-Davidson: the frame is from a 1949 model, the forks from a 1937. The bike is powered by a Harley Evo V-twin, expanded from 80 to 89 cubic inches.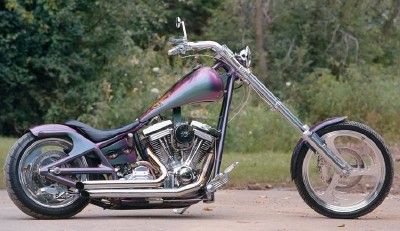 Creep Show features striking "chameleon" paint which, depending on the angle you view it, varies from purple to green. Paint aside, this bike also stands out with a 113-cubic-inch engine from TP Engineering.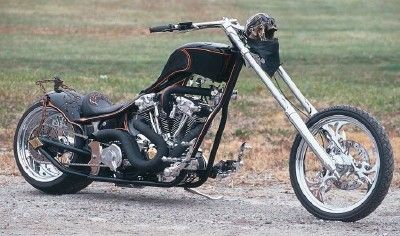 Scooter Shooterz built the Executioner for the Discovery Channel's popular Biker Build-Off program. The bike was assembled in just nine days, but the team still had time for custom touches like gold leaf detailing on black paint, leather flames attached with copper rivets, and a "head" light that spews flames.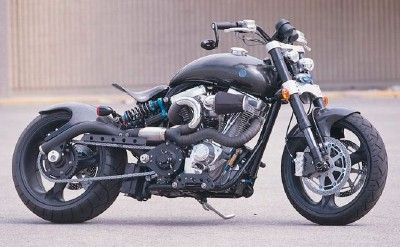 Confederate Motorcycle's Hellcat 124 combines high-tech with high performance. To the house-built frame they added inverted Marzocchi forks, a Penske coil-over rear shock, twin 300-mm disc brakes with 6-piston calipers in front, and a 280-mm disc with a twin-piston caliper in back. All this hardware is warranted: the 124-cubic-inch S&S Super Sidewinder Plus engine offers an impressive 130 rear-wheel horsepower.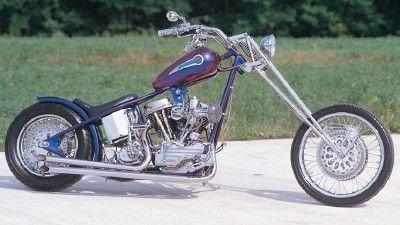 Michael Bailey first bought this Harley-Davidson in 1974, but 20 years passed before he began his two-year-long chopper project. The end result is Purple Haze. The original Panhead V-twin remains at 74 cubic inches, but many parts have been replaced with modern, high-performance substitutes.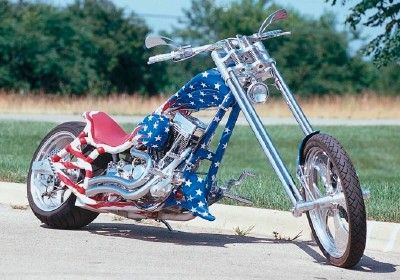 Retro uses a 113-cubic-inch S&S engine to send power to its "mag" style wheels. Making this chopper stand out even more is its red, white and blue paint scheme.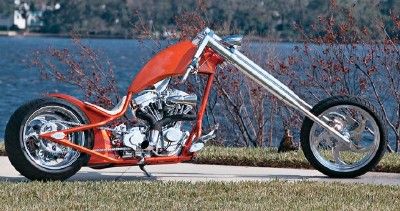 Every inch of Sabre Tooth's sheetmetal and custom chassis was hand-formed by Fearless Choppers and Precious Metal Customs. Sabre Tooth's 114-cubic-inch V-twin engine from Powerhouse is coupled to a Baker 6-speed transmission with right-side drive.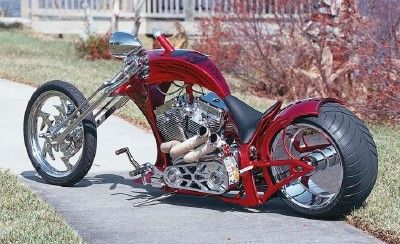 Suicide Softail features a rear swingarm with adjustable air-spring suspension mounted behind 145 cubic inches of V-twin engine. Read more about choppers in How Choppers Work.