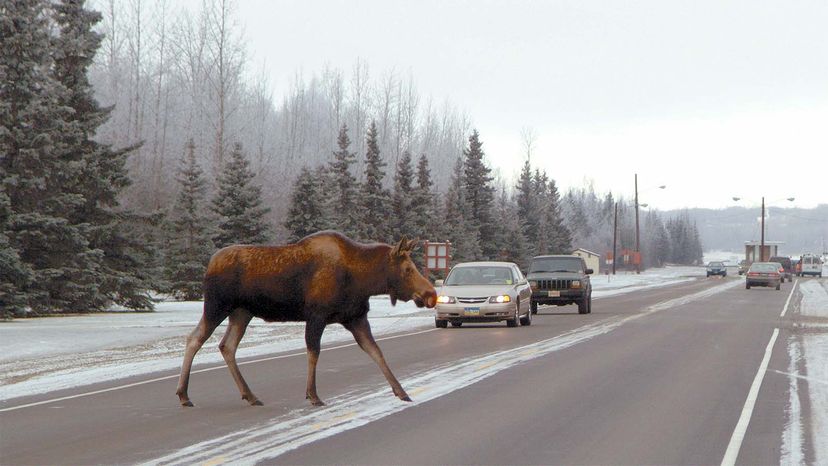 The possibility of hitting a moose when you're driving around Sweden is no joke. So Swedish car makers have been performing the Moose Test on their new vehicles for decades. Other automakers eventually adopted the tough evaluation, too, which today is credited with being the impetus for better stability control systems in vehicles around the globe.
The dry-surface car test, aka the Elk Test, is straightforward. The vehicle being evaluated quickly swerves into the left lane — as if to avoid an object in his own lane — and then immediately swerves back into the right lane to avoid oncoming traffic. The test is repeated at faster speeds until the vehicle knocks over cones, spins out or flips over. The faster you can go and still maintain control, the safer the vehicle. You can learn more about it in this CarStuff episode.
In the 1970s, Swedish automakers began conducting various forms of the Evasive Maneuver Test, as it was originally called, to protect drivers from animals such as wild boar, arctic foxes and, yes, moose, which often step onto the road in front of drivers. Moose are a particular danger because of their size; their shoulder height ranges from 5 to 6.5 feet (1.5 to 2 meters) and they can weigh a hefty 1,800 pounds (816 kilograms).
The name "Moose Test" came from Swedish journalist Robert Collin in 1997, when he flipped a new Mercedes-Benz while performing the test — which he later likened to a maneuver one would make to avoid hitting a moose at a high speed. Mercedes-Benz modified the car's suspensions and made its Electronic Stability Program (ESP) standard for the vehicle model.
Soon major automakers and customers were paying attention to stability features. Eventually the European Union, Australia, Canada and the U.S. made the stability control system mandatory in all new cars. Yet despite its importance and popularity, the Moose Test is sometimes controversial.
When the 2012 Jeep Grand Cherokee flipped during a test conducted by Swedish magazine Teknikens Varld (Technology World), manufacturer Chrysler claimed the Swedish magazine overloaded the vehicle and said its own Moose Test was successful. Other automakers, when faced with poor Moose Test results, have claimed it was due to the fact that testers altered the conditions or said the results were inconclusive.
So which car is tops in the Moose Test rankings? The 1999 Citroën Xantia Activa, which hit 52.8 mph before losing control. Back in the day, all Citroëns had a self-levelling hydraulic suspension versus the then-conventional springs and shock absorbers. And the Citroën Activa contained a Cadillac version of this suspension, allowing it to ride quickly and tightly through corners. But sports-car fans needn't fear; Porsche gets kudos for having several models at the top of the Moose Test rankings.