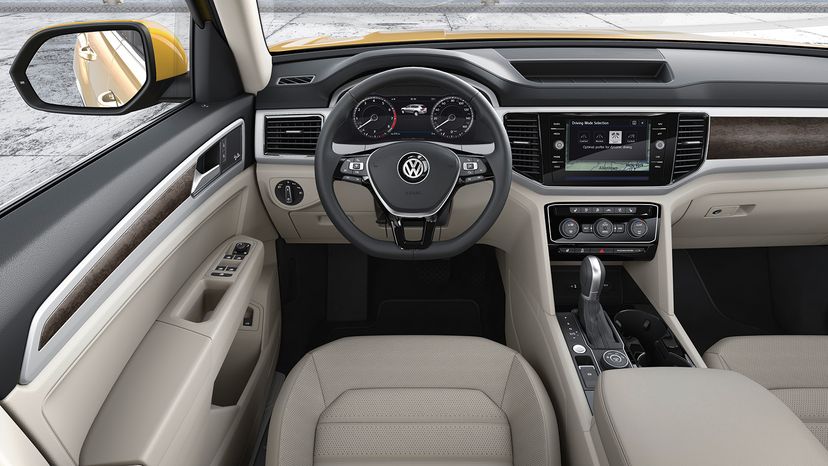 In this photo of the 2018 VW Atlas, at least four of the six front passenger seat cupholders are visible. Two are in each of the passenger doors and two are in the middle console.
VW
When you're shopping for a new car, you'll find more options than ever these days, including built-in WiFi, in-car air fragrance systems, massaging seats, autonomous driving and even gaming systems. But what about cupholders? Are the cupholders in your car indispensable, critical elements of your well-being?
Well, considering automakers are offering as many as 19 cupholders in one car, it sure seems like Americans can't live without them. Way back in 2007, a PricewaterhouseCoopers report revealed that the number of cupholders in a vehicle was one of the most important factors to potential buyers. But what about today? Americans do spend more time in our cars than ever because of longer and more traffic-heavy commutes. But do long commute times necessitate the need for nearly 20 cupholders in a car?
Before we break down the worst offenders, let's take a quick look back on when cupholders first showed up. In older, smaller cars, there was simply no room for cupholders, especially in those with manual transmissions; the gearshifts took up considerable space inside the vehicles and required drivers to use both hands at all times. The first patent for a vehicle cupholder was granted in 1953, though it was an add-on accessory. The drive-in restaurant boom of the 1950s, along with drive-in movies, surely helped contribute to their popularity.
But the cupholder craze kicked off when the 1984 Plymouth Voyager minivan became the first vehicle to feature an integrated center console that could hold two, 12-ounce (354-milliliter) cups. And the trend just spirals out of control from there, as automakers began to prioritize cupholders above all other creature comforts we expect in a car.
The Worst Offenders
And that's where we are today, with some of the most cupholder-equipped vehicles ever introduced on the market. Most vehicles with excessive numbers of cupholders are midsize or large SUVs with three rows of seating that can hold seven or eight passengers. There are some interesting exceptions, though, such as the Toyota Tacoma pickup truck, which can seat a maximum of five passengers but has 13 cupholders. Thirteen! That's nearly enough for three drinks per passenger.
The Nissan Titan XD, another compact pickup, offers the same seating capacity as the Tacoma but includes 14 cupholders. In some cases, like the Nissan Pathfinder, several of the cupholders are tucked away in fold-down armrests.
The Volkswagen Atlas, a midsize SUV, features 17 cupholders, including six just for the front seat passengers. Now doesn't six cupholders for two people seem excessive? Volkswagen's inclusion among the cupholder elite is especially funny, considering German auto manufacturers long and notoriously shunned the inclusion of cupholders — and anything else that distracted from the very serious business of driving. However, as VW was quick to point out during the Atlas' launch, it was designed by VW's U.S.-based team specifically based on the feedback of American families. We'll see if this trend influences other new Volkswagens.
The 2020 Hyundai Palisade SUV is another fierce competitor, boasting 16 cupholders. Furthermore, it includes seven USB ports for device charging (though we are definitely on board with this trend).
And that brings us to the Subaru Ascent, a three-row SUV that is the brand's largest vehicle so far. What's sad is that it wasn't the fact that it was Subaru's biggest car ever that made headlines when the Ascent launched in 2018; what got the most attention was the car's record-breaking 19 cupholders. That averages out to just under 2.5 cupholders per passenger, the most excessive currently on the market. Kristen Lee, a writer for the car website Jalopnik, dedicated an entire article to finding all 19. Thank goodness because we're not sure if we would've been able to without her stellar investigative reporting. Apparently the Ascent would have had a nice round 20 cupholders but part of the HVAC system had to be routed through the left armrest in the rear row, taking the spot of No. 20.
So what have we learned here, other than automakers seem keenly aware of our need to hydrate while on the road? Nothing really, except that perhaps this cupholder trend seems ridiculous to some (2.5 per person?) but a good way to utilize space to others. And for now, the craze appears to be going nowhere but up.