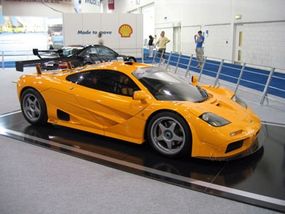 More than one supercar has used the thoroughbred racing machines of Formula 1 as inspiration, but Caparo Vehicle Technologies is ready to take that idea to its logical conclusion -- a street-legal F1 car. The Caparo T1 is a two-seat, open-wheel car with a higher horsepower-to-weight ratio than any previously available production model.
In this article, we'll look at how the Caparo T1 is comparable to race cars, how it travels so fast and why, even though it's as fast as a race car, it's still street legal.
Street Racer
The Caparo T1 could be considered the sibling of the classic McLaren F1, thought by many to be "one of the great events in the history of the car" [Source: Autocar]. Two of the engineers responsible for the T1's design, Ben Scott-Geddes and Graham Halstead, were also heavily involved in the creation of the McLaren F1 [Source: Newspress]. But where the F1 (and the Ferrari Enzo, which was tested by F1 star Michael Schumacher) were inspired by F1 cars, the Caparo T1 strives to be one. It has an open-wheel design with the familiar F1 suspension struts visible. Front and rear wings create road-hugging downforce. The driver sits in an enclosed central cockpit, with space behind for one passenger. More importantly, the T1 was designed from the ground up to be as light as possible. It will not be the fastest or most powerful production car ever made, but it's essentially as close to a Formula 1 car with headlights as any car will ever be.
Caparo isn't producing the T1 to prove their high-performance street "cred" (though they'll generate a fair amount of it). The T1 is a showcase for Caparo's lightweight vehicle technologies. The company markets its expertise at designing cars using very light materials as a way for automakers to create more efficient cars, ultimately reducing pollution and energy consumption. Toward that end, they hired Formula 1 designer and McLaren F1 design alum Gordon Murray, who is known for shaving every ounce of excess weight from racing cars [Source: Autocar].