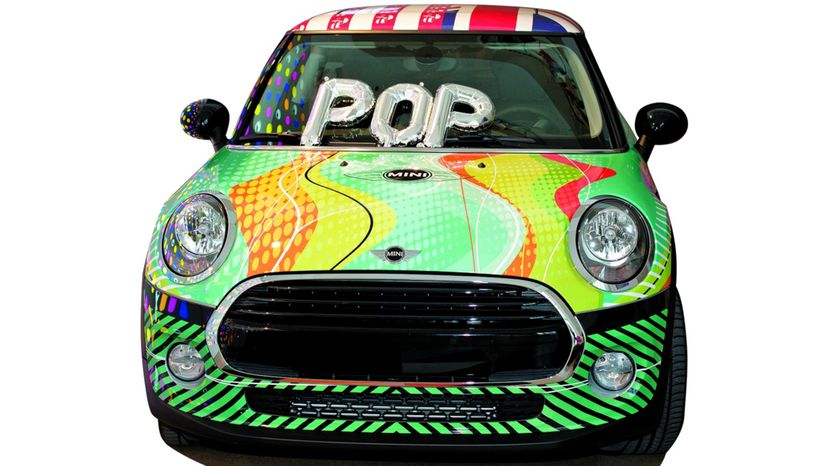 A Texas car dealership collaborated with the Dallas Museum of Art and the Mini brand to get its car in front of creative, like-minded people.
Mini
When the marketing managers of a Mini Cooper dealership in Texas heard about a new pop art exhibit opening at the Dallas Museum of Art, creative marketing managers saw an opportunity to get their quirky vehicles in front of a ready-made, like-minded audience. The exhibit, which celebrated the art of Andy Warhol and Roy Lichtenstein, among others, opened in October of 2015. The Sewell Automotive dealership chain collaborated with the Dallas Museum of Art and the Mini brand for the opening night party, which featured a Mini Cooper wrapped in Lichtenstein-inspired art and a photo booth to help get attendees in an artistic mood.
The dealership's chief marketing officer told Automotive News that Mini helped sponsor the event by picking up about half the cost. The event was a fun opportunity to hang out with fun-loving, creative art aficionados.
Car dealership marketing events like this one not only get cars in front of the people, but also make shopping for those cars less stressful. Some even take the idea one step further and enhance the actual dealership experience altogether with unique approaches to attract new customers and to make the car-buying process actually fun. Here are some of the best ideas out there.
Celebrity Owners
Of course, celebrities owning car dealerships is nothing new. NFL Hall-of-famer John Elway is one of the most successful — he's been part of the car business since 1989. He owned a chain of dealerships in Denver, Colorado, for nearly a decade and then sold them for a whopping $82.5 million. Today he owns dealerships in California and Colorado. Most recently, actor and one-time rapper Mark Wahlberg announced he would partner with a friend, Jay Feldman, who owns a Chevrolet franchise in Columbus, Ohio. The pair announced in July of 2018 that the dealership would be rebranded Mark Wahlberg Chevrolet.
"The Wahlberg brand is all about Americana," Feldman said in a press release. "Joining forces to sell and service Chevrolets with the magnetic draw of the Mark Wahlberg name allows us to do something special for the state of Ohio and the greater Columbus area." Who knows how much time (if any) Wahlberg will spend there, but some fans of Chevy cars and trucks are sure to want an exclusive license plate frame with Marky Mark's name on it.
In-house Restaurants and Bars
Restaurants have been a popular feature of IKEA's family-friendly furniture stores for quite some time, and car dealerships are getting in on the act, too. A Ford dealership in Massachusetts, for instance, unveiled a new $8 million facility that incorporates a full-service restaurant dubbed LugNutz Cafe. As masslive.com reported in July of 2018, the Marcotte family has long offered breakfast on weekends at the dealership and thought a restaurant was the obvious next step. The LugNutz Cafe was the centerpiece of the dealership's grand opening in November 2018.
The Island Lincoln Mercury Land Rover & Jaguar, Merritt Island, Florida, also has a "Carbucks," and complimentary food at its Tiki Grill Restaurant. (It also offers membership to a state-of-the-art health and fitness Center, library, a retro-style barber shop, and play area and video arcade for kids.)
Of course if you prefer your dining more upscale, dealerships like Galpin Aston Martin in Van Nuys, California, offer exclusive memberships for customers. Club Aston includes a full-service bar, luxurious seating areas and Aston Martin memorabilia. The members-only lounge also gives owners access to iconic Aston Martin models, like the Aston Martin One-77.
Exclusive Test Track
One of the most important aspects of buying a car is the test drive. But a Chicago-area Subaru dealership has taken the test drive one step further with its own exclusive test track. The 9-acre (3.6-hectare) track was built by the city of Naperville for $1.5 million. The city owns the track but offers car dealers memberships so their customers can test-drive cars in a track environment. It's especially useful for brands like Subaru, which emphasizes the off-road capability its vehicles.
"It allows the member dealers to properly demonstrate an automobile in a safe environment away from the traffic of our roads," Alec McKean, the general manager of Gerald Subaru Naperville, said via email. "There are various road conditions such as cobblestones, high bank testing area, skid pad and a hill climb to help demonstrate the features of various models."
Perks, Perks, Perks
Narrowing down who has the best perks is a tough one. But we found dealerships across the country that are willing to do just about anything to entice customers. The Fuccillo Automotive Group, which owns 30 dealerships in upstate New York and Florida, has offered customers free, six-day cruises for buying or leasing cars. "Cruise With Huge," as it's dubbed, most recent trip cost owner Billy Fuccillo a cool $1.5 million and sent about 3,200 customers on the Navigator of the Seas in December 2017 to Belize, Cozumel and Grand Cayman island. And that was the sixth cruise promotion.
But there are others: Like the Desert 215 Superstore in Las Vegas, which promises to pay your inbound airfare if you purchase one of their vehicles. Mastria Auto Group in Raynham, Massachusetts offered a $5,000 rebate to buyers if the New England Patriots scored a touchdown on a kickoff return in the season's opening game in 2010. (And the team did!) Thirty-three customers got the money. And finally, some dealers, like Sheehy Auto Stores, put their perks toward good deeds. Sheehy Auto Stores' 23 dealerships in Maryland and Virginia routinely run sales promotions that generate money for charity. The American Heart Association is the biggest recipient of the group's efforts, which are estimated to have raised more than $40 million in its 50-year history.