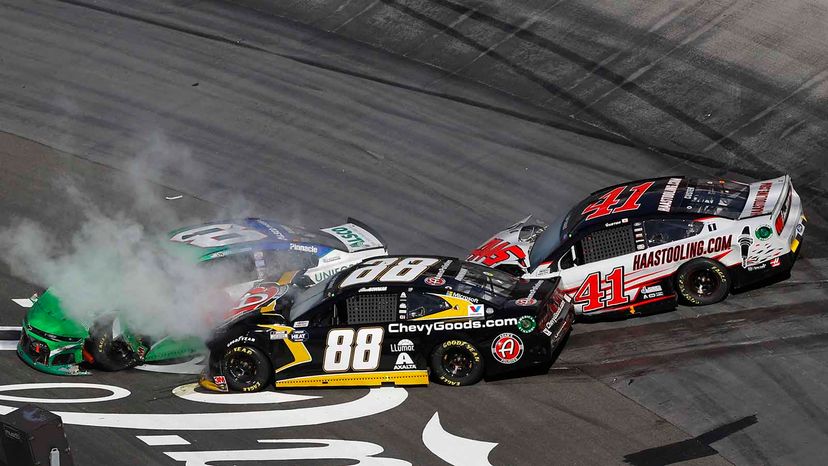 Tyler Reddick, driver of the No. 8 Chevrolet; Alex Bowman, driver of the No. 88 Chevrolet; and Cole Custer, driver of the No. 41 Ford, wreck during the NASCAR Cup Series 500 at Bristol Motor Speedway on May 31, 2020.
Kevin C. Cox/Getty Images
Most drivers buy car insurance to protect them in case they're in an accident and their car — or another person's car — is damaged. But what about race car drivers? The sport is built on speed: NASCAR drivers, for instance, race at speeds of up to 200 miles per hour (322 kilometers per hour).
And at speeds like that, accidents are bound to happen — and they do. In fact some fans find them the most exciting part of the sport. So who insures these drivers and their race cars, where accidents — and often bad ones — are par for the course?
Well if you know anything about racing, especially NASCAR, you know the drivers have sponsors — and lots of them. And some drivers' cars might be sponsored by insurance companies. So does that mean the company insures the car too? Sometimes, but not always. Then if not, who does? Let's break it all down.
Insuring Drivers and Pit Crews
First, the pit crew and other members of a racing team are usually employed by the team, and that team usually provides them health insurance just like your employer provides you health insurance. However, drivers are often independent contractors, an employment status that generally comes with no benefits, including insurance coverage of any kind.
This does vary somewhat, as some states have laws requiring workers' compensation or disability coverage, but that's an exception to the rule. In short, drivers generally don't receive any benefits unless they're hurt on the job, and often, not even then.
However, professional drivers do have options for insurance. Since being a professional driver comes with perks (and oftentimes major sponsors) some insurance companies compete for the right to negotiate contracts in exchange for publicity for their brands. And most drivers are usually in good physical condition, as demanded by the sport, so they pose few risks to insurance companies outside of the time they're actually competing.
Insuring the Race Cars
But what about the cars? Team owners can't just call up their local State Farm rep and ask for a policy for a race car. Instead, racing teams typically must insure their cars with companies that specialize in motor sports. K&K Insurance Group, for example, has been providing motor sports insurance since 1952. Chizmark Larson also provides on-track coverage that insures race cars damaged while in racing.
Several insurance companies like K&K and Chizmark Larson typically base the policies on agreed-upon values of the cars, and on the competition schedules — that is, the more races on the schedules, the more the policies are likely to cost.
Racing assets, such as tools, trailers and facilities (even the tracks themselves) need to be insured, too. Drivers may also carry business liability coverage and life insurance in addition to their health insurance. And spectator and liability insurance is also available through companies that specialize in motor sports insurance.