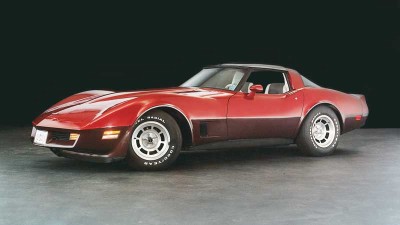 The 1982 Corvette was the first since 1955 to come without an available manual gearbox. Its only available transmission was a newly standard four-speed automatic, which was basically the previous three-speed Turbo-Hydra-Matic with a long-striding overdrive fourth gear tacked on. As before, there was a torque converter lockup effective on all forward gears except first, governed by the engine's electronic control unit.
Other mechanical changes for 1982 included the addition of an in-tank electric fuel pump and a new solenoid-operated trap door in the hood that opened at full throttle for better breathing. The air filter, which had previously contained charcoal, reverted to plain paper. The exhaust system was extensively redesigned around a significantly smaller and lighter catalytic converter.
Cosmetic alterations were limited to small "Cross-Fire Injection" labels above the front-fender vents and a two-tone paint option that recalled the 1978 Silver Anniversary treatment: silver over a deep burgundy, separated by a red pinstripe.
For the generation's last hurrah, Chevrolet issued another commemorative "Collector's Edition" model. However, recalling its experience with bogus 1978 Pace Car Replicas, the division handled the 1982 series differently, building the special model only "as needed" to satisfy customer orders (though about the same number -- 6,759 -- would be built). Unique vehicle identification number plates were affixed to further deter someone from turning a standard car into the Collector's Edition.
In many ways, the 1982 Corvette was the best C3 of all. Setting it apart were cloisonné emblems on the hood, rear deck, and steering wheel; silver-beige metallic paint with graduated shadow-like contrast striping on the hood and bodysides; bronze-tint glass T-tops; and finned "turbine" alloy wheels like the ones first seen on the 1963 Sting Ray. Inside were matching silver-beige leather upholstery and door trim, leather-wrapped steering wheel, and luxury carpeting. A less obvious difference was this version's frameless lift-up glass hatch, which had been omitted from the 1978 restyle because of cost considerations. Incidentally, it was not available on the base 1982 Corvette, though several aftermarket suppliers had turned to offering this as a conversion for "glassback" models.
What's more, the Collector Edition carried the dubious distinction of being the first Corvette to break the $20,000 price barrier, listing at $22,538 -- which was a far cry from the $4,663 it had taken to buy a nicely equipped 1968 model.
With 10 extra horsepower and again blessed with fuel injection, the latest small-block Corvette showed definite performance gains despite being hobbled by the economy-minded automatic transmission. Road & Track timed it hitting the quarter-mile in 16.1 seconds at 84.5 mph and accelerating from 0 to 60 mph in 7.9 seconds.
Yet perhaps because a new model was known to be near, and aggravated by an ailing national economy, production fell to 25,407 units for '82, the lowest Corvette total since 1967.
But through its long and controversial run, the C3 would mark its place in automotive history as a true survivor. The passing years -- despite the array of adversity that came with them -- had been kind to the Shark, and the car never lost sight of its essential mission and character.
Learn about other Corvettes in this generation:
Looking for more information on Corvettes and other cars? See:
Muscle Cars: Get information on more than 100 tough-guy rides.