From the moment Chevrolet joined the growing market for "intermediate" cars in 1964, the SS badges on its raciest mid-size Chevelles were known to stand for "Super Sport." Armed with enhanced performance features and adorned with custom styling touches, by 1970, the Chevrolet Chevelle SS coupe had earned a deserved place among the top rank of the era's muscle cars.
The auto industry's taste for such cars began turning sour in response to political and economic trends in the early 1970s, but Detroit still issued sports models -- albeit in weakened form. Perhaps it was by force of habit, then, that an SS package was created for the completely redesigned 1973 Chevelle.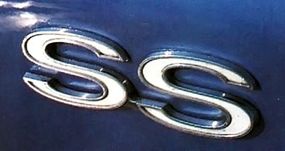 After five years on the same basic body shells, all General Motors intermediates were totally new for 1973. Wheelbases remained 112 inches for two-door cars and 116 inches for four-doors and station wagons, but convertibles were dropped and closed cars were dressed in new "Colonnade" styling.
The two-door hardtops of the past were replaced by true coupes with thick B-pillars and fixed rear side-window glass. All now had a dual-head-light design, which was nothing new to Chevelle; it had dropped four-lamp lighting in 1971. Heavy government-mandated five-mph "crash bumpers" were fitted up front.
The mid-size Chevy came in Deluxe, Malibu, and new upscale Laguna trim. Checking off option Z15 and plunking down $243 would make an SS out of any Malibu coupe or -- for the only time ever -- station wagon equipped with a 350- or 454-cid V-8.
Package equipment included a blacked-out grille, dual sport mirrors, color-keyed lower body striping, black-accented taillight bezels (on coupes), black-rimmed round instrument dials, front and rear stabilizer bars, rally wheels, and G70 X 14 white-letter tires. SS identification showed up on the grille, front fenders, rear fascia (or wagon lift-gate), steering wheel, and interior door panels.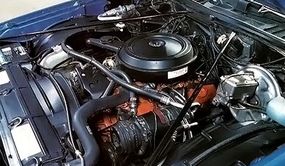 Since 1971, GM engines had been detuned to run on low-lead fuel. The 350 engine was rated at 145 net horsepower with a two-barrel carburetor; 175 horses with a four-pot carb. The optional big-block 454 now netted 245 horses. Automatic transmissions were standard with the SS engines, but four-speed manuals could be ordered for the 454 and the chestier of the two 350s.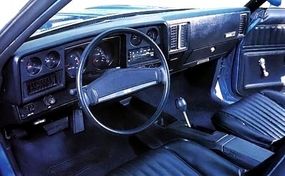 As it was, SS came to mean "Swan Song" in 1973, even though 28,647 were ordered, an increase of almost 4,000 from the 1972 totals. (A Laguna S-3 coupe served as the sportiest Chevelle from 1974 to 1976.) Twenty-five years later, the label could stand for "Seldom Seen," considering most collectors and parts suppliers focus on pre-1973 Chevelles.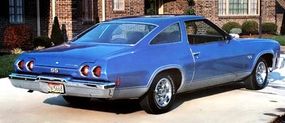 If that attitude ever changes, Leroy and Judy Williams, of Haubstadt, Indiana, will be ready. They bought the Super Sport coupe seen here new in 1973 and used it as the family car until 1987, when it was restored to like-new condition. Their SS is powered by the 175-horse small-block engine. Options include swiveling bucket seats, center console, air conditioning, and a gauge package with tachometer.
For more information on cars, see:
Classic Cars

Consumer Guide New Car Search

Consumer Guide Used Car Search