The 1969 Mercury Marauder exemplifies the tradition of big 1960s performance cars that kept similar models in production even when sales had long since tapered off. Mercury maintained a token presence in this limited market through 1967 with various S-55s, and many thought those large, sporty Mercurys would be the last of their breed. Two years later, however, the Big M released another big bruiser, this one invoking the hallowed Marauder name.
Classic Cars Image Gallery
It was, to say the least, poorly timed. Not only had the performance action long since shifted to the mid-size ranks, but soaring insurance rates and more government-mandated safety and emissions standards promised to sap all Detroit performance cars, regardless of size. The reborn Marauder was thus doomed to fail.
As a car, though, this Marauder succeeded. Essentially it was a "Mercuryized" version of Ford's fully redesigned 1969 XL, with an identical wheelbase that was three inches shorter than on other big Mercurys. Lincoln-Mercury didn't bother with a convertible like Ford, contenting itself with a hardtop coupe in base and pricier X-100 trim.
Mercury's top-shelf Marquis donated a hidden-headlamp "power dome" front, while a flying buttress roofline with upright "tunneled" backlight were shared with the Ford. X-l00s sported styled wheels and rear fender skirts (both optional on the base model) plus matte-black "sports tone" rear-deck finish. The latter could be deleted for credit or by ordering the extra-cost vinyl roof.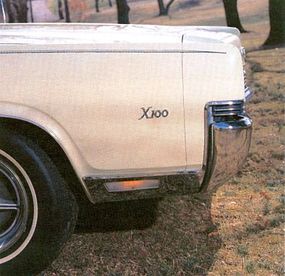 With abundant front-seat room, decent rear-cabin space, and cavernous 18 cubic-foot trunk, the Marauder was a perfect long-haul mile-eater. But so were other big Mercurys, and price competition was fierce.
Though 1969 Marauder starting prices were attractively low at $3,368 for the base version and $4,091 for the X-100, delivered prices broke $5,000 with air and other popular options -- only $1,000 or so below the likes of Ford Thunderbird, Buick Riviera, and Oldsmobile Toronado. Pontiac, meantime, had a smaller, more nimble new Grand Prix starting at just under $3,900. Buyers voted with their wallets and Marauder lost: under 15,000 model-year sales -- barely three percent of total Mercury volume -- versus over 112,000 Grand Prixs.
The Marauder returned for 1970, little changed except for sales, which dropped by more than half (to 6,043 total, including a mere 2,646 X-l00s). Sumo-size sporty cars had by then outlived their usefulness at Mercury and elsewhere, and the Marauder -- despite its appeal -- would never be back, nor even missed.
Go to the next page to learn about the Mercury Marauder's performance.
For more information on cars, see:
Classic Cars

Consumer Guide New Car Search

Consumer Guide Used Car Search