The 1968 Pontiac Firebird Sprint Convertible proved high-performance and folding tops could go hand in hand. Of course, there were some muscle car enthusiasts that thought only a solid-roofed coupe would suffice, but a total of 16,960 ragtops were sold in 1968, nearly one-fifth of total Firebird production for the year.
Pontiac Firebird Image Gallery
Convertibles weighed some 300 pounds more than an equivalent hardtop coupe, and came with the same selection of powertrains.
New side marker lamps, required by law in 1968, wore the Pontiac logo. All except base-level models now rode on multi-leaf rear springs rather than single-leaf units and had staggered shocks, all to minimize the dreaded "wheel hop."
Firebird's base overhead-cam six-cylinder engine grew to 250-cubic-inch displacement, adding 10 horsepower. A new monojet carburetor supplied the fuel/air mixture to stick-shift sixes, which could be ordered with either three or four speeds.
Crankshafts and connecting rods for the six-cylinder engine were now built by Pontiac (formerly supplied by Chevrolet). The four-barreled Sprint was a splendid performer with its 215 horses -- nicer yet with such extras as a hood-mounted tachometer, console, and Rally II wheels. The Sprint option itself added $116 to the base price.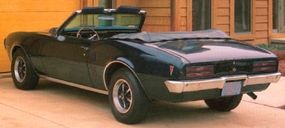 Production of V-8 Firebirds grew, as only 17.3 percent carried the ohc six in either of its guises. Automatic transmissions accounted for 69.3 percent of production; four-speeds, 17 percent.
Officially, a front bench seat was available only in coupes -- and rare in any case -- but at least one convertible owner managed to obtain such an installation from the factory.