The 1967 Pontiac Firebird Sprint came onto the automotive scene a little later than Chevrolet's Camaro, but when the Firebird arrived, it came on strong.
Even in its inaugural season, Pontiac's ponycar exhibited a range of temperaments, from mild-mannered to tempestuous. Pontiac promoted its quintet as "The Magnificent Five," available in hardtop coupe or convertible form.
Pontiac Firebird Image Gallery
Anyone who simply liked the look of the Firebird could opt for a base model with the innovative overhead-cam six and column shift, yielding a leisurely 165 horsepower.
Sprint equipment added $116, featuring a racier camshaft and four-barrel carburetor in the six-cylinder engine, plus a floor-mounted three-speed gearshift and stiffer suspension. A 326-cid V-8 cost $95 extra; the high-output 326 added $180.58 (including racing stripes).
Going all the way to the 400-cid V-8 demanded $274, but brought a distinctive twin-scoop hood, dual exhausts, extra-firm suspension, and redline wide-oval tires. "When it talks," ads claimed of the 400-cid V-8, "you listen." Topping the performance tree was the Ram 400, featuring functional hood scoops.
Modestly motivated Firebirds were available with a two-speed automatic transmission. Three-speed Turbo Hydra-Matic was the choice with 400 V-8 power.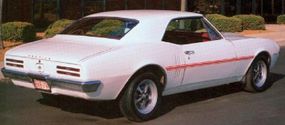 Although the 1967 Pontiac Firebird Sprint was overshadowed by the other Firebird models, the Sprint was a great muscle car for the price.
©2007 Publications International, Ltd.
Because the single-leaf rear springs were prone to "wheel hop" under hard acceleration, mid-range models had an adjustable track bar on the right side. High-performance editions received two bars.
Base-priced about $200 higher than Camaro, Firebirds had a long option list, including front disc brakes and a Cordova vinyl roof. Only 19,750 cars carried a V-8 and manual shift. Firebird's optional hood-mounted tachometer was an industry "first."
For more information about muscle cars, see:
Consumer Auto Guide to Pontiac Firebirds