1969, 1970, 1971, 1972, and 1973 Ford Bronco
Arguably, the 1969 model was the most changed of all Broncos through 1977, but it couldn't prevent a gradual decline in popularity for the 1969-1973 Ford Bronco.
There were considerable body changes to the pickup and wagon in 1969. For example, the windshield and cowl area were improved to reduce road noise and the doors were changed. (The fold-down windshield was discontinued, but roofs remained removable.)
The wagon body had a beefier look, especially the door frames, rocker panels, and roof. All of these changes were made to strengthen the vehicle. Parking light lenses, which had previously been clear, were now amber.
The optional 289-cubic-inch V-8 was replaced by a 302-cubic-inch unit. Electric windshield wipers replaced vacuum-operated blades as a running change during the model year. Production was 2,317 pickups and 18,639 wagons.
For 1970, there were only minor styling changes. Side marker lights and reflectors were reshaped and moved higher up on the body. Broncos with Sport Package equipment were now considered to be separate models.
Important new options were G78 x 15B fiberglass tires, "Traction-Lock" limited-slip rear differential, and shoulder harnesses. (Through 1977, Bronco remained the only four-wheeler in its class with limited-slip differentials available both front and rear.) As in nearly every year, the list of exterior colors was expanded.
Competition in the 4x4 sport-utility field was heating up, with Chevrolet's Blazer and GMC's Jimmy -- both built on shortened pickup truck platforms -- having arrived since mid 1969. Orders for 1970 Broncos declined to 1,700 pickups and 16,750 wagons.
About the only changes for 1971 were a new heavy-duty front axle and 12.7-gallon fuel tank. (The fuel tank had first been used in 1970 on those Broncos equipped with evaporative emissions recovery systems.)
Standard tire size was now E78 x 15. During the model year, front bucket seats became standard equipment. The number of bright-trim accessories again increased.
The pattern of falling pickup sales and rising wagon sales continued; 1,503 pickups were produced compared to 18,281 wagons. Base prices were $3,535 and $3,638, respectively.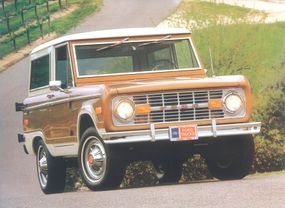 The Ranger option group included special colors and striping, an argent grille, and other upgrades.
©2007 Publications International, Ltd.
The 1972 Ford Bronco gained larger brakes front and rear. In mid 1972, a new Ranger package was offered. This consisted of special exterior colors with accent striping, argent grille, carpeting, deluxe wheel covers, deluxe cloth-insert bucket seats, swing-away spare with a tire cover, woodgrain door panels, and fiberboard headliner.
Due to smog restrictions, horsepower of the six-cylinder engine dropped from 100 to 82. In California, the 302 V-8 became the only engine normally available, with the six a special-order item only.
The declining popularity of the Bronco pickup finally took its toll in 1973, when only the wagon was offered. Ford's veteran 200-cubic-inch six was newly installed as the standard engine; rated horsepower was only 84.
The tide of competition in the growing SUV field was rising and Ford attempted to keep the Bronco in the hunt with more comfort and convenience features. A three-speed automatic transmission, the C-4, was available for models equipped with the V-8.
This transmission had both fully automatic and manual control. With it came a new J-handle transfer case shifter setup that was quite a bit different than the old T-handle setup. (In 1973, it was still possible to get a standard transmission with either the T-handle shifter or the new J-shifter for the transfer case.)
Also, power steering was offered for the first time, again only with the V-8. Even with only one body style left, production was a healthier 21,894 Broncos.
The 1974-1977 Broncos marked the end of the run for this generation. Find out about those models on the next page.
For more information about cars, see:
Classic Cars

New Car Search

Used Car Search