The quest for off-road driving adventure, the one that the 1966-1977 Ford Bronco would help bring to new markets, began shortly after World War II when returning GIs made ex-military Jeeps as much a part of the American scene as Coca-Colas and Lucky Strikes.
Classic Truck Image Gallery
Throughout the 1950S, exploring in four-wheel-drive vehicles -- mostly by Jeep -- was pretty much an unorganized affair. By the early 1960S, its momentum spawned a support system of aftermarket industries, magazines, clubs, and well-organized events.
These factors brought more makes to compete with the Jeep, but none of the Big Three was tempted to take the plunge into this new market until Lee Iacocca and a few others at Ford saw its potential.
Early off-roading was limited primarily to weekend exploration in groups. Then, in 1965, one Brian Chuchua organized the first off-road races held on a dry riverbed near Riverside, California. His Riverside Grand Prix, which pitted two vehicles at a time against each other, was an instant success.
But now there was a two-pronged market for 4x4s emerging. Pure off-road use was already strong and growing. Spinning off from it was a new market that wanted four-wheelers more for suburban status than flying dust.
It was in this environment that Ford introduced the Bronco in August 1965 as a 1966 model. The Bronco came in part as an answer to the growing popularity of off-road vehicles and in part to tap the new market beyond the back country.
Before introducing the Bronco, Ford talked with members of 300 off-road clubs, thousands of off-road vehicle owners, plus thousands of others who had never ridden in a 4x4. Ford discovered that many seasoned owners no longer wanted the motorized buckboard of the post-World War II era, and the non-initiated might buy one if it was made more civilized.
Women were an increasing part of the market, too. Everybody surveyed wanted faster acceleration, comfortable highway cruising, quiet, and all manner of creature comforts and conveniences. While backroad adventure was the key factor, such a vehicle now had to provide status as well.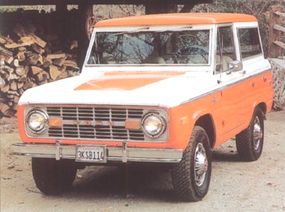 The Bronco debuted with big, soft, and comfortable optional bucket seats; easy-on-the-rider suspension; and light, nimble handling both off-road and on.
The Bronco was Ford's enlightened response to the International Scout, Toyota Land Cruiser, Kaiser Jeep, and the Land Rover, all of which had their peculiarities and were not nearly as well suited to Saturday shopping and Sunday at the beach as to exploring Arizona's Superstition Mountains or the purple hills "somewhere west of Laramie."
The Bronco broke a lot of new ground, offering the best of both freeway and off-road driving, opening up the big country to Americans who had seldom adventured beyond shopping malls and interstate highway rest areas.
Find mechanical information on the 1966 Ford Bronco in the next section.
For more information about cars, see:
Classic Cars

New Car Search

Used Car Search