Bright wheelhouse moldings were also a custom touch in the 1966 Chevrolet El Camino. Of the 15 Magic-Mirror acrylic colors for 1966, six were new.
Prices increased only slightly: The pop­ular Custom V-8 model now started at $2,504, compared to $2,461 for the 1965 edition. That did no damage to sales. Model-year production topped 35,000, marking the second straight year that El Camino demand rose from the previous season.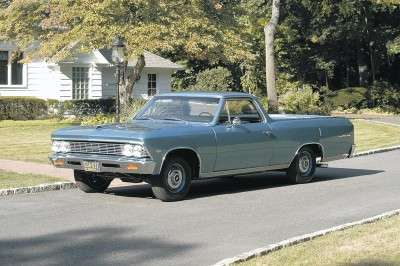 1966 Chevrolet El Camino was available
in 15 Magic-mirror colors.
While Chevrolet restyled its regular truck lines for 1967, the El Camino shared a facelift of its '66 design with Chevelle. A bolder grille and redesigned front fenders added a squared prominence to the frontal appearance. A chrome block-letter El Camino nameplate appeared on the leading edge of the hood. At the rear, "cheese-wedge" taillights improved nighttime visibility of the vehicle from the sides. Back-up lamps moved back down into the bumper.
The El Camino Custom newly featured a full-width woodgrain trim panel on the tailgate, a tony touch that seemed a bit out of place on the hotter-performing El Caminos. A new thin molding that edged a lower-body sheetmetal crease replaced the rocker moldings of previous Cus­tom models. Standards had a less-detailed mold­ing in the same location. There were no wheelhouse moldings this year.
For more information about cars, see:
Consumer Guide: New Car Search
Consumer Guide: Used Car Search
Advertisement