The 1964-1967 Chevrolet El Camino came from Chevy's part-car, part-truck El Camino first produced in 1959-60. Chevy's entry into the intermediate field would provide the ideal setting for the revival.

When Chevrolet dropped its original El Camino car-based pickup in 1960, few could have guessed the nameplate was actually only going on hiatus. The El Camino would return for 1964 as a smaller entry, based on a type of Chevrolet passenger car that was unknown in 1960. Its combination of moderate size, proven powertrains, and plentiful performance options would make the second-generation El Camino a winner.

Ford, of course, had fired the first round in the sedan-pickup battle with its Ranchero, built from 1957 to 1959 on the full-size Ford platform. Chevrolet responded with its like-sized El Camino in '59, but would build it that way for only two model years.
Meanwhile, Ford was busy transforming the Ranchero into a much smaller offering based on its new-for-1960 Falcon compact. The Falcon Ranchero consistently rang up around 20,000 sales per model year from 1960 to 1963. However, when Chevrolet unveiled a new El Camino in 1964, Ford was immediately put on the defensive.

The exact chronology of events and who did what to bring the El Camino revival to market have become murky with the passage of time. However, your author did locate a member of the original concept team who well remembers the story of how the intermediate El Camino came to be.

When Eugene "Geno" Skowronski reported to work at Campbell-Ewald Advertising, Chevrolet's ad agency, on September 8, 1960, it was the start of a career that would span more than three decades and include dozens of new-vehicle introductions. Skowronski's very first assignment: help Chevrolet Truck Sales Manager James Conlon and his product planners research a replacement for the 1960 El Camino.

Some Chevrolet dealers were disappointed with the El Camino being dropped for 1961. They had liked the extra sales provided by the half car/half truck. They were also aware, of course, that Ford was still very much in the game with the new compact Ranchero, which was selling well.
The short-term solution offered by Chevrolet -- the 1961 Corvair Rampside pickup, with its rear engine and bi-level load floor -- was simply too different to compete against the small, but thoroughly conventional, Ford. (Besides, Ford also had a more direct competitor for the Rampside in the Econoline.) The dealers wanted another El Camino.

According to Skowronski, the planning team initially flirted with a somewhat El Camino-like concept featuring dual Corvair engines. Called the Trailblazer -- a name that would return at Chevrolet decades later -- it quickly came to naught.

The team next turned to the soon-to-be introduced Chevy II compact, which would be built on a conventional rear-drive chassis. Skowronski recalls that a Chevy II wagon prototype was modified into a pickup. Subsequent evaluation determined that the Chevy II wasn't really suited to becoming a truck.

By early 1961, the team had begun to focus on the 1964 Chevrolet "intermediate" then under development. A two-door station wagon was already proposed for the new-car line; such a vehicle could contribute structure and even body panels to an El Camino. The robust and proven Chevrolet powertrains to be offered in the new car would contribute the power. And the new full-perimeter-frame chassis could add the durability an El Camino needed.
The only problem was timing: For three model years, Ford would have the passenger-car-pickup field all to itself. Even so, after many meetings, the decision was made to build the new El Camino on the forthcoming Chevrolet intermediate platform.

Thus, the 1964 El Camino was apparently a work in progress by the time Semon E. "Bunkie" Knudsen replaced Ed Cole as Chevrolet's general manager in late 1961. Knudsen, a car guy in every sense, had made stodgy Pontiac into a stellar performer, style leader, and stunning sales success starting in the late Fifties. He was about to lead Chevrolet into some of its most exciting and successful years as well.
The Chevelle would be the division's fifth car line, joining the regular Chevrolet, Corvair, Chevy II, and Corvette in Chevrolet showrooms. Although he did not "father" the Chevelle, Knudsen would proudly introduce it to the automotive press several months before the public introduction.

The El Camino's unique attributes were designed in a special GM Styling studio that handled station wagon development. Photographs from the design studio indicate that the basic styling and much of the detail had been worked out by autumn 1962.

As with the original El Camino, the cab and pickup box of the new truck were built into an integrated assembly. Essentially, the long rear-quarter panels of the two-door wagon formed the exterior sides of the six-foot El Camino cargo box.
The wagon's sloping B-pillar -- clearly evocative of the 1955-1957 Nomad -- was also adapted for the El Camino. In some dimensions, such as depth and length, the bed of the new El Camino was larger than that of its 1959-1960 ancestor.

In addition to the full-perimeter frame, the new El Camino would share the Chevelle's 115-inch wheelbase and full-coil suspension. The four-link rear suspension -- an impressive feature for the time -- was adapted to the new sedan-pickup.

However, inflatable rear air shocks would be standard on the El Camino; their job was to help level the vehicle when carrying a load. Typical of pickups of the era, El Camino weight distribution was inherently biased to the front. Base models had about 60 percent of their weight on the front suspension.
This would, of course, have a negative but unavoidable impact on traction and handling compared to Chevelle passenger-car models. El Camino payload capacity ran up to 1,200 pounds when equipped with a six-cylinder engine, or 1,100 pounds with V-8 power.

Standard-model trim started with bright moldings that highlighted the rear roofline, pickup box and tailgate, and rear window. The standard editions had a starting price of $2,260 with a six-cylinder engine, $2,368 with the base V-8. The Custom model, which cost an additional $81, added bright wheelhouse and lower-body moldings, plus additional shiny trim for the roof drip gutters, upper door frames, and windshield pillars. All models carried "Chevelle" nameplates on their front fenders.

The El Camino was built in the same General Motors Assembly Division plants that produced Chevelles, so the full palette of colors available for Che­velles was extended to the El Camino. Wheels were body color, with a small bright center cap. The Chevelle Malibu's full wheel covers and simulated wires were optional.

Engine choices initially included a pair of inline sixes and two versions of Chevy's 283-cid V-8. The former were the 120-bhp Hi-Thrift of 194 cubic inches and a special version of the 230-cube six with a relatively aggressive camshaft that boosted horsepower to 155, compared to 140 when used in the full-size Chevrolet.
The Chevelle 230 was also treated to a plated valve cover, air-cleaner top plate, and other bright touches, and was identified by special front-fender emblems. In the V-8 series, the 195-bhp Turbo-Fire 283 with a two-barrel carburetor was standard, with the 220-horse four-barrel carb/dual-exhaust engine optional.

For more information about cars, see:

Consumer Guide: New Car Search
Consumer Guide: Used Car Search
1964-1967 El Camino Options
By mid 1964, Chevrolet's 250- and 300-bhp 327-cid Turbo-Fire V-8s were added to Chevelle/El Camino options lists. However, an exhaust-manifold clearance problem reportedly delayed deliveries of the 300-horse mill until summer. Total 300-bhp Chevelle installations would come to just 1,737, including what were no doubt a very few El Caminos.

In March 1964, Chevrolet announced that the most powerful carbureted Corvette engine, the 365-bhp L76 version of the 327, would be available in Chevelle and El Camino. Rumored 0-to-60 times were in the sub-six-second range. However, availability was canceled after only a few weeks. A very small number of L76- powered prototypes or pilot-line vehicles may have gotten out; it is unknown if any El Caminos were among them.

A three-speed manual transmission was standard, with overdrive optional. The two-speed Powerglide (air cooled with sixes, water cooled with V-8s) was the only automatic offered. A GM-sourced Muncie wide-ratio four-speed manual was optional with V-8s only.

All of the above helped the El Camino go. To make it stop better, sintered metallic brakes were optionally available for "special service" use right from the start.

Interior color choices for the 1964 El Camino were aqua, fawn, or red. Base models bore all-vinyl trim, while Cus­toms featured a cloth-and-vinyl combination, along with upgraded door trim, and a two-tone steering wheel (except with the red interior).
After January 1, 1964, driver and right-front-passenger seatbelts were made standard in all El Caminos. Floor coverings started with rubber mats in a "spatter color treatment." The Custom had a carpeted floor.

Optional bucket seats in textured vinyl were available for Customs and included a matching vinyl cover for the spare tire, which stowed with the jack behind the seat. By February 1964, revised ordering information noted that "four Super Sport type wheel covers" were included with the bucket-seat option and that a console was also included when the four-speed transmission was chosen. Price increases for the option reflected the additional equipment.

A 1964 El Camino could be loaded with many other factory options, such as power windows, air conditioning, a tachometer, and an attractive simulated-wood-rim steering wheel. Numerous factory-approved dealer-installed "Custom Feature Accessories" were also offered. Spotlamps, outside rearview mirrors, and a tool kit are but a few examples. Some Custom-model equipment could also be applied to standard El Caminos as accessories.

The 1964 El Camino was a hit with buyers, especially in the nation's midsection, where the combination of city style and country utility offered by a "gentleman's pickup" was particularly appealing. The 32,548 El Caminos sold for 1964 represented 8.8 percent of Chevelle production, handily outdoing any single-year Ranchero -- or El Camino -- showing to date. Meanwhile, the restyled 1964 Ranch­ero drew 17,316 orders -- about 1,200 fewer than the year before.

For more information about cars, see:

Consumer Guide: New Car Search
Consumer Guide: Used Car Search
1965 Chevrolet El Camino
Hauling into its second year, the 1965 El Camino had a new frontal appearance, again shared with the Chevelle. The new grille, hood, and front bumper came to a slight peak at the center, replacing the flat-faced 1964 look. Consequently, overall vehicle length increased 2.5 inches. "Good looks never carried so much weight," Chevrolet said in its advertising.
The 1965 El Camino featured a
single-lens taillight design.
The El Camino began to stand apart from the intermediate passenger cars, though, as Chevelle nameplates were stricken from the pickup's flanks.

External engine ID (for all engines except the base six) now appeared ahead of the front-wheel opening. A new single-lens taillight design was used. Back-up lamps migrated to the rear bumper, enhancing illumination when backing up. (Dummy lenses filled the openings on standard models.) The tailgate emblem border changed from gold to white at the top, and from black to red in the lower area. Lower-bodyside moldings were also new on the standard models.

El Camino Customs featured a new bright bodysill molding, however there was no lower-body molding extension aft of the rear wheels this year. There were 12 exterior color choices, 10 of them new. Inside, trim changes and improvements included a new two-key locking/ignition system and increased sound-deadening insulation.

On the options list, an AM-FM radio became available for the first time and a "low D-note" horn option could be added to El Camino's standard two-horn system to provide a "distinctive signal." New dealer-installed accessories also included an auto compass, cruise control, and Chevelle wheel covers. Simulated wire wheel covers were also available.

The El Camino Custom could again be ordered with what was essentially Chevelle Super Sport trim, including SS- type bodyside moldings. The bucket-seat package continued to include a floor console, when a four-speed was ordered, and Chevelle SS wheel covers.

While the 195-bhp two-barrel 283 continued as standard in V-8 models, the optional four-pot version was cut. The 300-horse 327 V-8 was now readily available. Its 250-bhp companion utilized new cylinder heads and a larger-diameter singe exhaust system (with a dual system as an option). The exceptionally strong L79 350-bhp 327 was also offered.

In six-cylinder models, the 194-cid engine continued as standard. The optional 230-cube engine was now rated at 140 bhp, having lost its special camshaft -- and its chrome accents.

Suspension was retuned for a softer and quieter ride. New low-profile tires reduced El Camino ride height for 1965 due to their smaller rolling radius.

Touring on the auto-show circuit in 1965 was the Surfer 1 El Camino concept vehicle. This topless roadster pickup was displayed trailering a correspondingly customized drag boat. Both were powered by Chevrolet's brand-new 396-cid Mark IV engine otherwise found in full-size cars, the Cor­vette, and a mere 201 Chevelle Z16s.

Totally fresh exterior styling gave the 1966 Chevelle and El Camino a new look, although they utilized the same basic substructures as the 1964-1965 models. On the El Camino, all outer body panels below the beltline -- except for the tailgate skin -- were new.

With the Chevelle two-door wagon dropped for 1966, the El Camino rear quarters were now unique, though the new vertical taillamp design was shared with Chevelle wagon models. Back-up lights again became integral with the taillights, as in 1964. For the first time, El Camino had its name on the front of the vehicle, on the emblem at the center of the new wraparound grille.
Inside, there was a new instrument panel and blue replaced aqua as one of the three standard interior colors. A black interior (in place of blue) was available with the Custom bucket-seat option. Headrests were a new option for this year, and in March, shoulder belts also became available.

1965 Chevrolet El Camino offered three different colors
for interiors, including the red shown here.
Performance-orientated buyers were excited to learn that Chevrolet's "big-block" 396-cid Turbo-Jet V-8 was now available for El Camino in 325- and 360-bhp versions. Even better, the L78 solid-lifter 375-bhp engine became a midyear addition.
This Special High-Performance V-8 cost $425 extra and 3,099 were sold -- though how many went into El Caminos is unknown. Published road tests of the era indicated quarter-mile times of just under 16 seconds with the 325-hp 396. The 375-hp engine would clock about a second faster with stock tires and chassis components.
Down the chart was a single 327 V-8. This amalgamation of the former 250- and 300-bhp engines was rated at 275 horsepower. The 220-bhp four-barrel 283 rejoined the options list. The two sixes and the standard V-8 were carried over for another year.
A heavy-duty fully synchronized Warner floorshift three-speed manual available with the 396s was extended as an option with other El Camino engines in mid '66. A four-speed was still available only with V-8 engines; with the 360- and 375-horse mills, the four-speed was a close-ratio gearbox.
On Custom models, specific lower-body bright moldings included an extension aft of the rear wheelhouse. The ribbed moldings had a black paint fill, à la the Chevelle SS. (To the chagrin of owners then and now, the distinctive domed hood featured on Chevelle SS396 models was not offered from the factory on the El Camino.)
For more information about cars, see:
Consumer Guide: New Car Search
Consumer Guide: Used Car Search
1966 Chevrolet El Camino
Bright wheelhouse moldings were also a custom touch in the 1966 Chevrolet El Camino. Of the 15 Magic-Mirror acrylic colors for 1966, six were new.
Prices increased only slightly: The pop­ular Custom V-8 model now started at $2,504, compared to $2,461 for the 1965 edition. That did no damage to sales. Model-year production topped 35,000, marking the second straight year that El Camino demand rose from the previous season.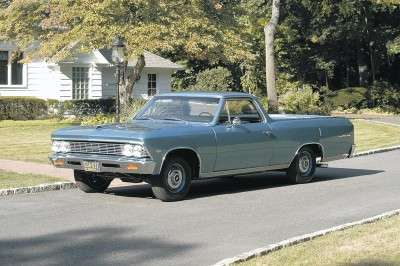 1966 Chevrolet El Camino was available
in 15 Magic-mirror colors.
While Chevrolet restyled its regular truck lines for 1967, the El Camino shared a facelift of its '66 design with Chevelle. A bolder grille and redesigned front fenders added a squared prominence to the frontal appearance. A chrome block-letter El Camino nameplate appeared on the leading edge of the hood. At the rear, "cheese-wedge" taillights improved nighttime visibility of the vehicle from the sides. Back-up lamps moved back down into the bumper.
The El Camino Custom newly featured a full-width woodgrain trim panel on the tailgate, a tony touch that seemed a bit out of place on the hotter-performing El Caminos. A new thin molding that edged a lower-body sheetmetal crease replaced the rocker moldings of previous Cus­tom models. Standards had a less-detailed mold­ing in the same location. There were no wheelhouse moldings this year.
For more information about cars, see:
Consumer Guide: New Car Search
Consumer Guide: Used Car Search
1967 Chevrolet El Camino
Ten of the 15 colors offered for the 1967 Chevrolet El Camino were new. A black vinyl roof covering available with all exterior colors was added to the options list.
Chassis upgrades included a new front-
disc-brake
option. Slotted argent "rallye" wheels with bright trim rings and small center caps were included. El Caminos with the standard drum brakes came with small hubcaps, but new-design Chevelle wheel covers were also available. So were covers that simulated the look of wire wheels or the aftermarket magnesium wheels then becoming the rage with
muscle car
owners. Per federal mandate, a dual master-cylinder system was now standard with all brake types.
1967 Chevrolet El Camino featured most of
its changes under the hood.
As with all other 1967 Chevrolets, the El Camino had a new GM key design. A three-spoke steering wheel and a safer energy-absorbing steering column were new, too. Otherwise, the interior was little-changed from 1966.

Powertrain availability was much altered. In six-cylinder models -- for the approximately 12 percent of El Camino customers who were buying them -- the 230-cid job became the new base powerplant. The step-up option was now a 250-cube engine good for 155 bhp. The two-barrel 283 remained the starting point for V-8 models, but the four-throat 283 was retired for good.
After the carried-over 275-horse 327, there was a new extra-cost 325-bhp high-performance 327 with an 11:1 compression ratio. The 325-bhp 396 option was continued, but a 350-horsepower version now topped the list in place of 1966's 360- and 375-bhp big blocks.

A three-speed Turbo Hydra-Matic automatic transmission was now available with the 396 V-8s. The close-ratio four-speed stickshift could be paired with the 325-horse 327 or the 350-horse 396. An expanded selection of rear axle ratios was offered, including standard, economy, performance, and special-performance gearsets. Ratios ranged from the 2.73:1 economy/highway axle to the 4.56 and 4.88:1 ratios favored by drag racers and others who wanted as much torque as possible off the line.

Road-testers commended the handling improvements designed into the 1967 El Camino. Performance suspension components were included with the larger engine options.

The 1967 El Camino was the last built on what was essentially the 1964-generation A-body car chassis. A totally new Chevelle bowed for 1968 along with a related El Camino that, with annual updates, took the Chev­rolet sedan-pickup into the Seven­ties.

And what of the competition? After 1964, Ranchero production crept back up in the next two years, reaching 21,760 of the all-new 1966s. For 1967, while still built on a 113-inch wheelbase, Ford elected to give its sedan-pickup the looks -- and optional 390-cid big-block engines -- of its midsize Fair­lane. Even so, 1967 Ranchero pro­duction stopped at 17,243 -- about half of El Camino's output. The 1964-1967 El Camino had clearly won for Chevro­let dominance in the car-based pickup field.

For more information about cars, see:

Consumer Guide: New Car Search
Consumer Guide: Used Car Search
1965 - 1967 Chevrolet El Camino Specifications
Here are the specifications for the 1964-1967 El Camino:
Model
Weight

Price

Production

1964






sedan pickup, I-6
2,935
2,260
4,430
sedan pickup, V-8
2,935
2,368
4,500
Total El Camino





8,930

custom sedan pickup, I-6
2,935
2,341
3,042
custom sedan pickup, V-8
----

2,449
20,576

Total El Camino
Custom





23,618
Total 1964 Chevrolet El Camino





32,548

1965







sedan pickup, I-6
2,935
2,272
4,392
sedan pickup, V-8
3,060
2,380
5,935
Total El Camino





10,327

custom sedan pickup, I-6
2,935
2,353
2,367
custom sedan pickup, V-8
3,060
2,461
22,030
Total El Camino Custom





24,397

Total 1965 Chevrolet El Camino





34,724

1966







sedan pickup, I-6
2,930
2,318
3,424
sedan pickup, V-8
3,075
2,426
5,897
Total El Camino





9,321

custom sedan pickup, I-6
2,930
2,396
1,461
custom sedan pickup, V-8
3,075
2,504
24,337
Total El Camino Custom





25,798
Total 1966 Chevrolet El Camino





35,119

1967







sedan pickup, I-6
---

---

2,963
sedan pickup, V-8
3,193
2,613
5,387
Total El Camino





8,350

custom sedan pickup, I-6
---

---

1,098
custom sedan pickup, V-8
3,210
2,694
25,382
Total El Camino Custom





26,480

Total 1967 Chevrolet El Camino





34,830

For more information about cars, see:

Consumer Guide: New Car Search
Consumer Guide: Used Car Search