Pontiac -- particularly the 1963 Pontiac Catalina 421 H.O. -- enjoyed a popularity revival in the early 1960s. Part of the reason was its new-found performance image, as the big Ponchos scored many wins on the NASCAR tracks and in drag racing.
For example, at Detroit Dragway a lightened 1963 Catalina running the big 421-cubic-inch, 405-horsepower Super Duty V-8 stormed through the quarter-mile in 12.38 seconds at 116.23 mph. Prepared by Royal Pontiac and piloted by Jim Wangers, the car utilized a 12.0:1 compression ratio, dual four-barrel Carter carbs, and a Warner T-10 four-speed transmission.
Even a 1963 Grand Prix, weighing over two tons and equipped with a 3.23:1 rear axle ratio, could sprint through the quarter in just over 15 seconds at 92 mph -- and that with the 421 H.O. street engine. Auto writer Roger Huntington said it was "one of the smoothest, most responsive high-performance street engines that was available in the muscle car era."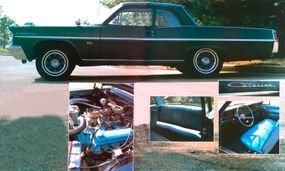 The 1963 Catalina two-door sports sedan pictured here showcases the 421 H.O. street engine. Rated at 370 horsepower at 5,200 rpm and 460 pounds-feet of torque at 3,800 rpm, it has 10.75:1 compression, with induction through three Rochester two-barrel carbs, Pontiac's well-known "Tri-Power" setup. It also sports the four-speed manual, limited-slip diff, aluminum wheels, and raised front end. This Catalina is finished in Marlin Aqua and has matching interior.
For more information on cars, see:
Classic Cars

Consumer Guide New Car Search

Consumer Guide Used Car Search