Thanks to George Lehmann's financial backing and Robert Peterson's practical know-how, Lincoln was presented with an opportunity to compete with Cadillac and Imperial for the limousine trade in the 1960s with the 1963-1970 Lincoln Limousine.
A world of possibilities lay before George "Skip" Lehmann in autumn 1962. Just 23 years old, he had finished college and was fresh from a stint in the United States Army. He was an heir to his grandfather's estate, which included the famous Fair Stores. He was also steeped in his hobby of racing sports cars. Surely this set of circumstances would send him down one interesting path or another in life.
Of all the places fate could have taken Skip Lehmann during that fall, it chose to route him through a Chicago garage. It was there that he met Robert Peterson. In short order they would team up in an audacious enterprise that invigorated the select market for limousines in America and added a chapter to Lincoln history in the 1960s.
Bob Peterson ran a very successful customizing shop. Ten years older than Lehmann, he had gained a well-deserved reputation as a mechanical genius who was able to handle practically anything automotive. He also had a background in racing as a driver and a mechanic.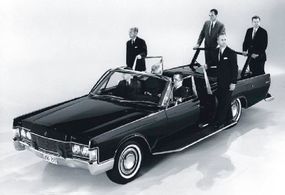 Lehmann happened to stop by Peterson's shop when he learned that a race car he'd once owned, a rare Scarab, had been severely wrecked. Peterson had rebuilt the car in just a few weeks; Skip Lehmann was impressed.
At the time, Lehmann rode around in a Cadillac limousine, but yearned for something different. He had already had more than a year to admire the new slab-sided Lincoln Continental. In fact, he liked it so much that he bought his mother, Morella, a brand-new 1962 Continental. It was during one of his visits to Peterson's shop that Lehmann asked Peterson if he could make a limousine out of his mother's Lincoln. Peterson looked in, around, and under the car, and said, "Nothing to it. Twelve days."
For more on the first Lehmann-Peterson Limousine and its features, continue on to the next page.
For more information on cars, see:
Classic Cars

Consumer Guide New Car Search

Consumer Guide Used Car Search