The Ford Fairlane planners could have followed a couple of paths to create a new type of car they had in the works for the early Sixties. When the first true intermediate arrived, it was clear that from concept through to execution, the folks in Dearborn had played everything right down the middle.
Built to fit in between the ever-enlarging standard-
size cars of the early Sixties and the then-new
domestic compacts, the Ford Fairlane appeared to
be a fresh type of car when it debuted in 1962. See more classic car pictures.
Rumors, by their very nature, tend to exaggerate. When journalists and industry experts first began to speculate about an all-new midsize Ford, thoughts immediately leaned toward radical themes. After all, Chevrolet went wild in 1960. Wasn't it Ford's turn to pull off a comparable coup? If you're going to create a new-size car, it may as well be a standout across the board.
In 1959, when Ford issued the compact 1960 Falcon, it turned out to be shapely enough, but wholly conventional in nature. In that same season, Chevrolet went the full-radical route with its rear-engined, air-cooled Corvair. That decision actually gave Ford a large leg up on its perennial rival, as Falcons outsold Corvairs by far.
The 1964 Sports Coupe hardtop was the top of
the premium Fairlane 500 series.
Wouldn't this be a good time, then, for Ford stylists and engineers to be thinking futuristic? Perhaps they could glance over Ford's "dream car" crop of the past few years for guidance in plotting a blockbuster for the early to mid-Sixties.

No such luck. When the bigger-than-a-Falcon, smaller-than-a-Galaxie Fairlane debuted for 1962, unabashed practicality oozed out of every pore. Not until mid-1964, when the Mustang debuted, would Ford offer a small car people desired to own instead of one they felt they should own.

According to Motor Trend, Ford relied on its "intensive consumer research program," which, except for the Edsel, "seemed to pay off for them." By the end of the Fifties, research suggested a market for an "in-betweener" model somewhere betwixt the gradually growing standard Ford and the upcoming compact Falcon. (Don't forget these were the days when American Motors was thriving quite nicely on the strength of its Rambler Six/Rebel, which fit almost smack-dab between the 100-inch-wheel-base American and the 117-inch Ambassador.)

For a while at least, Ford was destined to have the heart of a brand new market all to itself. Chevrolet released the Chevy II in 1962, but it was compact in its dimensions -- and far more conventional than the revolutionary Corvair. No true challenger from Chevrolet would arrive until the debut of the Chevelle in 1964, the same year GM's "senior compacts" from Pontiac, Oldsmobile, and Buick grew into genuine intermediates. Standard Dodges and Plymouths were downsized for 1962, but their sales fell well short of Ford's, and it wouldn't be until 1965 that the Mopar makes clearly offered three sizes of cars. The Rambler Classic was actually a large compact and even with a wheelbase boost in 1963, it was still smaller than a Fairlane. Even the Fairlane's short-lived companion car, the Mercury Meteor, paled in comparison.

Continue to the next page to learn all about the 1962 Ford Fairlane.

For more information on cars, see:

New Car Search
Used Car Search
1962 Ford Fairlane
The first 1962 Ford Fairlanes, initially offered only in two- and four-door sedan guise, were aimed at the everyday-transportation end of the market spectrum. Lee lacocca, named general manager of Ford Division in 1960, had some bold ideas in mind for the company's future, but they weren't yet under way in 1962. Two trim levels went on sale: the basic line and an upscale Fairlane 500. A gussied-up two-door sedan, the Fairlane 5UU Sports Coupe joined the group a little later.
The 1962 Fairlane's styling and dimensions would
have been familiar to anyone who'd shopped for a
Ford in the preceding 10 years.
Essentially an enlarged Falcon riding a 115.5-inch wheelbase, Fairlane fell between the compact Ford and the full-size Galaxie in both price and size. Dimensions were similar to those of the 1952-1954 Fords, in the eyes of Motor Trend, except that the Fairlane was not as tall and measured nearly three inches narrower. The Fairlane name had been used on standard-size Fords from 1955 through 1961.

This new mid-size Fairlane had more leg room than a 1952-1954 Ford; more shoulder room, too, but slightly less hip space, front and rear. MT dubbed the Fairlane's interior "simplicity without austerity." Instruments sat in three round housings, shrouded to cut down on reflections.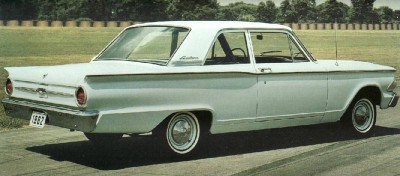 The 1962 Fairlane 500 two-door sedan was one of
two 1962 Fairlane models initially offered.
Compared against those early-Fifties cars, "improvements are undramatic," the magazine said. "A lot of the refinements cannot be measured by a ruler -- they include easier, quieter and smoother operation, plus probably a degree of greater durability."

At a glance, the new unit-construction intermediate retained a host of design cues that made it easy to identify as a Ford. Bodyside trim, taillights, and even the canted mini-tailfins appeared to be borrowed from previous Fords as far back as the 1957s. At the same time, Fairlane had just enough of a personality of its own -- a special spark -- to shine above the Ford pack.

Some of that spark could be found under the hood in the form of a distinctive new small-block V-8 engine that made its debut in the Fairlane and Meteor. With the standard Ford's six getting on in years and the base 292-cubic-inch V-8 deemed too heavy and thirsty for the planned intermediates, engineering chief Harold McDonald successfully lobbied management to approve development of a new light, compact power plant. A team under the direction of George Stirrat was handed the $250 million budget allocated to the project.

The narrow-block, short-stroke engine Stirrat's people created displaced 221 cubic inches. It put out 145 horsepower at 4,400 rpm while breathing through a two-barrel carburetor. The cast-iron V-8 used hydraulic valve lifters and an automatic choke. It met the design objective of a 450-pound weight limit in part because of its use of Ford's pioneering "thin-wall" casting process. At mid-year, the 221 was overbored by .30 inches to create an optional 260-cubic-inch mill good for 164 horsepower. (In its most exotic form, the little V-8's block design served as the basis for the aluminum engine in the Lotus-Fords that ignited the rear-engine revolution at Indianapolis in 1963.)

The small-block eight was optional in the Fairlane. Standard power came from the bigger of the two Falcon sixes, a 170-cubic-inch, 101-horsepower job that also used the modern casting technology. All engines had a new rear mount to reduce vibration and sound transmission to the passenger compartment. The standard transmission was a three-speed manual with a column-mounted gearshift fully familiar to Ford fans. Options included overdrive (for the 221 V-8 only) and the two-speed Fordomatic -- essentially the same choices offered on 1952-1954 Fords.
On the next page, find out what the reviewers had to say about the 1962 Ford Fairlane.

For more information on cars, see:

New Car Search
Used Car Search
1962 Ford Fairlane Features and Reviews
1962 Ford Fairlane buyers had more comfort and convenience equipment to choose from than did those who drove a Falcon home. A Fairlane could be equipped as a luxury car -- almost to the level of a Galaxie.
All Fairlane models could have power steering and power brakes, either factory- or dealer-installed. Those items were highly popular, and had brought many complaints from buyers of cheaper compacts who wanted such conveniences. White-wall tires were available in 6.50 or 7.00 sizes on a choice of 13- or 14-inch-diameter wheels. (The 7.00X14 tires came only as blackwalls.) Options included a 30-amp generator, tinted glass, two-speed electric windshield wipers, full wheel covers, a heavy-duty battery, and more. Brackets for seatbelts were installed in all models, even though the belts were an option.
The 1962 Ford Fairlane 500 pleased drivers
with its performance.
Car and Driver described its Fairlane 500 Sports Coupe with the V-8 engine as having "sprightly performance, even with the automatic transmission." Fairlane also offered "an inviting appearance" and comfortable ride, its "road shocks well absorbed by the limber suspension."

Road-testers at Motor Trend disliked the two-speed automatic transmission. Despite its smoothness, they believed "it doesn't take as full advantage of an engine's horsepower and torque curves as does a three-speed or four-speed automatic or manual box." Their automatic V-8 Fairlane with a "performance" axle ratio took 13.3 seconds to reach 60 mph -- not exactly awesome action. Testers noted that the "lively, well designed engine" had "plenty of potential for power increases," and they believed it could be "as big a favorite with the hot rod set" as the old flathead V-8 had been. Gas mileage was a prominent selling point, but the V-8 Fairlane with automatic averaged an uninspiring 15.5 mpg.

Though impressed by Fairlane's solid construction, as well as its ride and handling talents, MT considered its test car too big for its 13-inch wheels. However, 7.00x14 tires were available only as a police option. "On every type of road surface, from rough country to smooth freeway, the Fairlane gave a smooth, solid ride. It took some real pot holes to bottom the suspension." Despite noticeable lean in hard cornering, "the car sticks like glue and you really have to bend it to lose adhesion." Noise levels were among "the lowest we've encountered in any car."

Front-seat space was considered comfortable enough for three average-sized adults. Except for the two-speed automatic, the magazine's editors advised Fairlane "offers a rare combination of economy, satisfying performance, solid comfort and a high degree of quality that belies its low initial cost."

More than 297,000 Fairlanes went to first-year customers, helped by moderate prices. Just $2,154 could bring home a base two-door sedan, while the vinyl buckets-and-console Fairlane 500 Sports Coupe stickered for $2,403. Chevrolet did better with the Chevy II, but it offered shoppers a far greater variety of models and body styles from which to choose, and it had a price advantage by virtue of its being a smaller car.
On the next page, read about the 1963 Ford Fairlane.

For more information on cars, see:

New Car Search
Used Car Search
1963 Ford Fairlane
The 1963 Ford Fairlane got a facelift and the same technical improvements given to other Ford products, many of them designed to ease maintenance. Nine models made the 1963 lineup, five of them new. Two- and four-door sedans returned in both trim levels. The 500 took on two new two-door hardtops, one of which usurped the Sports Coupe title.
Three station wagons also joined the line: a Ranch Wagon with base Fairlane trim, a Custom Ranch Wagon with the Fairlane 500 look, and a pseudo-"woody" Squire. Front ends got a fresh grille pattern and new bumpers not unlike that of the senior Fords, and the hood's leading edge lost its pronounced overhang. Back ends still sported little angled fins, a styling touch that was gradually disappearing from most American cars.
After turning out 297,000 first-year Fairlanes, Ford
produced almost 344,000 of the 1963s (above).
Sitting an inch lower than the sedans, the 500 Sports Coupe was the most dashing Fairlane. The new hardtop roof was modeled after the Thunderbird's, featuring large, square C-pillars and rectangular rear glass. Bucket seats, a console, standard spinner wheel covers, and Buick-style front-fender "ventiports" were the major marks of distinction between the Sports Coupe and the slightly plainer bench-seat Fairlane 500 hardtop. Both could be kitted out with a vinyl roof covering.

Six-passenger wagons could be equipped with a rear-facing third bench, for eight-passenger capacity. Opening the tailgate and folding the second seat down into the floor produced a flat load space more than nine feet long. Beneath the floor, the owner had a big, covered luggage area.

The 1962 Fairlane's three engine offerings were reprised in 1963, but there were a couple additional choices, as well. When the Fordomatic trans was selected for a six-cylinder car, the engine to which it was attached was a new 200-cubic-inch job good for 116 horsepower.
At the other end of the spectrum was a sizzling 289-cube small-block V-8 available for sedans and hard-tops. Its cylinder bores increased to a full four inches and its compression raised to 11.0:1, this meatiest Fairlane power plant supped on super-premium fuel through a four-barrel carburetor. Horsepower hit 271 at 6,000 rpm and torque peaked at 312 pound-feet at 3,400 revs, enough power to propel Ford's intermediate to 60 mph in less than nine seconds. Warned a magazine ad for a hardtop with the 289, "Wait till you feel Fairlane's Sunday punch!"

Transmissions were shuffled, too. Standard for all V-8s was a new "Synchro-Smooth" three-speed stickshift with synchronizers on all three forward gears. (The manual with 170-cubic-inch six had synchros on just the top two gears.) Overdrive and a new Borg-Warner four-on-the-floor stick could be had with any V-8. Fordomatic was compatible with the large six and the two smaller V-8s. Buyers also had several choices of final-drive ratios to maximize economy or performance potential.
Continue to the next page to read about the 1964 Ford Fairlane.

For more information on cars, see:

New Car Search
Used Car Search
1964 Ford Fairlane
In 1964, Ford Fairlanes got a new look, again along the lines of the concurrent full-size Galaxie, plus an improved front suspension. The vestigial fins were gone, replaced by slightly rounded rear fenders. With the exception of the departed Squire wagon, the model lineup remained the same.
The 1964 Sports Coupe remained atop the 500
line that also included a four-door sedan and
Custom Ranch Wagon.
Carburetion was improved for all V-8 engines. A new automatic choke improved cold-weather starting, too. Fairlanes had self-adjusting brakes, electric wipers, and two optional safety items: seatbelts and a dashboard crash pad. No fewer than five engines were available, with a choice of six transmissions. Good thing, too, because the Chevelle was finally on the prowl, anxious to steal sales away from Ford's intermediate series.

Ford's 101-horsepower six and three-speed manual shift hung on as the base power-train, with the larger 116-horse six available for cars with the two-speed automatic. With the 221-cubic-inch V-8 dropped from the options list, the Challenger 260 became Fairlane's entry-level V-8. Its former role as the step-up V-8 was taken by a new 195-horsepower 289 with a two-pot carb and 9.0:1 compression. The solid-lifter 271-horse version of this engine remained the top choice.
Overdrive availability was now restricted to the 260 V-8; the 289s were the only ones that could be had with the four-speed. Fordomatic was the automatic transmission choice for the 260, with the three-speed Cruise-O-Matic available for the tamer of the two 289s. Hard-to-please leadfoots could obtain the high-performance V-8 with extra-long gearing: either a 3.89:1 or 4.11:1 rear-axle ratio.

Motor Trend again considered good handling to be a Fairlane virtue, as the car offered a "solid, quiet, big-car feeling." Technical editor Jim Wright rated the Fairlane Sports Coupe "very high in satisfaction potential" with the "mild" 289-cubic-inch V-8 and a four-speed. "For a good, all-around car," Wright suggested, "it's hard to beat." Owners would get "the responsive handling characteristics of a lightweight and the solidity of a big car, all wrapped up in an intermediate-sized package that's neither big nor small."
Although the Fairlane leaned excessively through sharp curves, its "suspension refused to bottom out on even the most severe dips." The Sports Coupe needed 9.8 to 10.2 seconds to reach 60 mph. Quarter-mile times might sound tame today -- 17.5 seconds and 78 mph -- but they were respectable for what was essentially a family car in 1964.

Wright applauded the extensive use of sound-deadening materials. A unibodied Fairlane, he explained, "seems as free from noise and vibration, even on the roughest roads, as any car that uses separate frame and body construction." MT also noted that a lot of the car's appeal lay in its extensive option list.

The magazine said Fairlane wagons offered a "solid, big-car feel, low noise level," but six-cylinder engines were deemed inadequate to cope with a station wagon's weight. Naturally, MT deplored Ford's two-speed automatic transmission for the wagon, suggesting that a 195-horsepower, 289-cubic-inch V-8 with Cruise-O-Matic would be the best choice. (The 271-horse V-8 was not offered in wagons.) Unlike the prior year's wagons, seat cushions were not included to make what Motor Trend called an "almost useless" third seat from the rear well. Instead, that area was now useful only for storage.
On the next page, learn about Ford's 1965 Fairlane.
For more information on cars, see:

New Car Search
Used Car Search
1965 Ford Fairlane
Ford Fairlane production, buoyed by the new station wagons, shot upward in 1963, with almost 344,000 Fairlanes built. However, faced with stiff new competition for the first time in 1964, that total dipped below 277,600, then to 224,000 for 1965.
Fairlane's first generation came to an end in 1965,
but the model-year changes were still drastic.
Only the rooflines were retained for the extensive 1965 facelift. The slight curvatures of the 1962-1964 body surfaces were replaced with more angular, straight-edged panels that showed a hint of a mid-body beltline kick-up. The new front end featured horizontal grille bars above a slimmer bumper; headlights were encased in rectangular bezels that matched body colors. Taillamps went from round to rectangular.
Motor Trend mourned the fact that styling of the Fairlane was "so indiscriminate, because tasteful character could capitalize on the Indianapolis and [Shelby] Cobra alliance and make this the most desirable bread-and-butter car of the year."

On the technical side, wheelbase was kicked up to an even 116 inches and 14-inch wheels became standard across the board. The 170-cubic-inch six and 260-cubic-inch V-8 were dropped. The 200-cube six, now rated at 120 horsepower, was the standard power plant. The top-end 289 V-8 was still pegged at 271 horsepower, but the two-barrel version of the same engine was hiked to an even 200 horsepower.
In between was a new 225-horsepower 289 that featured a four-barrel carb and a 10.0:1 compression ratio. Fordomatic was banished from the options table, so Cruise-O-Matic became the sole automatic transmission choice. Even the high-perf V-8 could be ordered with it. Engine-saving overdrive was obtainable only with the tamest V-8.

Where to go from here? The first-generation Fairlane was conceived as a new type of sensible family car. By the time work started on its successor, though, Ford was embarking on its "Total Performance" era. Reporting on the 1964 Chicago Auto Show, Automotive News quoted lacocca as saying performance was "really the only way to prove the capability of cars," and adding that Ford was "so deeply committed to performance and racing activities that we couldn't pull out gracefully even if we wanted to."

The Fairlane had to play its part in this overall marketing scheme. Hotted up four-speed 289s were all well and good, but there were bigger things in the offing. A run of 100 Fairlane Thunderbolts had begun to haunt the Super/Stock classes at the nation's dragstrips in 1964. Barely street legal, these lightened Fairlane 500 two-door sedans were stuffed with Ford's mighty 427-cubic-inch V-8 under their fiberglass front clips. When the second-generation Fairlane arrived for 1966, it did so with a more speedway-friendly hardtop roofline and enough underhood room to easily accept big-block engines.

Through the late Sixties, the muscle-power war between Ford, GM, and Chrysler continued to escalate, and the weapon of choice more often than not was an intermediate car with a decidedly full-size engine. Ford wasn't about to let its rivals eclipse its reputation in performance-car history without a fight.
Go to the next page to see weight, price, and production numbers for 1962-1965 Ford Fairlanes.
For more information on cars, see:

New Car Search
Used Car Search
1962-1965 Ford Fairlane Models, Prices, Production
When Ford introduced its 1962 Fairlane, it gave the car-buying world a new kind of sensible family car. Its combination of style, performance, and economy won over buyers and test drivers alike, spelling a successful run for the first-generation Ford Fairlane. Here are weights, prices, and production numbers for the 1962-1965 Ford Fairlane models:
1962 Ford Fairlane Models, Prices, Production
| | | | |
| --- | --- | --- | --- |
| Series 30(wb 115.5) | Weight | Price | Production |
| 4d sedan | 2,848 | $2,216 | 45,342 |
| 2d sedan | 2,815 | $2,154 | 34,264 |
| Total Series 30 | | | 79,606 |
| Series 40 500 (wb 115.5) | | | |
| 4d sedan | 2,865 | $2,304 | 129,258 |
| 2d sedan | 2,832 | $2,242 | 68,624 |
| Sports Coupe 2d sdn | 2,928 | $2,403 | 19,628 |
| Total Series 40 500 | | | 217,510 |
| Total 1962 Fairlane | | | 297,116 |
1963 Ford Fairlane Models, Prices, Production
| | | | |
| --- | --- | --- | --- |
| Series 30 (sb 115.5) | Weight | Price | Production |
| 4d sedan | 2,930 | $2,216 | 44,454 |
| 2d sedan | 2,890 | $2,154 | 28,984 |
| Ranch Wagon 4d wgn | 3,281 | $2,525 | 24,006 |
| Total Series 30 | | | 97,444 |
| Series 40 500 (wb 115.5) | | | |
| 4d sedan | 2,945 | $2,304 | 104,175 |
| 2d sedan | 2,905 | $2,242 | 34,764 |
| hardtop coupe | 2,923 | $2,324 | 41,641 |
| Sports coupe htp cpe | 2,923 | $2,504 | 28,268 |
| Custom Ranch Wagon 4d wagon | 3,298 | $2,613 | 29,612 |
| Squire 4d wagon | 3,295 | $2,781 | 7,983 |
| Total Series 40 500 | | | 246,443 |
| | | | |
1964 Ford Fairlane Models, Prices, Production
| | | | |
| --- | --- | --- | --- |
| Series 30 (wb 115.5) | Weight | Price | Production |
| 4d sedan | 2,895 | $2,235 | 36,693 |
| 2d sedan | 2,855 | $2,194 | 20,421 |
| Ranch Wagon 4d wagon | 3,290 | $2,531 | 20,980 |
| Total Series 30 | | | 78,094 |
| Series 40 500 (wb 115.5) | | | |
| 4d sedan | 2,910 | $2,317 | 86,919 |
| 2d sedan | 2,863 | $2,276 | 23,447 |
| hardtop coupe | 2,925 | $2,341 | 42,733 |
| Sports coupe htp cpe | 2,945 | $2,502 | 21,431 |
| Custom Ranch Wagon 4d wagon | 3,310 | $2,612 | 24,962 |
| Total Series 40 500 | | | 199,492 |
| Total 1964 Fairlane | | | 277,586 |
1965 Ford Fairlane Models, Prices, Production


| | | | |
| --- | --- | --- | --- |
| Series 30 (wb 116.0) | Weight | Price | Production |
| 4d sedan | 2,954 | $2,271 | 25,378 |
| 2d sedan | 2,902 | $2,230 | 13,685 |
| 4d wagon | 3,279 | $2,567 | 13,911 |
| Total Series 30 | | | 52,974 |
| Series 40 500 (wb 116.0) | | | |
| 4d sedan | 2,959 | $2,353 | 77,836 |
| 2d sedan | 2,901 | $2,312 | 16,092 |
| hardtop coupe | 2,973 | $2,377 | 41,405 |
| Sports coupe htp cpe | 2,984 | $2,538 | 15,141 |
| 4d wagon | 3,316 | $2,648 | 20,506 |
| Total Series 40 500 | | | 170,980 |
| Total 1965 Fairlane | | | 223,954 |
For more information on cars, see:

New Car Search
Used Car Search