The 1961 Buick LeSabre convertible boosted Buick up industry rankings after it had skidded to ninth place in 1960. This drop was worrisome for Buick, which was flying high in the mid-1950s at third place in the U.S. auto industry.
Ninth place was its worst showing since 1905. Something had to be done -- and quickly.
The first step was taken in 1959, as Edward D. Rollert took over the reins of Buick Division. He determined first of all to improve quality, which had been lax.
Secondly, he set about putting the product more in tune with the times. His efforts showed up on the 1961 Buick lineup, which featured its first compact, the Special.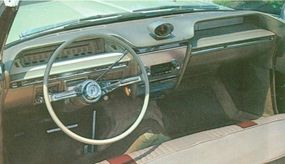 Although full-size wheelbases (123 inches on LeSabre) and model names carried over, the driveline (no more torque tube) and bodies were new. So was the styling, which forsook the flamboyant "Delta Wing" fins, canted headlights, and wild sculpturing that had previously prevailed.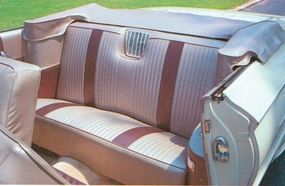 Tradition, mercifully, had returned to Buick. The result was the best-looking and most sellable line of full-size cars Buick had fielded for some time. Among them was the LeSabre convertible, which listed at $3,382, about $400 more than a Chevy ragtop.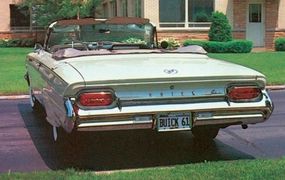 But, with the Buick came a 364-cid, 235/250-horsepower V-8, along with a snazzier interior and the still-prestigious Buick name. Sales improved for 1961, which included 11,951 LeSabre soft tops.
Buick moved up a notch to eighth in industry rankings. By 1964 it was back in fifth, where it would remain during most of the 1960s and 1970s.