Bob Carnes had one clear-cut goal when designing the Bocar XP series: to create the fastest and safest sports car in the world -- with a couple of provisos. His car had to be fully operable on ordinary roads as well as the track, and priced within the reach of ordinary people.
More than most Fifties designers who tried to turn their personal dreams into reality -- Woodill, Kurtis, Cunningham -- Carnes came surprisingly close to delivering precisely what he'd promised. Created in Denver, the Bocar -- from BOb CARnes -- followed an evolutionary trail from the experimental X-1 through a series of limited-production two-seaters.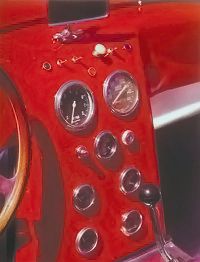 Starting in his own garage, Carnes turned out a single X-1 in 1958, building upon modding experience that ranged from a Glockler Porsche to a Cadillac-powered Jaguar. Several X-2 and X-3 examples were followed by about five XP-4s. Early models rode a 90-inch wheelbase, wore Jaguar wire wheels, and were stopped by Girling drum brakes.
Production of another batch of five, called XP-5 and on the same wheelbase, began in mid-1959. A glass-reinforced polyester body surrounded the welded moly-tube space frame. Up front was a beefed-up Volkswagen rear suspension. Power customarily came from a 283-cid Corvette V-8, whipping out 290 horses at 6200 rpm.
"Fierce acceleration -- docile obedience," promised XP-5 ads in 1959. Offering comparable capability for "racing, hillclimber and grocery getter," the Bocar stood only 34 inches tall, with a four-inch windshield. A variety of options could be ordered: radio, heater, hardtop, seven suspension setups -- plus choices in wheels and tires. Carburetion or fuel injection could be specified for the Corvette (or Pontiac) engine. Although prices for finished cars were advertised as low as $3,800 the typical cost was about $8,700! Carnes also sold bodies and frames separately.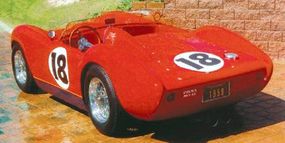 Road tests confirmed the Bocar's performance, including acceleration times that would qualify for near-supercar ranking even today. A high power-to-weight ratio was a big part of the secret: roughly six pounds per horsepower, in a car that weighed just 1,650 pounds. Motor Trend described its XP-5 as "a 160-mph sportscar" that was nevertheless "a road machine." Their test car blasted to 60 mph in a startling six seconds flat, and hit an even hundred in the quarter-mile. "At 100 mph, mashing the throttle was neck-snapping."
Approximately 15 Bocars had been built when Carnes turned to an XP-6, on a longer 104-inch wheelbase and powered by a supercharged Corvette engine that produced close to 400 horsepower. Sports Cars Illustrated reported that an XP-6 "hurls itself forward with an effortless violence at any speed and in any gear" and was "astoundingly agile." Before fading out of sports car production in the early Sixties, Carnes also turned out a strictly road-racing model called the Stiletto.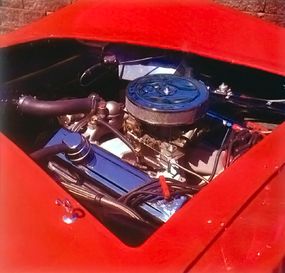 For more information on cars, see:
Classic Cars

Consumer Guide New Car Search

Consumer Guide Used Car Search