The 1957 standard Fords (aside from the classic two-seat T-Birds and the increasingly popular "Squarebirds") represent the high point of the make's 1950s collectibility. Conversely, the facelifted 1958s mark the low point and the heavily reworked 1959s generate little more interest now, even though both retained much of the 1957 design. As we'll see, the answers to this apparent paradox lie where they always do when cars that seem much the same end up being very different.

©2007 Publications International, Ltd.
The 1957 standards were the most radically changed Fords since the make-or-break 1949s. Here's a handsome example of that year's new Fairlane 500 Club Sedan. See more classic car pictures.

Nineteen fifty-seven was a vintage year for Detroit. For Ford, it was a watershed. The most dramatically changed passenger cars since the make-or-break 1949 models heralded a new styling philosophy in Dearborn as well as a much tougher competitive stance against front-running General Motors. If the industry's perennial number-two couldn't beat Chevrolet at its own game, why not change the game? Hit GM at every level below Cadillac -- be all things to all people and still be a Ford.

Accordingly, the 1957 standard line was as broad as a Swedish smorgasbord. Comprising no fewer than 20 different models, it spanned two separate wheelbases for the first time in postwar Ford history (not counting the Thunderbird, of course). Body styles were the expected assortment of two- and four-door sedans, hardtops, and wagons, but you were also offered the first retractable hardtop in American production and the first sedan/pickup from a domestic maker since World War II. There were more colors and two-tone combinations than you'd find in a circus paint shop. Engines numbered six, five of them V-8s. In short, Ford didn't just cover the market, but overwhelmed it.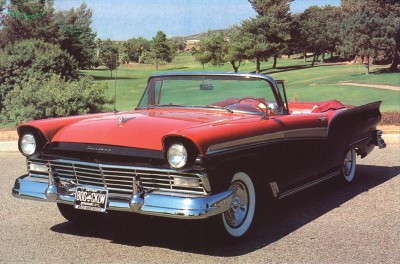 ©2007 Publications International, Ltd.
Much of Ford's 1957 styling was borrowed from the Mystere show car of 1954. This Fairlane 500 Sunliner wears dealer-installed hood ornament, front fender gravel guards, and rocker moldings.

Model offerings began with a trio of Custom sedans -- Tudor and Fordor plus a stripped business two-door -- replacing the low-end Mainline series of yore and riding a 116-inch wheelbase, half an inch longer than 1955-1956. One step up was a brace of Custom 300 sedans on the same chassis and also measuring 202 inches long overall, successors to the previous Customline.

Fairlane was next, stretching 208 inches long overall and riding a new 118-inch wheelbase, both dimensions the longest in Ford history. Two-door Club Victoria and four-door Town Victoria hardtops were carried over from 1956. You could also choose from sedan equivalents selling for about $60 less, with thin, chrome-trimmed pillars that gave them a hardtop look. All four were duplicated in the new top-line Fairlane 500 series, which added the traditional Sunliner convertible and, a bit later, the trick-top Skyliner retractable.
Wagons remained a separate series for 1957, but the five models were juggled a bit, all on the short chassis. The returning two-door Ranch Wagon was trimmed similarly to the Custom sedans. Replacing the 1956 Parklane was the new Del Rio Ranch Wagon, a two-door with Custom 300 finery, issued as a half-answer to Chevrolet's Nomad but priced several hundred dollars less. Then came the familiar Country Sedans, a pair of four-doors with Fairlane 500 appointments in two-seat (six-passenger) and three-seat (nine-passenger) configurations.
Last but not least was the premium Country Squire, a nine-place four-door distinguished by its customary woody-look panelling on bodysides and tailgate. The revived car-based pickup arrived in December 1956 as the Ranchero, essentially the Ranch Wagon with an open load bed aft of the B-posts. Available in standard and Custom models, it was officially a Ford Truck Division product.
Except for engines, the 1957s were new from the ground up -- and not very far up, as overall height was trimmed by an impressive four inches to 57.2 overall. Quipped Popular Science magazine, they were "head-high only to a Belgian Congo pygmy." Yet despite their low, squatty look, they were every bit as roomy as the 1955-1956 models, and wider doors made entry/exit even easier.
On the next page, learn how the Ford Mystere show car influenced Ford styling.

For more information on cars, see:

Consumer Guide New Car Search
Consumer Guide Used Car Search