The Keller years at Chrysler were definitely over in 1955 with the advent of flashy cars like the 1955 Dodge Royal Sierra Custom station wagon. K.T. Keller, corporate president since 1935, liked conservative styling with high rooflines that allowed passengers to keep their hats on. By 1954, America wanted sleek, flashy cars and Dodge sales were suffering.
Chrysler's new chief of design, Virgil Exner, was the anti-Keller. His styling was dramatic even by 1950s standards. In 1955, he got to show his stuff with new styling for all Chrysler divisions. Responsibility for the Dodges fell to Maury Baldwin, one of Exner's young recruits.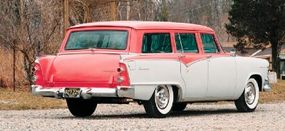 The 1955 Dodge had what copywriters called "Flair Fashion" styling. Two- and even three-tone color schemes were used to make cars appear longer and lower. The interior wasn't neglected with two-tone upholstery and a full complement of round gauges grouped in front of the driver. The public loved it, and Dodge sales increased by more than 75 percent for the model year.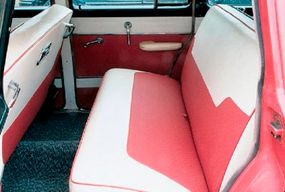 Styling wasn't the only thing the new Dodge had going for it. Dodge got a V-8 in 1953, and for 1955 the engine grew from 241 to 270 cubic inches. Horsepower for V-8s ranged from 175 to 193. The fastest models could top 100 mph, with 0-60 in the 14-second range. Both were good for a medium-price 1950s sedan.

Top-line Custom Royals got a 183-horsepower "hemi."An available power pack with four-barrel carburetor and dual exhaust raised horsepower to 193. Royals (including Royal Sierra Custom wagons) got a polyhead V-8 with 175 horsepower. An L-head six was standard in base Coronets. A PowerFlite two-speed automatic transmission was optional. The shifter was a small lever on the dash.
Dodge's suspension was praised by the press. Motor Life said, "The Dodge sticks to the road like a flying bug on a windshield." The mix of performance and handling paid off with a good showing in the 1956 NASCAR season.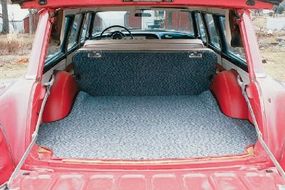 Not as exciting as the stock car racers but more practical were the Dodge station wagons. At the start of the model year, the Royal Sierra, available with two or three rows of seats, was the top Dodge wagon. Then, at midyear, a Royal Sierra Custom with extra trim was added. (The more expensive a 1950s Dodge, the longer the name.)
Sierra Customs had chrome tailfins and a dipped beltline molding cribbed from the flashy Lancer models. A V-8 badge was added just below the dip. Not many Royal Sierra Customs were built.
For more information on cars, see:
Classic Cars

Consumer Guide New Car Search

Consumer Guide Used Car Search