In 1952, Fiat stepped out of its usual mass-market track to offer the 8V, a swoopy sports coupe with a 2.0-liter V-8 engine. Very soon, the engine began appearing in cars from a much smaller Italian automaker -- Siata -- including the 1952 Siata 208S Spyder.
This sharing was no random act; it had a long history. Siata -- the acronym for a company established to sell performance parts and tune cars -- was founded in 1926 by an amateur racing driver named Giorgio Ambrosini. Perhaps because they both called Turin home, Fiats drew most of Siata's attention, which fostered mutual ties.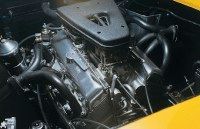 Siata began making cars under its own name in the late 1940s, many of them equipped with Fiat engines modified for additional performance. Out of this process came the 208S, powered by the 8V's ohv V-8, which, by some accounts, Siata helped to design.
The oversquare 8V engine featured an aluminum block and heads with wedge-shaped combustion chambers and inserted cylinder liners. Induction was through a pair of two-barrel Weber carburetors. With its high-revving short-stroke design and 7.5:1 compression ratio, the engine made 110 horsepower in base form and 30-50 horsepower more with Siata-designed camshafts and better-breathing heads. This power was channeled through a five-speed manual gearbox.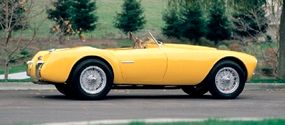 The 106-inch-wheelbase 208S featured a box-section frame and four-wheel independent suspension made up of Fiat-derived components. Hydraulic drum brakes were used at all four corners, and 6.50×15 tires were standard. The aluminum-body Spyder roadster had a top speed of around 110 mph. (A Vignale-bodied 208S America fastback coupe with hidden headlights and a tube frame was faster still with a reported top speed around 120 mph.) Spyders came with a top and side curtains for protection against the elements.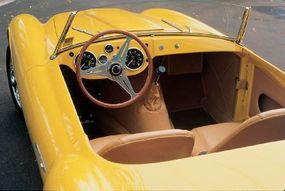 At approximately 2,500 pounds and $5,500 in the USA, the V-8 Siata was lighter and less expensive than contemporary 2.0-liter sports cars from Ferrari and Maserati. Perhaps predictably, the 208S attracted the attention of a number of sports car racers. Jack McAfee, the West Coast importer of Siatas, even prepared one for the 1953 Carrera Panamericana, resleeving the cylinders to reduce displacement to 1.6 liters in order to enter a different class. Unfortunately, he crashed the car during the famed road race through Mexico.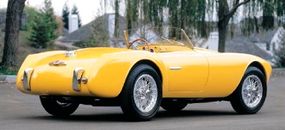 The 208S was available until 1955. Siata moved on to other projects -- among them a two-cylinder minicar called the Mitzi and the Spring, a rear-engine sportster that somewhat resembled an old MG TD -- before closing its doors in 1970.
For more information on cars, see:
Classic Cars

Consumer Guide New Car Search

Consumer Guide Used Car Search